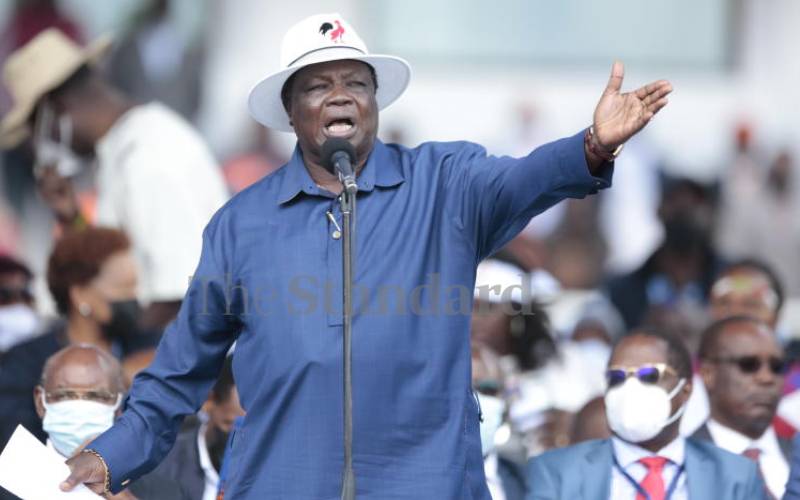 Cotu Secretary General Francis Atwoli often claims – in jest – that there are only three key influential people in Kenya – President Uhuru Kenyatta, former Prime Minister Raila Odinga and himself – and that the rest are "donkeys".
Precisely, this is the self-conceited ego that sets him against some, like Amani National Congress (ANC) leader Musalia Mudavadi and his Ford Kenya counterpart Moses Wetang'ula, who consider him arrogant, all-knowing and politically biased.
Mudavadi and Wetang'ula skipped Friday's end-of-year rally organised by the unionist to chart the Western region's political destiny ahead of this year's General Election. Raila was endorsed as the preferred presidential candidate.
Wetang'ula particularly dismissed Atwoli's moves as solo efforts by "an unpopular" political player, in reference to his past unsuccessful attempts to capture the Khwisero parliamentary seat.
But noting that Atwoli holds a number of global positions in the labour movement, former Cabinet Minister Paul Otuoma opines that Atwoli's rise to political relevance is due to the fact that there is a vacuum of sorts in the region.
"Here is a man whose duty encompasses all workers across the country and happens to come from Western. He carries aspirations of workers and people of Western and as natural leader, we must appreciate that he is giving back to our community by trying to organise us politically – a task we have not seen other players undertake," says Dr Otuoma.
Nonetheless, Atwoli's approach remains controversial, divisive, and a turn-off to some. From his office when he unleashes charged statements, swinging on his chair and banging the table, the Cotu boss habitually spews unpalatable attacks at opponents, punctuated by his trademark remark – "shenzi sana (very stupid)".
His critics describe him harshly. As Trade minister in the Mwai Kibaki administration, Mukhisa Kituyi once described Atwoli as an "irritant".
Today, however, the immediate former United Nations Conference on Trade and Development (UNCTAD) Secretary-General is more diplomatic in his criticism of Atwoli. Reacting to Friday's event, Dr Kituyi, a presidential hopeful, rushed to the defence of Atwoli, stating that he and his chief guest, Raila, had the right to stage a public rally anywhere.
Nonetheless, Kituyi censored Atwoli for "inviting a neighbour to a family meeting he had called for the Mulembe nation to discuss their political affairs".
Atwoli's push for Raila candidature is just a fulfilment of one of his presumed prophecies that the 76-year-old politician will succeed President Uhuru Kenyatta in August.
Curiously, most of Atwoli's latest prophecies have come to pass. Even before the turn of the 12th Parliament, for instance, the unionist speculated about Uhuru and Raila teaming up for the sake of country, which he noted was highly polarized, politically and ethnically.
A couple of months later in March 2018, Uhuru and Raila engaged in a symbolic handshake, which Atwoli described as the beginning of political unity between the two. He later hinted at the country holding a plebiscite, a process that indeed kicked off later under the aegis of Building Bridges Initiative (BBI).
Alongside Jubilee party's vice-chairman, David Murathe, Atwoli would later tell Kenyans that Raila would emerge out of the BBI arrangement as a compromise presidential candidate this year. Murathe actually captured it as a "Mandela Moment", with reference to the late South African icon, Nelson Mandela, who served for one term as President.
While this prediction is yet to be realized, just in the same way the BBI process is stuck in the courts to date, Atwoli appears to have the roadmap of Uhuru-Raila political schemes.
Unapologetic about speaking his mind, Atwoli has however occasionally run into trouble with individuals from rival camps for running his mouth with political predictions, which some consider discomforting.
His claim, in 2018, that Deputy President William Ruto would not be on the presidential ballot in this year's poll, particularly irked Ruto's supporters, most of who hurled all unprintable abuses at him.
Atwoli has since explained that his remark has nothing to do with the biological life of the DP but his political life: "No doubt Ruto is a strong politician, but there is a stronger match in the person of Baba who will dominate the scene in 2022. Ruto will have his chance in 2027 and beyond."
But it is his so-called prophecy, all-knowing attitude and bragging of his closeness to the Executive, that have divided Kenyans.
In June last year, for instance, the "Francis Atwoli" road sign in the upmarket Kileleshwa neighbourhood, erected in his honour by the Nairobi County Government, was burnt twice in a row.
Some political and human rights activists were angered that the road had been named after the COTU Secretary-General, whom they regarded as government mouthpiece.
However, Atwoli hit back saying, "bringing down an honorary road signage under my name does not hurt me". He proudly added that his name is all over the world and one does not require street signage to know Atwoli.
Separately, Atwoli is a sworn political adversary of Ruto, who has admittedly opted to use his resources and time to fight off the DP's presidential bid. Over the last two years, he has hosted key political players, including Raila, at his home in Kajiado County.
It is this notion that largely persuaded him to pen letters to Raila and One Kenya Alliance (OKA) principals - former vice-presidents Mudavadi and Kalonzo and Senators, Gideon Moi (Baringo) and Wetangula (Bungoma) - in July last year.
In the letter, dated July 20, 2021, Atwoli warned the political hopefuls that their political life was hinged on a union against the DP.
"If one of you would have not taken over the political leadership of this country, then the coming five years will witness all of you being fought over fiercely and your influence reduced to nothing because you are all men of very strong influence in our country and for whoever will be in power to survive, you will remain their targets" the letter read.
His efforts notwithstanding, not all have appreciated Atwoli's role to unite the key political players. Some, like Wetangula and Mudavadi view him as Raila's protégé.
But on Thursday, Atwoli said he was an honest political observer. Stressing that he is an officer of "a free and independent labour movement". The COTU boss maintained that his advice to the main political players was in good faith and aimed at rescuing their individual political careers, "while helping unite the country as well".
Atwoli, says his biographer Dr Babere Chacha, who teaches history at Laikipia University and author of Fame, Force and Fury: A Biography of Francis Atwoli, "is a fairly educated man".
The unionist is a holder of a higher diploma in trade unions from the prestigious Taurin College in Italy and has several honorary degrees, including a doctorate from Masinde Muliro University.
"He also has the privilege of age and wide experience gained through international exposure. He has held various high-profile jobs around the world and walked through the colonial and postcolonial eras, thereby enabling him to read changing patterns of public life and political spheres," writes Dr Chacha.
Now the longest-serving boss of Kenya's trade unions since 2001, Atwoli has also served as the President of the 54-member countries of Organisation of African Trade Union Unity (OATUU), headquartered in Accra, Ghana, and is spokesperson and Chair of the East African Trade Union Confederation (ITUC), among many other global responsibilities, including Vice President of the ITUC, which is based in Brussels, Belgium.
Initially engrossed in labour issues, Atwoli set foot on the national political stage properly in the run-up to the 2010 constitutional referendum, when he mobilized workers across the country and staged rallies, most of which were aired live.
Many will remember his clarion call to Kenyans alongside his comrades clad in purple, and belting out the signature tune, "ni nani atakaye komboa Kenya? Ni nani ni nani ni nani atakayekomboa Kenyaaaa!?"
Friday was the third meeting, in very recent times, to be organized by Atwoli at Bukhungu Stadium. He sponsored a similar one in December 2016 where he crowned Mudavadi as spokesman of the populous Luhya community.
But not so long ago, he organized one to drum up support for BBI, which Mudavadi and Wetangula had initially threatened to boycott in favour of a parallel one organised in Mumias by allies of Ruto, led by former Kakamega Senator Boni Khalwale. In a last-minute change of mind, however, the duo finally showed up at Bukhungu.
Love or hate him, Atwoli is the man to watch. He is privileged with some information on Raila and Uhuru's roadmap and has invested heavily in spying and fighting Ruto's bid. Among others, he will obviously determine the course of this year's major political events.