Gideon: We'll offer free education, reduce taxes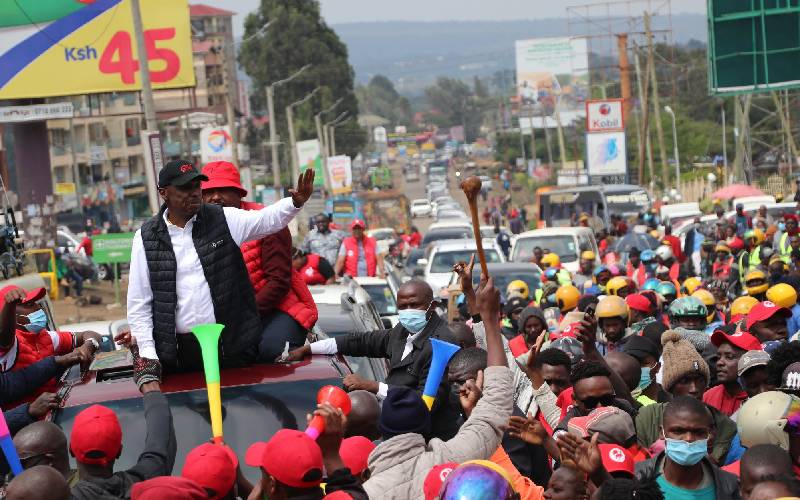 Kanu chairman and Baringo Senator Gideon Moi yesterday promised to implement free public secondary school education if his bid to succeed President Uhuru Kenyatta next next year succeeds.
Gideon, who was last month endorsed by his party to run for the top seat, said the pledge for free secondary education was part of an elaborate plan adopted by the One Kenya Alliance (OKA) to boost education, the economy and reduce taxes.
He told the crowd in Ngong, Kajiado County, that those plans would only be actualised if they voted in leaders who have a vision.
"You know what is coming next year. Please, I urge you, your vote is your power so when you are voting next year, vote in leaders who have your best interests at heart," Gideon said.
He said Kanu was firmly in the OKA umbrella and supported the pledge for free secondary education.
He said with OKA government in office, the cost of living and the cost of doing business would go down.
The Kanu chairman told voters that they have the power to determine the kind of leadership the country would have.
He urged voters to back leaders with a track record of integrity and who have their best interests at heart.
He asked voters to maintain peace during campaigns and accommodate all those who would come seeking their votes but they should vote wisely.
Days are numbered
Gideon, alongside Kanu Secretary General Nick Salat, were in Ngong, Kajiado County to open a Kanu office. He was also accompanied by former Kajiado Senator Peter Ole Mositet and local Kanu leaders.
They held a rally at Ngong Town Bus Park where Gideon also said OKA would reduce taxes by half as well as deal with corruption decisively.
"If you are corrupt, please be aware that your days are numbered," he said.
Salat called for peace in the county during the campaign.
Salat said Kanu had a long history with Kajiado and was grateful for the support the party enjoyed in the county.
He urged people to remain united despite political differences.
"You have every right to elect who you want but in a peaceful manner," said Salat.
Salat called on Kenyans to register as voters, saying there were many young people who were of age but had not registered.
He assured Kanu supporters that Gideon, who was endorsed on September 30, was on track in the presidential race.
He likened the presidential race to a marathon rather than a sprint.
"This is a marathon, not a sprint. We will catch up with them," said Salat.
Gideon said that the office being launched was built by former Vice President George Saitoti but was later vandalised and fell into disrepair.
He said the journey to Kenya's transformation had started and urged voters not to be persuaded with money.
Gideon also criticised fanatical and do-or-die political support, saying that he had advised against it in Rift Valley.
He said Kenya needed inclusivity and that was why OKA was formed.