What OKA principals told Mount Kenya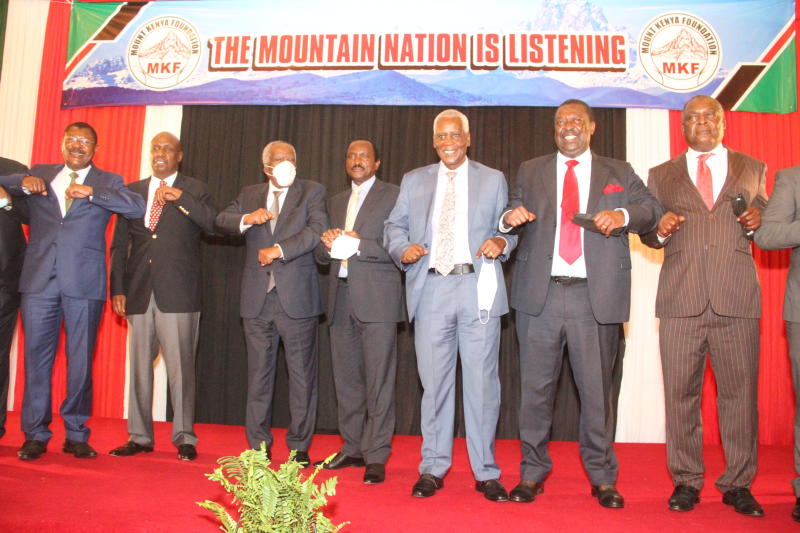 KANU Chairman Gideon Moi
We fully understand as OKA the importance of having a conducive environment for people to do their business.
We understand that we need a consistent tax policy and you will be very surprised to know that in Kenya today we do not have a tax policy. You need a predictable tax policy, you don't want tax policies that come in like what happened with the fuel prices.
What you are interested in is exactly what we are interested in. It does not matter which economic model we present to you. We can give you the best economic model here, but let me assure you it will be pointless if we are not empowered to carry it out.
Every one of you who is here today must take responsibility for that. We have decided to take our responsibility. We will do what has to be done. You must also take responsibility.
I'm not here to persuade you that OKA is the best movement to support. You know why you are sitting here and why you sacrificed your time to be here on this journey, which we want to take.
The majority of those who made those sacrifices (in the fight for independence) came from the mountain. My plea to you is to do what your forefathers did, what our forefathers did. Let us not waste away.
I can assure you, if we are not careful, this country can go down that slope (like) what happened in Rwanda. Yet, we have the means and the resources and the intellect, and the persuasive power to talk to our people and tell them this is not the route to go.
Our ideology is simple: you should have control of your life and your livelihood, with minimum interference from the government.
As a government, our obligation is to look after the poor and marginalised and remove the burdens that prevent a majority from prospering. That is the job of the government. Get off the back of the people, let them continue doing the work. That is what OKA stands for.
ANC leader Musalia Mudavadi
This initiative is important because it is introducing a new way of interacting, a new way of saving the leadership that Kenya is going to get. And finally, this process can lead to a united nation.
And I want to take this early opportunity to tell other stakeholders, whether they're at the Coast, whether they are in western Kenya, whether they're in the Rift Valley, whether they're in eastern Kenya, whether they're in northern Kenya, let us borrow a leaf from the Mt Kenya Foundation in ensuring that there is proper dialogue without stone-throwing, but people listening to what others have to say.
We tend to be persuaded by logic, not by the might of the gun, or by the might of the stone. This is what we are looking for.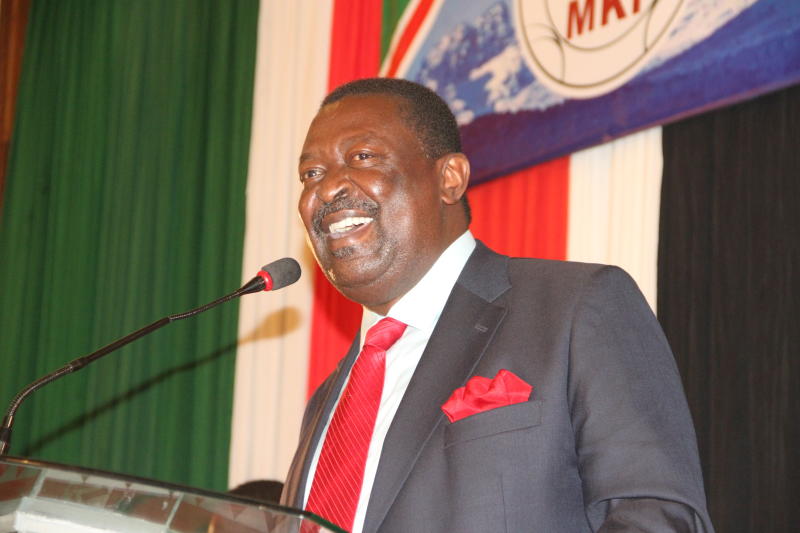 We must ask ourselves a few fundamental questions. Can you trust me, or who can you trust? And I repeat, who can you trust with the leadership of this country?
How many of us respect the rule of law? How many of us will make sure that if Munga, has won his election, we shall respect the will of the people? We must ask ourselves, who can you trust with a position of authority. Someone who will not in any way misuse the office to visit hell and trouble on other Kenyans, because they believe there's a grudge to settle?
These are the questions that Kenyans want answered. And they cannot be answered if everybody is not being given space to communicate and articulate their ideas.
If we respect constitutionalism. If we respect the rule of law, then nobody has anything to fear. And I want to guarantee you that the leadership you're seeing in this room does not elicit fear on anybody.
As we move forward, the economy is going to be a big challenge to regain. We have a huge public debt. So let's work together and find a solution to that public debt. If we do not, it will consume us. That is why taxes are increasing at a higher level – because the burden is big.
We must embrace the big industrialists and also embrace the small businesspersons. We must work together so that the pride of Mt Kenya can come back, because their pride is Kenya's pride.
What we want to achieve is not a hustling nation, we want to achieve a thriving nation. So we must change and make sure that farmers are paid promptly for their produce. We must make sure that our policemen are paid adequately. Our teachers are paid adequately. We must allow business to grow, and we give them the necessary support for them to grow. This is the agenda that we should be talking about as a country.
At the end of the day, the theme is peace and unity. However, to sustain the peace, you also need a working economy.
Wiper Leader Kalonzo Musyoka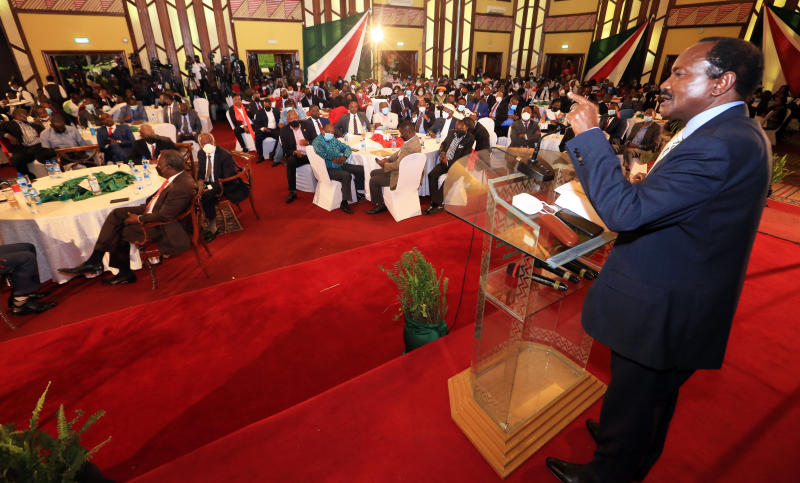 Looking at the mountain, we should be able to say we want to be like them because these are the wealth generators and we are trying to in-build the same sense of responsibility to the young ones.
It was I who convinced President Kibaki to appoint Uhuru Kenyatta the Deputy Prime Minister. Then he became Deputy Prime Minister and Minister for Trade. Eventually, Deputy Prime Minister and Minister for Finance, from whence he grew up the strength to become the President.
I don't believe in paying political debts. I believe in working hard. Whatever God has placed in your hands at any given time, do it well for the benefit of this nation. We want to grow the economy. The youth in Mt Kenya, just like youths elsewhere, will find a lot of hope.
We do not have a monopoly of ideas, but we think that united this nation will stand together.
Moses Wetang'ula, Ford-Kenya leader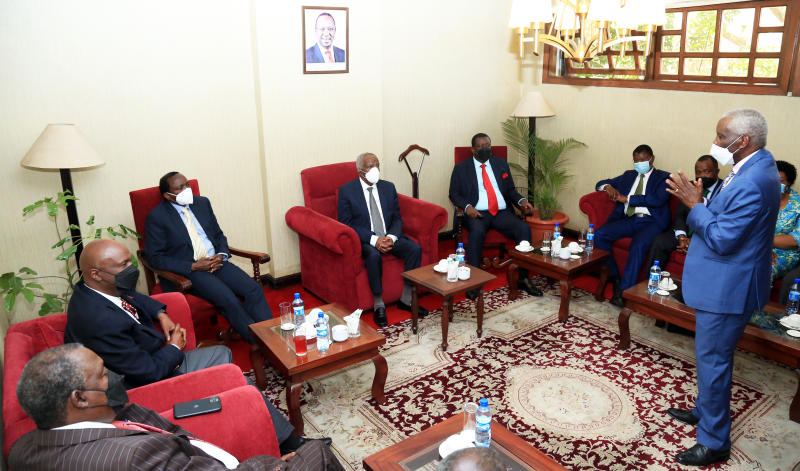 We are here to engage. We must free ourselves, think openly, freely. Barack Obama said you cannot shake hands with a clenched fist. We'll shake hands with open arms. And we are happy that you invited us.
And this kind of engagement is critically important for a public discourse...
Most of our children don't speak what we commonly call mother-tongue. They have just one language; English, or Swahili… We want to build a country where opportunities are available to everybody, regardless of your background.
The Kenya we want is the Kenya we must create; no angels will descend on our country to create our country... don't ask what your country's doing for you; ask yourself what you are doing for your country?
We are tested. We are tried. We are proven. We are trusted. And we can deliver...
We must be ready to say if it is not me, my brother is as good as myself.