Anne Waiguru might have ditched Jubilee, but she's only for rent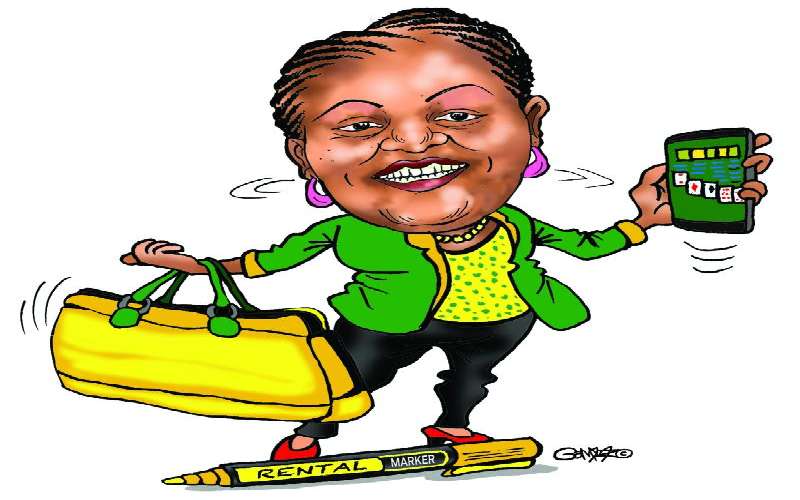 Signed, sealed, delivered. She's William Ruto's. Wrong. Anne Mumbi Waiguru can never belong to anyone. She is "Kikuyu", after all, and hence she cannot be "bought, just rented".
Late last week, the Kirinyaga governor announced that she would rid Jubilee, which had been kaliaring their deposit, of tenancy rights. A higher bidder - Ruto's United Democratic Alliance (UDA) - had reportedly offered to pay five years rent in advance by assuring that she would be re-elected. It was an offer that Jubilee could not match, not with its dwindling fortunes in the land of Mumbi. Had she paid attention to the red flags fluttering above the party's Pangani headquarters, she would have, perhaps, known that Jubilee would not sustain her extravagant rent demands.
But UDA's offer was no different from that offered by the President's party four years ago.
Faced with the dilemma of picking between Waiguru and veteran politician Martha Karua, President Uhuru Kenyatta opted to play it safe by endorsing neither. But no one needed hints to know where Uhuru's heart was.
Waiguru was an integral part of the President's first, almost experimental, Cabinet, heading the Devolution docket before a mega corruption scandal at the National Youth Service ran her out of town.
She requested for "lighter duties, and the President's party responded by nominating her to fly its flag in Kirinyaga, cheering her on as she broke the glass ceiling to become one of the three pioneer female governors.
And when she encountered a rough patch in life, Jubilee was always there, in ways only her sweetheart, lawyer Kamotho Waiganjo, could match. Such was the case when Kirinyaga's MCAs plotted to have her kicked out of office. The Senate, one of the Houses of the bicameral Parliament known to be in the Executive's pocket, picked what many termed a friendly committee to conduct Waiguru's impeachment trial, exonerating her in a verdict that some senators found fishy.
For all Jubilee's efforts, everyone thought that the Kirinyaga boss was Jubilee's, for better or worse. But Jubilee's loss in the Juja and Kiambaa by-elections was seemingly the eye-opener for her. And so she served the ruling party, now a shell of its former self, character development that would put Luo men to shame, leaving Jubilee at its lowest.
In recent weeks, she has been amongst leaders who have called for the overhaul of the party's leadership in vain - a deal-breaker that could have influenced, though minutely, her defection to UDA.
Jubilee, however, isn't the only party that thought that Waiguru was theirs. A few months ago, she had displayed a weakness for Raila Odinga's quest to be president, paying courtesy calls to the former prime minister.
To cement her commitment to her newly-favourite politician, Waiguru joined the Raila-affiliated women group 'Embrace', whose hobby was taunting Ruto and the rival group 'Inua Mama'. But as she would eventually find out, Raila's camp could not sustain her rent demands (re-election promises) because his Orange Democratic Movement party had negligible influence in Waiguru's Mt Kenya backyard.
More recently, Musalia Mudavadi's Amani National Congress fancied its pockets as deep enough to keep up with Waiguru's rental demands. They, however, seem to have oversold their abilities, promising the daughter of Gichugu that they could make her the deputy president. From ANC's yellow and green flags, Waiguru saw red, opting out before anything got too serious.
And so here she is again, back with Ruto, with whom Waiguru fell out when he accused her of "cat-walking", making up later when the DP, unlike Uhuru, endorsed her outright, but falling out a second time when Ruto fell out with his boss.
But the DP must know that the first time governor will never belong to him, for, in Waiguru's words, "you can only rent a Kikuyu, you can't buy one."