OKA will reveal flag bearer in October, says Kalonzo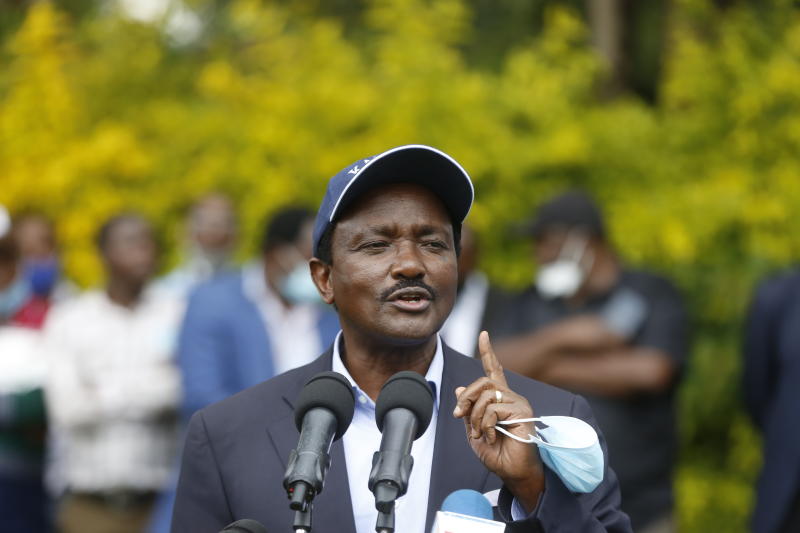 Wiper Party leader Kalonzo Musyoka toured Nakuru County yesterday in a bid to popularise his party and seek endorsement for his presidential ambitions.
Kalonzo's tour to the county came a day after ODM Leader Raila Odinga visited Molo where he attended the burial of the late Mololine Vice Chairman Kibira Muchai. Kalonzo who is one of the One Kenya Alliance (OKA) principals was received by Nakuru Governor Lee Kinyanjui who has in the recent past hosted five other presidential candidates.
He revealed that the alliance will by end of October announce its direction and plans in relation to the August 2022 presidential polls.
"OKA is a solid and sacred coalition. We are in agreement to take important measures to ensure there is clarity on the leadership of OKA and possible grand coalition," said Kalonzo.
While calling on other political leaders to join OKA, Kalonzo said that doors to the coalition were open for like-minded people.
"We want more people with whom we can build national consensus. Nobody should shy from joining us including Raila and the president in defining the country's next government," he said.
He emphasised on the need to elect persons with integrity noting that corruption had robbed the country a huge chunk of its resources.
Face confidently
"It can't be that I steal from Kenyans today and confidently face them tomorrow with the same cash promising to uplift their livelihoods," said Kalonzo.
If elected President, Kalonzo said that his government will strongly fight against graft .
"If Kenyans elect me to lead this country, I will ensure bribery and other forms of corruption remains only in our books of history. Not in my government," said Kalonzo.
The former vice president reiterated on the need to fight against ethnicity in the country noting that this was the major cause for divisive elections. He underscored the significance of Nakuru in the country's politics noting that it was among the most affected by the 2007 post election violence.
"Nakuru suffered the brunt of post poll violence. We must decisively free ourselves from chaos to a non-violent election. There should be no room for hooliganism," said Kalonzo.
On his part, Kinyanjui who endorsed Raila on Tuesday welcomed OKA leaders to Nakuru saying that there is need for healthy conversations among leaders.
"Nobody lives alone. We must have conversations. As a county we want to be the biggest investors in peace initiatives and commitment to political tolerance," said Kinyanjui.
He said that Nakuru is home to all Kenyans irrespective of their political affiliation and tribal groups.