Governor Obado's support for Ruto-backed bottom-up economic model raises eyebrows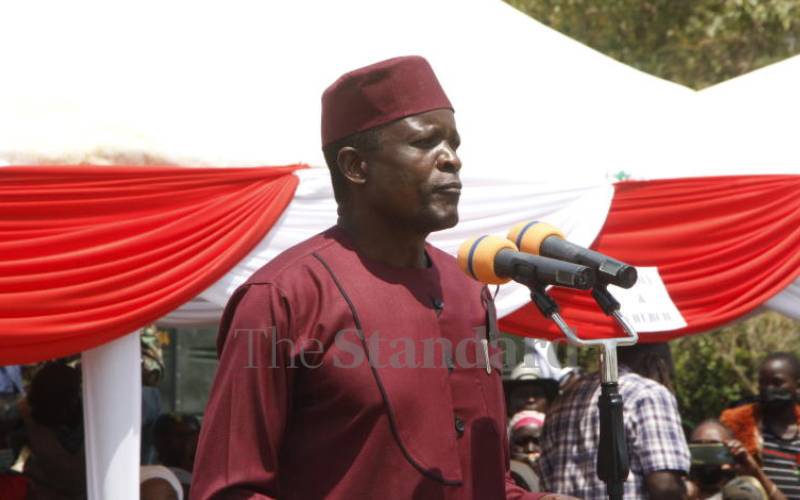 Migori Governor Okoth Obado has declared support for the bottom-up economic model backed by Deputy President William Ruto.
His remarks have raised questions about the political direction he will take in next year's elections.
The governor had early this year declared that he had defected from ODM and moved to the People's Democratic Party (PDP) on whose ticket he vied for governorship in 2013.
On Sunday, Mr Obado, who attended a graduation ceremony at Kamagambo Adventist College, noted that propaganda was being spread about the bottom-up economic model.
He noted that those who had studied economics would agree with him that the model could be explained under the multiplier effect.
"The bottom-up approach is ideal in that it is meant to create employment for youth."
South Mugirango MP Silvanus Osoro, who was also at the graduation ceremony, echoed Obado's sentiments, saying that the approach meant that the common mwananchi stands to benefit.
"It means we start with the boda boda riders and mama mboga before going up," Mr Osoro said.
Osoro termed other models by the deputy president's rivals as noise and pure politics.
Dr Ruto on July 30 noted that the model was aimed at creating jobs, and a conversation about the economy will bury tribalism, patronage, cronyism and corruption.
"Bottom-up economic model is focused on liberating enterprises from Shylock credit exploitation and unfair regulation and empowering our farmers," Mr Ruto tweeted.
Governor Obado's support for the economic model has left people wondering whether he has abandoned plans to run for the presidency under PDP or is backing Ruto's United Democratic Alliance (UDA).