Raila Odinga tour rekindles Hassan Joho's succession race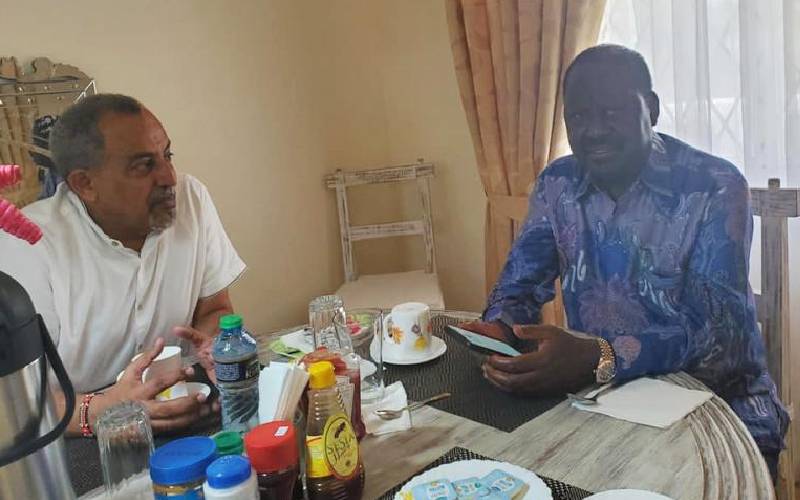 Raila Odinga yesterday played safe on the heightening political rivalry between Mvita MP Abdulswamad Nassir and banker Suleiman Shahbal over the 2022 Mombasa governorship race.
The Orange Democratic Movement (ODM) leader had a breakfast meeting with Shahbal in the morning but in the afternoon appeared to endorse Nassir whom he hailed as a trusted and loyal ODM leader he will always work with in Mombasa.
The former Prime Minister said Nassir has through his role as the chair of the Parliamentary Investment Committee distinguished himself as an anti-corruption crusader.
Shahbal, who defected on Saturday from Jubilee was hosted by Raila for breakfast.
He has endorsed Raila for the presidency but is facing mounting criticism within ODM circles in Mombasa.
"I commend you for your outstanding role in Parliament and fighting corruption," Raila said when he opened a medical facility at the Coast General Teaching and Referral Hospital.
Raila launched a Cathlab facility at the referral and teaching hospital.
The facility, which cost Sh130 million, will be used to treat heart, liver and kidney diseases.
Raila expressed the need for party mobilisation at the grassroots.
"I had the pleasure of having breakfast with Baba Raila Odinga at his Nyali residence, Mombasa," Shahbal posted on Facebook immediately after the meeting.
Grassroots mobilisation
In the meeting, Shahbal asked the ODM leader to allow the party's membership to be free.
"Raila spoke on the need for grassroots mobilisation, he thanked Shahbal for endorsing him and appreciated the fact that all big shots are in ODM," said the source who attended the breakfast meeting.
Shahbal ruffled political feathers last Saturday when he announced his defection to ODM after a meeting with the Mombasa Luo Focus Group and the Luo Council of Elders in Mombasa.
At the same time, the ODM leader commended Governor Hassan Joho for his ''development record particularly in the health sector as well as maturity in politics'' and invited him to go to join the "national league" and leave local politics to the likes of Nassir.
"Joho is mature politically and has done a lot of development. He should join the national league. What do you have to say?" Raila posed.
Joho, who has been eyeing the ODM ticket to run for the presidency, said he was set to leave local politics to the likes of Nassir.
"I have a vision. That is why I am leaving local politics to the likes of Abdulswamad. I am going national," Joho said.
Nassir described Raila as the father of modern politics and devolution, and commended him for inviting everybody to the party including those who insulted him in the past.
In an apparent reference to the recent return of Shahbal to ODM, Nassir said," Raila is the father of modern-day politics. In politics, you accept everybody but learn who they are."
He said that there were those who rejected ODM but were now coming back.