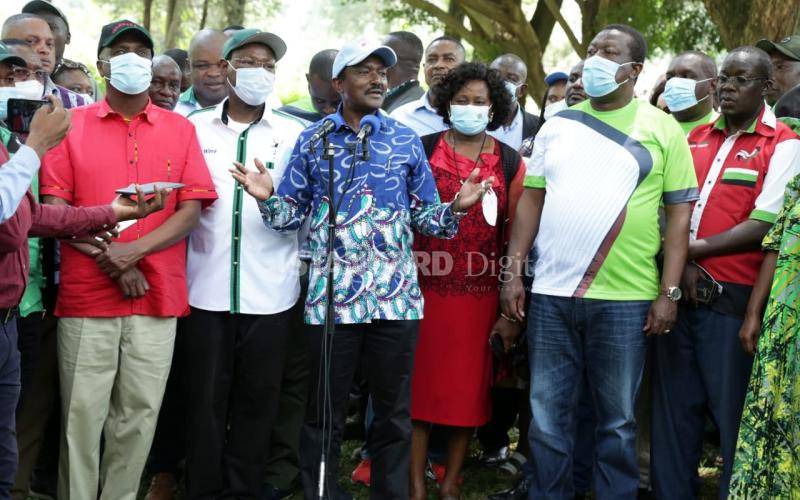 "None of us will ever walk alone," was the promise Kanu chairman Gideon Moi, ANC's Musalia Mudavadi, Moses Wetang'ula of Ford Kenya and Kalonzo Musyoka of Wiper gave each other.
The leaders, who have been traversing the country selling their unity agenda to Kenyans, have announced their plans to join efforts ahead of the next elections.
The four leaders have said they are also working hard to solidify their bases and have hinted at the possibility of a coalition as the race to succeed President Uhuru Kenyatta next year gains momentum.
Yesterday, the party leaders camped in Kabuchai Constituency in Bungoma County to drum up support for Ford Kenya candidate Majimbo Kalasinga ahead of the March 4 by-election.
The team is today expected to shift gears to Matungu to campaign for Peter Nabulindo, the ANC candidate in the parliamentary by-election.
Read More
Next week, they four leaders will move to Machakos in support of Wiper candidate for the senatorial by-election, Agnes Kavindu.
The journey to State House is picking pace with a political alliance now a reality, according to them.
Mudavadi said through them, Kenyans will have leaders who will serve them effectively.
"From today, we will not allow Moi, Kalonzo, Wetang'ula and I to walk alone. We will work together and deliver the presidency in 2022," said Mudavadi during a rally at Chwele market.
Mudavadi said Luhya unity was on course and that the four plan to present one flag bearer for the next General Election.
"We have unity of purpose and that is why we have started by having one candidate in Kabuchai and Matungu by-elections," said Mudavadi.
Kalonzo, Wetang'ula and Mudavadi were together in the National Super Alliance (NASA), which fronted ODM leader Raila Odinga as its presidential candidate in 2017.
The ANC party leader said he stood with Raila in his presidential bids in 2007 and 2017, and that time had come for him to reciprocate.
"He now needs to support other partners of the NASA coalition."
Kalonzo said he, together with Wetang'ula and Mudavadi, had been frustrated in previous coalitions and felt time was ripe for them to enter one where the MoU will be respected.
Kalonzo castigated the ODM party for breaking the pact they had ahead of 2017 elections.
He said they had agreed that Raila supports one of them in 2022.
"We are entering into a new pact that will be made of people who respect the set rules," said Kalonzo.
Raila's party has already announced it will field a candidate for the top seat in 2022, having invited those willing to fly the party's flag to send in their applications.
Kalonzo said the NASA coalition was still alive and that they wanted to add more parties to it.
"NASA is still alive given that three of the parties that made the coalition are still together. The pact is also still intact," said Kalonzo.
Kalonzo, Mudavadi and Wetang'ula fell out with Raila when ODM failed to share money received from the Political Parties Fund with them.
Gideon, who is also Baringo senator and the new entrant to the coalition, will be aiming to go out of his political backyard of Rift Valley and get support in other regions.
Gideon has received support from several leaders who have also told him to prepare for a bigger role in government after 2022 elections.
The Kanu chairman said the new formation was capable of taking the leadership of the country and change Kenyans' lives.
"When you see us together, we have the unity of purpose and we aim to bring change in Kenya by working together as we head into 2022," said Gideon.
He asked the residents of Kabuchai, who are mainly from the Bukusu sub-tribe, to support their unity by helping them ascend to power in 2022.
"The Bukusu community should not be used and dumped. The community has its own leaders who should guide it, not outsiders," he said.
He asked Mudavadi and Wetang'ula to consolidate the Luhya vote as he did the same in the larger Rift Valley.
The four have also invited other like-minded leaders to join them.
"We want the country to know that, from today, Musalia, Gideon, Kalonzo and I will work together and nothing will stop us," said Wetang'ula.
Yesterday, it was the second time the four were together in campaigns for the upcoming by-elections.
They teamed up late last month to drum up support for Kavindu.
Raila has on several occasions claimed NASA was formed with the intention of clinching power but failed to achieve the fete and therefore had outlived its usefulness.
Sibling rivalry in NASA over the Sh4.1 billion political parties windfall worsened matters after ODM indicated its unwillingness to share the cash with Ford Kenya, ANC and Wiper.
Matungu and Kabuchai mini-polls have been touted as an acid test for Raila, Deputy President William Ruto, Mudavadi and Wetang'ula.