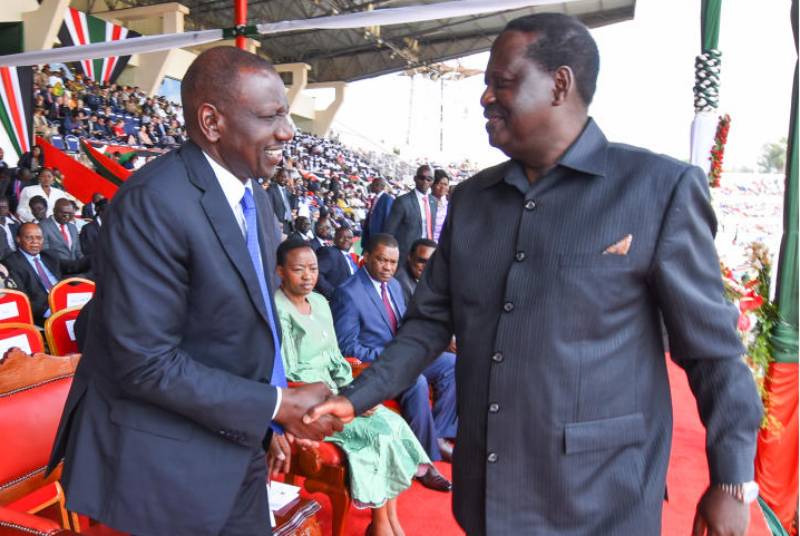 The 2022 presidential contest is at the heart of Deputy President William Ruto and opposition leader Raila Odinga Building Bridges Initiative (BBI) referendum wars as they pull in different directions.
While Raila insists the report will be tabled at the county assemblies as presented by the BBI taskforce three weeks ago, Ruto who initially opposed the report is leading a group pushing for consensus.
In his recent tweets, Ruto noted that he was pushing for a non-contested referendum which he said was possible to ensure a win-win situation.
"Consensus was, is and will continue as our position. Pushing those with alternative/better ideas to oppose BBI is raw arrogance which negates any bridge-building efforts. Jubilee MPs only take instructions from electorate. Our focus must be the ravaging Covid-19," Ruto tweeted yesterday.
Read More
A few days ago, he had tweeted that he would not give up on consensus, "not when there is a real possibility for a win-win consensus beckoning."
He said a yes and no contest will lead to a 'lose-lose' outcome that is unnecessary and unwarranted.
But Raila is hellbent on yes and no contest, itching to whip Ruto's side ahead of the 2022 elections.
As calls for consensus mount, Raila is asking those opposed to BBI report to join the no camp and prepare for a contest.
"Let us go to the people, let the people decide by democratically expressing their views. I am sure Kenyans will decide by making a good decision that favours them," he said after meeting governors from Nyanza and Western regions at the Ciala Resort in Kisumu.
The two politicians are tying the knots in their bag of tricks for the presidential race in 2022 as they seek to succeed President Uhuru Kenyatta.
Strategists in the Ruto camp, according to an insider, are keen to avoid a political confrontation between Uhuru and Raila on one side and Ruto and his Tangatanga brigade on the other side. This, they aver, may be bad for their 2022 bid.
Gauge popularity
"We know they want a referendum to gauge their popularity and also build a political momentum for 2022. They are keen to push us to go for no and we have not swallowed their bait and it frustrates them," said Belgut MP Nelson Koech, one of key Ruto allies.
Raila's sentiments on anyone opposed to BBI should push for a no campaign is echoed by Central Organisation of Trade Unions (Cotu) boss Francis Atwoli and National Assembly Minority Leader Junet Mohammed who have insisted that Ruto and his allies have realised the document was popular among Kenyans and were now trying to join pro-BBI team.
The two are among the many Raila allies now daring the Ruto camp to decide on which side they want to support, insisting there was no provision requiring that everybody must back the document at the referendum.
"Kenya is a democratic country and whoever is ready to oppose, we are also ready to face them head-on in the campaigns. Our team is not afraid of a contest," said Mr Atwoli.
The Cotu boss dismissed claims that Uhuru and Raila's camp were scheming to use the plebiscite contest to gauge their popularity against the DP.
"Currently we are not concerned about 2022 but helping the president to achieve his legacy agenda. We are not worried about the next poll and we are not interested in using the referendum for purposes of 2022," said Atwoli.
Junet, who is also the co-chair of the referendum committee, said their focus was to achieve constitutional reforms.
"Our focus is to make certain constitutional gains before the next poll. We are not bothered about 2022 polls," he added.
The Ruto team believe there is nothing they will gain from a disruptive referendum that will not only be costly but also derail their focus on the 2022 prize.
Nandi Senator Samson Cherargei and Aldai MP Cornelly Serem said Raila was planning to use the referendum as launching pad for his 2022 presidential bid.
"It is all about 2022 succession," said Cheragei.
He warned that the political scheme would backfire on them, claiming Kenyans were opposed to the push to amend the Constitution.
"The BBI has lost the steam. People are questioning why we are so much into this thing when corona was ravaging the country. They will be surprised how the document will be rejected," said the vocal senator.
He said it was not just allies of the DP raising issues against some of the proposals but Kenyans from across the country.
"We are in no political contest with them but trying to have the views of Kenyans heard and factored in in the final document," he added.
Similar views were shared by Serem, who said the plan was to gauge how popular Ruto is across the country so that they can counter him ahead of the next poll.
"These people are after 2022 elections. Some are rehearsing for the next polls. They think by going into a referendum will give them opportunity for a political duel to gauge Ruto's strength. We are not going to fall in that trap," said the MP.
And yesterday, Elgeyo Marakwet Senator Kipchumba Murkomen brought another twist to the political equation by suggesting that they could have Ruto support yes referendum campaigns to defuse the competition that Uhuru and Raila team wants.