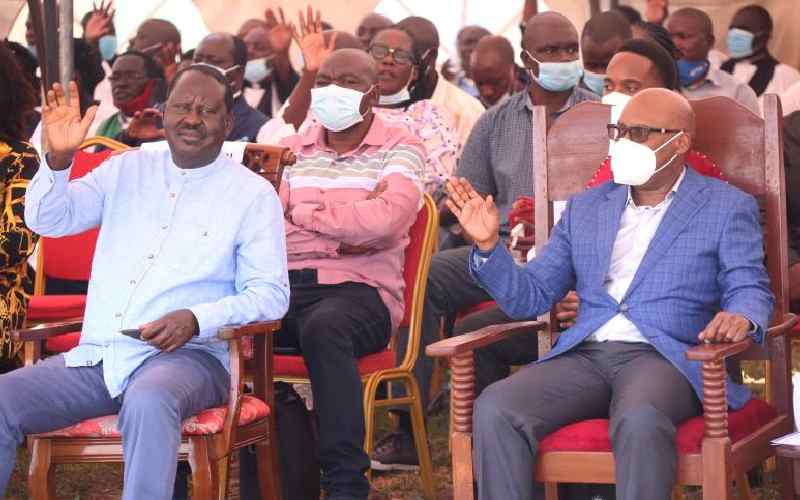 Businessman Jimi Wanjigi has asked the Agikuyu community to join former Prime Minister Raila Odinga's Orange Democratic Movement (ODM) if they want him to ascend to power in 2022.
Speaking during a church fundraiser at Bondo Anglican Church, Mr Wanjigi asked the community to join him in the party, which he described as his home.
Read More
"I am a life member of ODM in this political journey and I am calling upon all my brothers from the mountain to join us in this noble cause," he said.
He spoke a day after leaders from Mt Kenya visited Raila's home in what has widely been interpreted as a mending of fences between the Luo and Agikuyu communities.
According to Wanjigi, the Saturday meeting was a sign of good things to come.
"These are great times for the country because the Luo and Agikuyu communities have come together. Every journey starts somewhere and the history of this nation has a foundation in Mount Kenya and Ramogi Hills. It is these two communities that suffered at the hands of colonialists," said Wanjigi, who had accompanied Raila to the church.
In a moving and detailed speech, the businessman narrated the nostalgic events before and after the independence.
Wanjigi, who laughed off the political narrative of the Hustler versus Dynasty, said that even though he went to school with the Kenyattas, he ventured aggressively in the world of business and politics.
"Going to St Mary's School does not make me a dynasty. I was the chairman of the Jubilee campaign team and our slogan, "We don't want analogue, we want digital", was targeted at Raila Odinga," he said.
Wanjigi claimed that there is no clear script for the Deputy President William Ruto-led Tangatanga team who are only interested in selfish pursuits.
Speaking at the same fundraiser, Raila said the meeting between him and the Mount Kenya delegation at his Bondo home in Siaya County on Saturday was not meant to endorse him to succeed President Uhuru Kenyatta in 2022.
Raila said "some people" had blown the visit by Agikuyu elders out of proportion, maintaining the main aim of the meeting was to unite Kenyans.
"It is not true that I was endorsed as a presidential candidate in 2022. What we were discussing was how the handshake could reach the rest of Kenyans," he said.
He instead shifted his attention to the Building Bridges Initiative, saying its passage would be a big relief to Kenyans.
Raila accused Ruto of hypocrisy, challenging him to stop fighting the government from within.