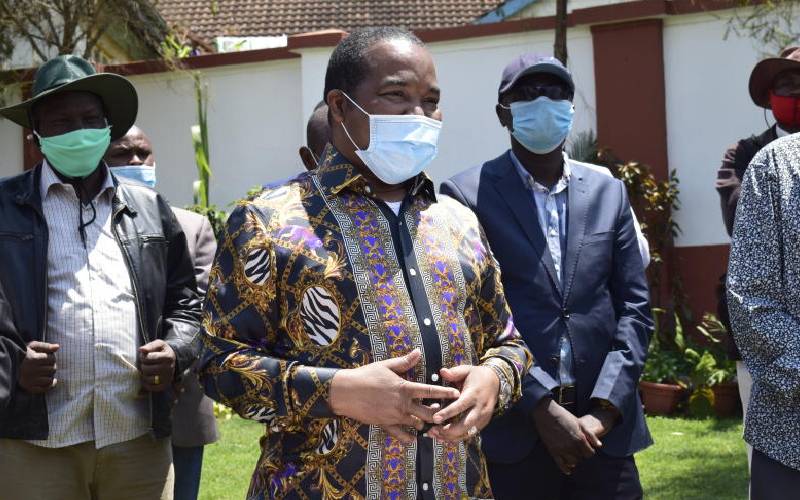 The proposed revenue sharing formula currently at the centre of the storm in Senate has failed to unite leaders from Mt Kenya region, which is set to gain more.
Other than Tharaka Nithi County, which was to lose some resources in the formula proposed by the Commission on Revenue Allocation (CRA) in which counties are allocated cash based on population size, all Mt Kenya counties were set to gain more.
However, what many expected to be a perfect opportunity for the region to speak in one voice in support of the new revenue sharing formula has not happened.
Instead, leaders from the region are pulling in different directions, with the undercurrents of the rivalry between allies of President Uhuru Kenyatta and his deputy William Ruto simmering beneath the surface.
Linturi's proposal rejected
Read More
Meru Senator Mithika Linturi, whose proposed formula to vary the CRA prescription was rejected by Senate leadership, appeared to accentuate these differences by blaming the president for the failure by Mt Kenya leaders to rally behind a new revenue sharing formula.
"The fact that Uhuru has failed to nurture a strong Mt Kenya successor who can be taken as the regional voice in such matters means that a proposal such as mine had to be rejected even though it would have given us added resources," said Linturi.
The senator said he would have been happy to see the same intense, high level lobbying to support the CRA formula as the one witnessed when Jubilee Party decided to remove Prof Kithure Kindiki as Deputy Speaker and Kipchumba Murkomen as Majority Leader.
"The best way forward is to create a middle ground that bridges the gap between the losers and winners so that nobody feels that their stake in this country is being taken for granted," said Linturi, who is perceived to be a close ally of the Deputy President.
Prof Kindiki, another perceived Ruto ally in Mt Kenya region, seemed to agree with Linturi on the president's role in breaking the revenue sharing stalemate.
The Tharaka Nithi Senator called upon the president to take a "nationalist'' position on the stalemate such as the one he took by embracing his erstwhile political foe, ODM leader Raila Odinga.
Raila has called for the postponement of the new revenue sharing formula for the next five years.
Kindiki spoke a day after Murkomen challenged the president to take a position on the matter, citing similar pronouncements by Raila and Ruto.
Kindiki argued that the president was a symbol of unity and should never endorse a formula that disadvantages some parts of his country.
"The Rt Hon Odinga has done the patriotic thing. He and Ruto are now firmly providing important support in this sensitive matter," said Kindiki.
Kindiki digs in
The senator stopped short of bragging that senators opposed to the new formula would win the day, instead saying that he hoped those supporting it, predominantly those from Nyanza and Mt Kenya, would eventually see the light.
Senate Chief Whip Irungu Kang'ata who initially threatened unspecified sanctions against Jubilee senators opposing the new formula, now seems cagey about the next strategy that Uhuru's troops from Mt Kenya region would adopt.
He has, however, promised to organise a goat-eating forum to help close ranks.
Kang'ata has in the last few days substantially mellowed from his earlier position that saw him accuse Raila of abandoning Uhuru on the revenue sharing formula and that this threatened the Building Bridges Initiative (BBI) and the handshake between the two leaders.
"The handshake has been very supportive and has not been threatened in any way. We have a lot of support from senators from the handshake strongholds," he said last week, citing solid support of ODM senators such as Ochillo Ayacko and Sam Ongeri.
From the onset
According to Kang'ata, successfully passing the new formula was a hard task from the onset "for obvious reasons".
"Former leadership of Senate had deliberately refused to remedy the unfairness of the (old) formula. They had the opportunity during consideration of the second generation formula but failed to do so," he said.
"As Mt Kenya leaders we decided that this time we have to face the forces (opposed to the formula) head on and seek justice. But these forces are not asleep," he said.
A number of Jubilee insiders say Kang'ata was reined in by the president on the dangerous BBI and handshake talk.
National Assembly Deputy Chief Whip Maore Maoka, who was part of the new Jubilee Parliamentary leadership elected a few months ago, accuses Jubilee Party senators opposed to the new formula of defiance.
"Those taking a contrary opinion from the party senate leadership are doing so out of sheer defiance. You can clearly see that there is no point for Johnson Sakaja (Nairobi) and Murkomen (Elgeyo Marakwet) to oppose the formula when their counties are set to gain," said Maoka.
The only way
The Igembe North MP said Jubilee Party still believed that the way out of the crisis was for the CRA proposed formula to be passed without amendments.
"People forget that some counties have for 10 years benefited from faked 2009 population census figures and have gotten undeserved resources based on those figures," he said.
According to Maore, the stalemate at the Senate had also given Mt Kenya region a clear indication of who its friends were, pointing out that while there has been numerous cases of flip flopping by Jubilee senators, the ODM camp has been more consistent on the issue.
Nyeri town MP Ngunjiri Wambugu accused leaders from the region opposed to the formula of hypocrisy, saying Mt Kenya needed to be united to solve "a historical injustice" that had been perpetuated against densely populated areas for almost a decade.
"I hear people speaking of a win-win arrangement. This is what we are asking for because what we had was a lose-win, and our region was losing. We are now asking to get what we deserve like every other region," said Wambugu.
However, former National Cohesion and Integration Commission (NCIC) commissioner, Gitile Naituli, who now teaches leadership and management at the Multi Media University, blamed Kenya's policy makers for not crafting an incontestable revenue sharing formula.
"We should have the capacity to identify human needs if we expect convergence in development," said Prof Naituli.
He cited the Kenya Demographic and Health Survey 2018, which he said showed that a newly born child in Nyanza was twice as likely to die in the first months of birth as one in Central, Eastern and North Eastern regions.
"You can debate revenue sharing based on such parameters and poverty levels and are likely to find out that there are more poor people in Murang'a than there are in Garissa," said Naituli.
Political analyst James Mithika said the revenue sharing formula stalemate was a test for Kenya's democracy.
Mithika argued that the hard line positions on the matter in Senate demonstrated that it will be impossible to broach the subject of population and resources in a post-Uhuru political dispensation.
"The stalemate has clearly demonstrated that the problem with Kenya is that anything done wrongly is normalised in the long run," said Mithika.