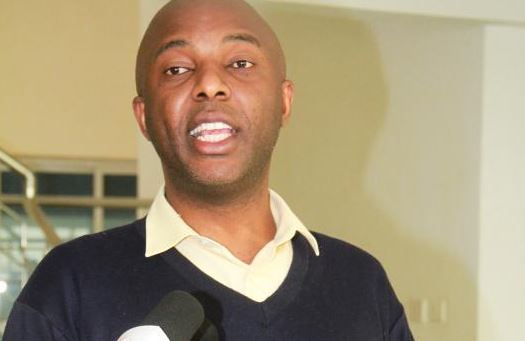 Tasked to deliver the government vote, Senator Irungu Kang'ata has hit a brick wall. Before this, he was delivering quick wins for his side. In this interview, he tells Sunday Standard News Editor Nzau Musau that it has been a real baptism of fire.
Your meteoric rise into Jubilee politics has astounded some, are you surprised yourself?
I don't consider myself unique. Leaders like James Orengo have been in this game for more than 40 years. Senator for Vihiga (George) Khaniri has never lost an election for five terms now. Kibaki and Moi rose at a tender age. May be my uniqueness lies in the rise from student leadership at the age of 19, councillor at 22, MP at 33 and senator at 37. I draw inspiration from experienced leaders like Orengo.
You are three months into your position and you are already causing ripples in the political space. How do you describe your political modus operandi? How do you roll, politically?
My operandi is to work day and night to deliver government business. I do consult a lot however. I endeavour to listen as well, but I prefer written briefs to my bosses for posterity.
You brought forth to Jubilee Senate leadership the vigour of youth, taking on foes and delivering the goods for the big boys, but now it appears you are stuck, what is happening?
I always knew this task is difficult. On July 7, I alerted my bosses in writing that the task ahead was difficult. Whereas on the face of it, with 29 gaining counties one would think a new formula would pass easily as winning needs 24 counties, I had noted friendship and regional bonds among senators seemed to supersede self-interests, a key ingredient that often inspires politicians. One would have thought the 29 senators would pursue the interest of their counties. However, several gaining counties went out of their way to assist their neighbouring counties. Notwithstanding this, there is a duty to be accomplished. I had proposed a two-year transition period. Several alternative ideas are being considered to improve on my original plan. I hope we will get a solution.
How has it been for you in the last three months and how different/difficult is this revenue sharing debate for you?
It's been baptism with fire. From one tussle to another. But I guess that is how life is in general, full of hills and valleys. Challenges make one a better leader and person.
Your colleague from Kilifi, Stewart Madzayo, claimed on the floor that you had failed the test, that you couldn't convince even a single MP to change position in the matter. What is your own assessment of yourself?
That was his opinion. He has been very passionate. However, with all due respect, I have been able to unite the factions in Jubilee that were differing prior to this fight. For the first time in many months, most elected Jubilee senators are now speaking with one voice. I was also able to have some NASA senators pivot in favour of the motion unlike before when they were wholly opposed to it. In fact, last Tuesday I had the numbers to win the motion. The other side realised this and came up with the adjournment motion to torpedo the expected win. But I have no problem. It is good to continue talking. I am a little saddened my colleagues have shunned the offer for discussion that was given to them by the speaker.
What can you attribute to the current impasse and what are you doing about it? Will there be consensus on Tuesday?
The fear by some counties is that they may lose if new formula is passed. Several measures have been proposed to address this fear. It appears my colleagues are yet to be mollified adequately. I have hope by Tuesday, we will get a good answer.
What can you say you have learned in the last three months of service as a majority whip, that which you did not know before?
Social and regional bonds are very strong among colleagues in a manner that outstrips many other considerations. That's positive by the way. Relationships should not be purely transactional. This realisation is compelling me to think of ways where we can have a win-win situation. I do however wish my colleagues stepped back and appreciated the pressure some big counties have in managing public facilities, hence their push for more resources. Once we have this understanding, Senate and Kenya will get the best compromise.
The emergent "Team Kenya", what do you think of this grouping? They appear to be stealing the thunder from the new leadership…
It is good to have senators forming caucuses to push certain agenda. However, I wish they also listened to the other side and cede some ground. How I wish Team Kenya sent their representatives to the committee that had been proposed by the speaker. I have personally called leaders of that group proposing a mediation meeting but they haven't taken up my offer. Government side has ceded ground. I wish team Kenya cedes ground as well.
If you fail the vote on Tuesday, what will you tell your people?
I am a democrat who believes in democracy. If I lose the vote, I will accept and congratulate the winner. Remember this issue has been outstanding since 2013 when devolution was established. The first Senate failed to come up with a formula that would rest the debate. This caused some leaders to go to court. This Senate has decided to bite the bullet and have this matter sorted once and for all. All contests have winners and losers. This Kenya belongs to all ethnic groups and regions. The decision taken is binding but can be revised either by Senate at a later date or National Assembly if they get sufficient numbers to do so.
You are on record as saying a lost vote translates to the end of BBI, is this still your position and if not what has changed?
BBI proponents have been supportive of my motions. Orengo has been vocal in support of my motions, for example.
You have served in the National Assembly and Senate, what is your own assessment of the Senate as a house of debate?
This Senate seems more vibrant compared with the previous one. When I was in the National Assembly, the Senate appeared inconsequential. This Senate has made the House look impactful and vibrant. It is also churning out record number of bills.
President Kenyatta has exactly two years left to retirement. What would you want him to prioritise if you were left to advise him?
The many ongoing developmental projects needs to be completed. They include electricity, roads and water projects. He should also complete the constitutional review process to ensure he leaves a united country.
What are your future political plans?
I am just doing my best. I leave the issue of plans to God, He holds my destiny.
How do you balance politics, family and coronavirus stress?
I am a strict Catholic. I pray a lot. I do read as well to increase knowledge. Reading is my way of releasing stress. I also listen to music, reggae music.