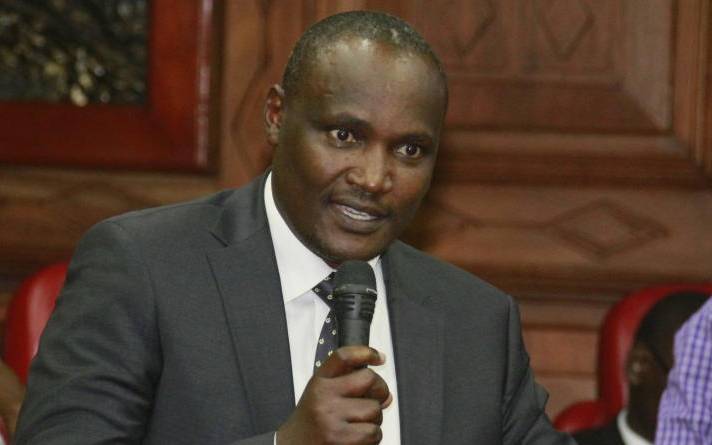 Wrangles in the Nairobi County Assembly have extended to the ODM party.
Branch and national officials have differed over disciplinary action against 12 party MCAs deemed to have contravened the party positions over the bid to oust Speaker Beatrice Elachi.
ODM Chairman John Mbadi (pictured) has summoned Wilson Ochola, Maurice Gari, David Mbithi, Cecilia Ayot, Caroline Mayunzu, Hafsa Khalif, Jared Okode, Redson Otieno, Nicholas Okumu, Millicent Okatch, David Okello and Hajj Nimo to Chungwa House on Tuesday next week.
The MCAs are accused of going against the party's constitution; frustrating recent recruitment process of a clerk that saw the appointment of Edward Gichana as the Clerk before the court nullified the same and appending their signatures in support of the ouster motion against Elachi.
Read More
"By this letter, you are hereby summoned to appear before the party's disciplinary organ sitting at the party headquarters at Chungwa House on Tuesday, August 11, 2020, at 9 am to show why disciplinary action should not be taken against you with regard to your violation of the party constitution, code of conduct, regulations and the law," reads a letter signed by Mbadi and dated August 4, 2020.
But the county ODM chairman George Aladwa has asked them not to honour the summonses, accusing Mbadi of ignoring the branch.
He warned that county officials would storm the meeting if the "irregular" summonses are not withdrawn.
This is not the first time ODM has written to some of the mentioned ward reps.
The first letter was written on July 27, 2020, to a section of the legislators, following the return of Jacob Ngwele who forcefully occupied the office of the assembly clerk. Ngwele made a return on July 23, 2020, and was accompanied by MCAs allied to both Jubilee and ODM parties.
Ngwele has been embroiled in a battle with Speaker Beatrice Elachi for the control of the county assembly ever since the return of Elachi in 2018.