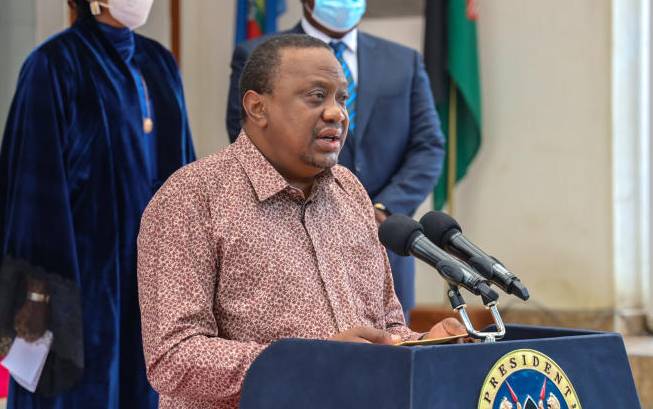 President Uhuru Kenyatta
(pictured above)
has given Senate Leader of the Majority a three-day deadline to mobilise support for a new revenue sharing formula for counties. Straight from the State House meeting during which five Bills were signed into law, Senate Leader of Majority Samuel Poghisio wrote to the Speaker Ken Lusaka requesting a special sitting to consider and approve a report of the Standing Committee on Finance and Budget "without delay." The President, and ODM leader Raila Odinga, are said to be concerned with the continued failure by Senate to obtain consensus on the matter, despite missing the constitutional deadline of June 30.
SEE ALSO: 2022: Every man for himself
Without the sharing formula, the Sh316.5 billion allocated to counties in the current financial year cannot be shared among the 47 devolved units. Article 217 (1) of the Constitution mandates Senate to determine the formula once every five years. "I therefore write to request you to invoke Standing Order No.1 as read with Standing Order No.30 (1) to approve a Special Sitting of the Senate on Monday, July 13, 2020 at 2:30pm to receive and consider the report of the Standing Committee on Finance and Budget on the Third Basis for Allocating Among Counties the Share of National Revenue," Poghisio's letter to Lusaka reads. Senator's support Poghisio attached a schedule indicating the support of Senators to his request. During the State House meeting, sources said that the President expressed his displeasure with Senate leadership for not ending the stalemate. Earlier, senate's finance committee headed by Senator (Amb) Mohamed Maalim Mohamud failed to agree of the formula before he was de-whipped. Senators from the counties set to loose in a new revenue sharing formula have also opposed the proposals.
SEE ALSO: Revenue standoff: Young Turks take on Uhuru, Raila
"This formula is being determined outside Parliament. The law states that if there is no resolution, then the existing formula is still valid. I think something is being done somewhere and I will accept our counties to be marginalised. We have had long history of marginalisation," Mahamud said earlier this week. Several proposals floated by Senators on how the Commission for Revenue Allocation (CRA) formula can be improved have all ended in a stalemate. The latest proposal agreed on by the Standing Committee on Finance and Budget on Tuesday seeks to temporarily retain the current revenue sharing formula for a year. "The Government has made several concessions to those aggrieved to this formula. Initially, the formula would have caused some counties to lose money if implemented this financial year. The government understands this would have caused great hardships. Again, government does not want any Senator to be deemed to have superintended lose of revenue in his county," Senate Majority Whip Kangata Irungu told The Standard. Revenue
SEE ALSO: CoG: Our hands are tied over revenue sharing
Kangata said the current proposal offered a middle ground for all counties. "There is consensus that the Building Bridges Initiative (BBI) will propose increment of shareable revenue. Therefore, Senators should believe government's commitment that no county will experience loss of revenue," he said. On Tuesday, Senators from counties perceived to be marginalised threatened to shoot down the proposed new revenue sharing formula in the House claiming that it would dis-empower their regions while empowering 'rich' counties. Last month, Senate suspended debate on the County Allocation of Revenue Bill 2020 until the standoff is resolved.