Duale's tough balancing act and why he is not out of the woods just yet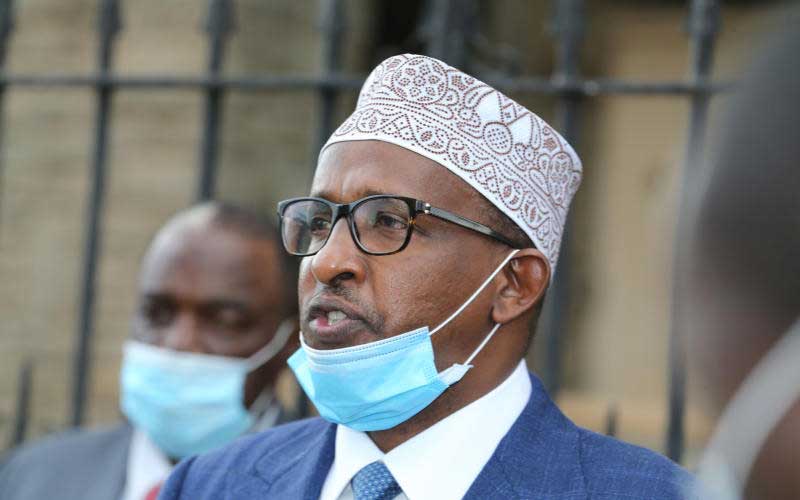 He may have survived Tuesday's Jubilee purge at State House, Nairobi, but Aden Duale (pictured), theMajority Leader in the National Assembly has quite some tough balancing act to make if he has to survive in the coming days.
Caught in between a ruthless president and an ambitious deputy president, the Garissa Town MP must also balance the interests of his overly divided troops. At the Tuesday meet, President Uhuru Kenyatta is said to have washed his hands off Duale and asked MPs to do with him as they wished. Towards this end, some of them were yesterday contemplating collecting signatures with the aim of kicking him out.
But Duale himself is unmoved -- chest-thumping that it is his credentials that will see him retain the post. "Wisdom dictated that Jubilee retained Duale to the position. We may sit on different sides in the House and even differ on some matters, but I can tell you that Duale is committed, passionate and effective in his work," Minority Deputy Whip Dr Chris Wamalwa says.
Duale has not only been the face of the party in the National Assembly, but has often appeared as the de-facto leader of government in Parliament, overshadowing his colleague in the Senate. Essentially, he has been the face of Jubilee in the whole institution of Parliament.
He has come a long way with Deputy President William Ruto. The pair was kicked out of ODM and hounded out of the Grand Coalition Government 2007-13 when they formed United Republican Party (URP). But they equally hit it off with Kenyatta when he partnered with Ruto to win the 2013 presidential vote.
By and large, the sponsored government agenda in the House has passed under his watch. This is unlike his immediate former counterpart in the Senate, Elgeyo Marakwet Senator Kipchumba Murkomen, who at times appeared critical of some government agenda, including those with the president's blessings.
Nevertheless, Duale has faltered on few occasions, with some government nominees -- case in point Mwindi Mwinzi's ambassadorial nomination -- falling under the force of his weight, and in the name of national interests.
But he has compensated for those occasional lapses with unwavering loyalty and commitment to parliamentary business. Even when the most critical business has been dispensed with and many legislators taken their leave, Duale sticks around, just in case.
So much so that few remember he has an able deputy in Kitutu Chache North MP, Jimmy Angwenyi. On the floor of the House, Duale, in his characteristic jest, has told off Jubilee MPs, often insisting that he did not recognise any of the factions, as his interests was to push through the Jubilee agenda "as channeled to me by the party leader Uhuru Kenyatta and Ruto".
This tactful assertion has always silenced even his most critical opponents who would normally want to associate him with the Tanga Tanga wing. It has also ensured that he commands the respect of not only the members of both wings of the Jubilee divide, but also a good number of the Opposition MPs, going by the large numbers that flock his office.
In a recent interview with this reporter, Duale appeared to have a strong faith that his "sterling" performance as the Jubilee leader in the House would win him the faith of the president and his deputy to continue serving in the capacity, even as talk of his ouster was being amplified by a section of the Kieleweke group.
"I would say I have done a sterling job," he said.
These attributes explain why it might have been difficult to replace the workaholic Duale at a time when Jubilee still requires that ammunition to push through its agenda in the House.