MCAs throw new hurdle on Waiguru's political journey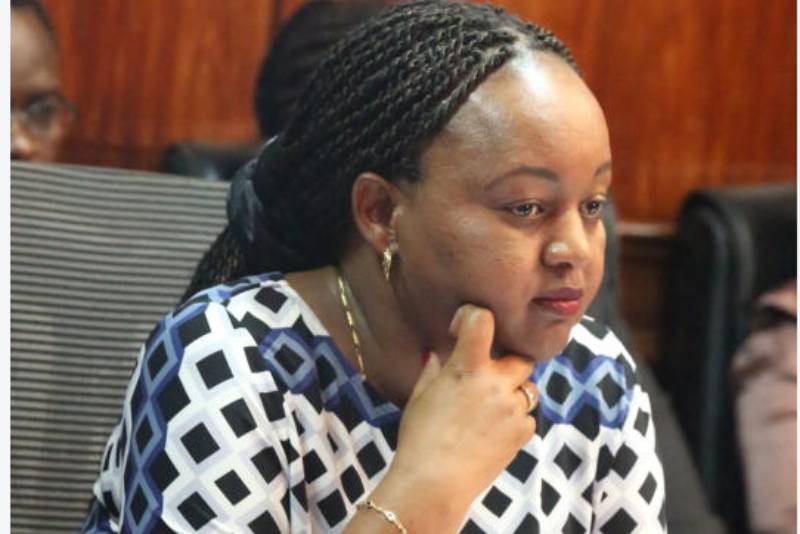 Kirinyaga Governor Anne Waiguru's (pictured) political star has been bright since her election in 2017, but some forces have conspired to dim it.
She now faces a political landmine having successfully overcome the storm over the National Youth Service (NYS) scandal.
The governor, who has become part of the faces of successful women leaders in the country, is now fighting to remain in office.
The former Devolution Cabinet Secretary was forced to step aside over corruption allegations and vied for Kirinyaga governorship despite the odds against her at a time many leaders were calling for her prosecution.
After a gruelling campaign she beat seasoned politician and Narc Kenya leader Martha Karua and triumphed in the election petition.
Then came the Building Bridges Initiative (BBI) championed by President Uhuru Kenyatta and Opposition leader Raila Odinga. This appeared to be a springboard that catapulted her into national politics as she became among the face of BBI rallies spearheaded by the ODM leader Raila. But now she faces a political hurdle after Kirinyaga County MCAs set the ball rolling to impeach her over claims of violation of the Constitution, abuse of office and gross misconduct.
Mutira MCA David Kinyua filed a notice of motion to impeach the governor. Mr Kinyua faults Waiguru for failure to deliver the annual state of the county address.
The governor is also accused of allegedly using her office to improperly confer a benefit to herself when she was irregularly paid imprest amounting to Sh10.6 million yet she did not travel.
MCAs also accuse Waiguru of allegedly violating Section 46 of the Public Procurement and Disposal of Assets Act 2015 by usurping the powers of the accounting officer in establishing an irregular tender evaluation committee.
MCAs say some tenders reserved for AGPO were cited for being awarded to companies that are not AGPO certified.
The tender to procure the governor's vehicle at a cost of Sh15 million that was allegedly irregularly awarded despite the same having been procured during the regime of Joseph Ndathi has been listed.
The governor has denied the allegations accusing the MCAs of "pettiness and political brinkmanship by filing a motion to impeach her without any foundation."
She says the impeachment is all about illegal requests for tenders and money and vows she will not concede to them at whatever price.
Waiguru points out that there is no requirement for annual State of the County Address, while noting two such addresses were given in 2018 and in 2019.
On imprests she says, they were surrendered in the manner required by the public service regulations. The governor refutes claims of violating procurement laws, arguing that the nexus between her office and the tenders was not shown.
"There is not a single allegation of a personal benefit to me, my relatives or friends. They are just thrown there for publicity and propaganda," she insists.
On the vehicle, she says it was bought under a government framework contract which is negotiated by the national government Ministry of Public Works.
The governor maintains there are some operatives pulling the strings outside the Assembly because of the 2022 politics.
But the MCAs pushing the impeachment have denied being influenced by external forces.
"As Kirinyaga County Assembly we are independent and we work without being coerced or under influence of anyone. Our motion is factual and practical and we are not just politicking," says Tebera MCA Gudson Muchina.
Though Waiguru has a chance to appear before the Assembly and table her defence, other developments appear intended to save her from impeachment.
Jubilee Party has ordered all MCAs to toe the party line and disassociate themselves from the impeachment motion.
Party Secretary General Raphael Tuju in a letter to Assembly chief whip John Njoka and copied to MCAs reminded the ward reps that they must exhaust all internal party resolutions of disputes before resorting to impeachment.
"The Jubilee Party takes great exemption in the (impeachment) scheme that is not only meant to derail the party's agenda in the county but also the Jubilee Party's national agenda," says Tuju.
The party has already ousted Kerugoya MCA Kamau Murango as the Leader of Majority for supporting calls to impeach Waiguru.
No longer tenable
"It is no longer tenable for you to lead Government business in the county assembly. We find this behaviour of refusing to listen to the party headquarters to be gross misconduct as articulated in Article 13 of the party constitution. Any display of intransigence from your part could lead to serious sanctions which may include expulsion from the party as prescribed under section 14 of the Political Parties Act 2012," wrote Tuju.
On the other hand, Kirinyaga County Commissioner Jim Njoka has written to Speaker Anthony Gathumbi directing no more than 10 MCAs should convene in the Assembly or within the precincts in line with efforts to curb Covid-19.
There is speculation that Waiguru and her deputy Peter Ndambiri could have fallen out.
The governor's allies led by 'Team Waiguru' senior coordinator Gichovi Ndathi have accused Ndambiri of being behind the impeachment motion. But the deputy governor's supporters have dismissed the claims.
However, Waiguru's, allies argue that the accusations are unwarranted. Njukiini MCA Fredrick Fundi, says the Assembly had not been doing its oversight role since August after chairpersons of various committees were removed.
"None of those reports they are using to accuse her was scrutinised by the committees. Its only after recommendations by the Public Accounts and Investment Committee that they can attempt to impeach her, but we haven't reached there," says Fundi.
But Kirinyaga Woman Representative Wangui Ngirichi maintains that the Assembly should be allowed to execute its constitutional mandate.