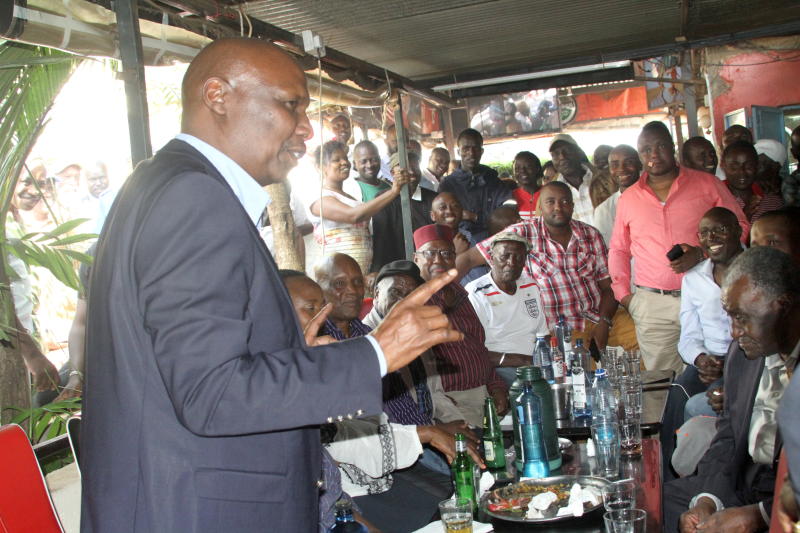 Baringo Senator Gideon Moi yesterday said he will announce his next political move after finishing a 40-day mourning period for his father, Daniel arap Moi. The former president was buried on February 12. Speaking during a lunch meeting with youth leaders and residents of Kiambaa in Ruaka, Kiambu County, the senator promised to return for more discussions with youths in the area. "I want to ask you to give me a chance to finish our customs as the Kalenjin. When we lose someone we must mourn for 40 days. I have just left home twice, to Meru for the Building Bridges Initiative meeting because it is important and will benefit all of us and for the Nginyo funeral," Gideon said.
SEE ALSO: Gideon promises to push for 9km tunnel to tame floods near lake
"Today, I only came to have lunch with you, but I will come back for more discussions," he said. He was referring to the burial of fallen Kiambu businessman and veteran politician Nginyo Kariuki who was buried on Tuesday. The senator called for unity, saying the aspirations of Kiambu residents are similar to those of his county, Baringo, and the entire country. "Our aspirations are the same. We want peace, better health services and infrastructure, the chance to do business and the stability of the economy," he said. Gideon promised to prioritise youth issues, especially unemployment, on his next visit to the area.
SEE ALSO: Senator Gideon meets leaders from Kajiado and Nakuru
He also called on residents and leaders in the region to support President Uhuru Kenyatta, saying he had the interests of Kenya at heart. "If he says right, we go right, if he says left, we go left, if he says we jump, we ask how many feet," said the Senator. After the meeting, local Kanu leaders said they were ready to strengthen the party in Kiambu County. "We did not discuss party issues because he (Gideon) is in mourning, but we are ready to rebuild the party," said George Wainaina. The leaders also expressed optimism that the former ruling party could easily emerge triumphant in the 2022 General Election. "We want Kanu to reign in 2022 elections," said Wainaina.
SEE ALSO: We will walk with you, Luhya leaders assure Gideon