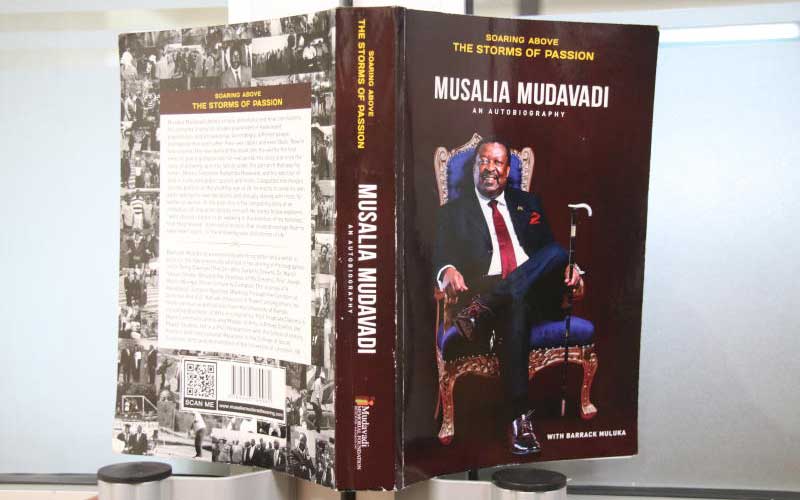 In his new autobiography, Soaring Above the Storms of Passion, ANC leader Musalia Mudavadi falls short of describing himself as Kenya's foremost political moralist given to self-inflicted losses and betrayal by others.
He had begun fairly well, everything falling into place but over time fallen into political abyss after one misstep or another largely on moral choices.
At 28 and a bachelor, he was plucked from obscurity by former President Moi, driven to CMC Motors, gifted a brand new Puegeot 504 to basically compete against himself- everyone pulled out of the race for him.
Before coming to Nairobi, he had driven his bartered blue Datsun 120Y car from Mululu to Kisumu where he sought help from a family friend to be driven to Nairobi for an appointment with Moi.
His late father had gifted him the Datsun in mid 80's as sign of gratitude for his "attitude and conduct."
And when things were settling as a new MP, the drums of isukuti dancers humming outside his home, announced his elevation to a full Cabinet minister to be deputised by Francis ole Kaparo, S N Mwaura and David Mwenje. So much so fast!
His father, Moses Mudavadi, a trusted ally of Moi and towering figure in Luhya politics had died. Moi had identified him for a successor and nothing would stop him in garlanding him.
This act of generosity would not be lost on him over time and would come to weigh down hard on him in succession politics. When Moi settled for Uhuru Kenyatta as his choice of successor, Mudavadi was stopped from his rebellious path by this history.
"The ultimate driver for my retreat was the family ties and the traditional amity between my late father and President Moi. I must admit that Mzee Moi was very much like a father to me," he writes.
Mudavadi however says as much as he blundered on that retreat, the finer side of himself won for there are times when circumstances lead people to stand by their parents, guardians or mentors even when they are wrong.
He says he had no illusions that he was making a mistake and a sacrifice at the time.
"If Moi had made me a politician as he had indeed made many others, I would pay back my debt by standing with him and risk losing the election. I would come back someday, without the burden of the thought that someone had crafted my vessel and charted the path that it traveled."
As it was won't to, Uhuru Project lost and with it Mudavadi. He claims in the book that he is the one who advised Uhuru to concede defeat and that he turned down Kanu offers to nominate him to Parliament.
"The truth was that the voters in Sabatia had rejected me. It would be a mockery of the electorate to bring through the parliamentary back door a candidate they had rejected," he says.
He would later bounce back in 2007 through ODM. Later in 2013 when he charted his own path through UDF party and after losing the presidency, he would be brought to his knees by his own coalition.
Mudavadai writes in the book that everybody in his circle wanted to work with the government, including his nominees to Parliament. They turned belligerent towards him over his intransigence to join government saying they were beginning to feel the cold.
His Amani Coalition slipped out his hands as a pulsating hunger to join government overtook them. He says it was due to the events that unfolded with his own members deserting that he asked Uhuru to grant New Ford Kenya leader Eugene Wamalwa, a Cabinet slot.
"Both the President and Wamalwa were dumbstruck. They were visibly taken aback. They wondered loudly why I was not asking for a job myself. But I said no," he says.
He says he was not cut out for rough politics devoid of values. This partly explains why he remained opposed to the parallel swearing in of Raila Odinga in the aftermath of 2007 and 2017 General Election when their election victory was clearly stolen.
"Indeed, it has never been in my stature to engage in dirty cloak-and-gun man-eat-man politics. I have always believed that political competition can be engaged with a level of civility and decorum, built around issues that matter to the public," he says in the book.
His sister Serah, he reveals, was accosted by strangers in Donholm and forcefully amputated for what he believes was a political motive. This may have formed a strong impression on his political psyche and composure.