Kalembe: Jubilee did not 'Tip' me for my party as promised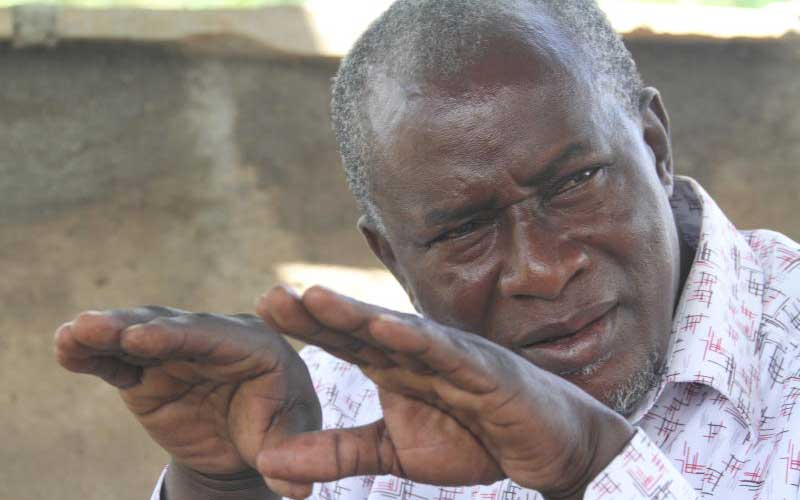 Kalembe Ndile misses power; the kind that he had when he was assistant minister for Tourism and Wildlife under the Mwai Kibaki government from 2008 to 2012.
A grin spreads across his face when he talks of the days he was at the heart of national political conversations. He hanged around diplomats, gave keynote addresses at government events and directly engaged the president.
Politicians who wanted relevance in the Akamba community sought his help. Kalembe brought with him an advantage of having the language and theatrics to sway the masses. Talks were rife that he was uneducated and uncouth, yet there was a section of his followers who felt they could associate with his laid back approach to politics.
"I realised that pretending to be illiterate helped. Sometimes I would get in trouble and all I had to say was: what do I know? I don't have good education," he says and bursts into loud laughter.
He stops almost immediately when he starts talking about the events that have defined his life over the last few months.
A few days ago, rumours of his death permeated social media. There were allegations that he had died during treatment in Nairobi. Kalembe took his phone and posted a Facebook live video. "I am around. I have no issues. I am fit," he said in the clip that went viral.
He says he learnt about doing live videos on social media from Nairobi Governor Mike Sonko, and that he plans to explore it, now that he is not attracting the attention of mainstream media.
People who tuned in could not help noticing his tired eyes and the slow, uncertain drawl in his voice. "I have gone through a lot over the last few months, but that does not mean that I am dying. All that fake news is the work of my enemies," he says in an interview at his hotel in Machakos.
He now walks with a limp. A road accident he sustained at the height of the 2017 General Election when he was campaigning for Jubilee Party left him with broken bones and shattered dreams.
He was driving. Outside, there was a soft drizzle. It was almost 3am and he says as if in a flash, he lost control of the car. He heard a bang, followed by searing pain in his feet. "Since the accident, I cannot walk for more than a kilometre," he says.
When he talks about politics, he says he feels betrayed. He says that when small parties, including his own The Independent Party (popularly known as Tip Tip), were merged into the Jubilee alliance, they were promised Sh30 million.
Left out
At the height of its popularity, Tip Tip came to the rescue of bigwigs – Kalembe called them big fish – like Norman Nyagah and the late Francis Nyenze. "We never got that money. Most of us were left out and it is only officials of big parties that got plum positions," he says.
He was appointed to the Tana Athi Water Services Board, but he feels he can do better. People around him know him as an illiterate who loves his liquor and lasses. Kalembe says the biggest lie that has been told about him is that he did not go to school.
"I finished secondary school but could not get my certificate because of lack of fee. When I went back years later to collect it, the school had closed," he says.
He says before vying for MP of Kibwezi West, he sat a secondary education exam of the British education system and failed. "I had some Ds, but it does not matter. I have the papers and I even went further to register for university education but I dropped out," he adds.
He says he found the university environment too intense and boring. "I am a free mind. I hate being told how to think," he adds.
On alcohol, he says he loves his whisky neat, and sometimes when intoxicated, he tends to attract "slay queens" who want to take selfies with him. "Women see me, they get excited, they grab my waist and ask for a photo. How can I stop them when they are doing something as harmless as that?" he says, reacting to one of his photos that went viral on social media, showing him in the company of some young women.
He insists that he only has one wife and 10 children. There could be other children out there, he says, but quickly adds that he does not know a man without such. "Even padres have children outside the church. It is nothing to dwell on," he explains.
For now, he says he is channelling his energies on building his hotel. His biggest headache, he claims, is the county government. When he fell out with Machakos Governor Alfred Mutua over his leadership style, he claims Mutua sent people to his hotel to harass him. "They killed my ostrich and arrested some of my employees," he adds.
Mutua dismisses the allegations, even though he admits raiding Kalembe's establishment. "He is delusional. When the county government is working, Kalembe thinks it is about him. His hotel must comply with the by-laws," the governor explained.
Kalembe was recently embroiled in a conflict with his lawyer Andrew Makinda whom he accused of conning him out of Sh1.5 million that the court awarded him after he won an election petition against the Independent Electoral and Boundaries Commission (IEBC).
He claims that Makinda did not notify him about the payment and he only got to know of it when he wrote to the IEBC to ask about the award. "If I had not asked the IEBC, I would not have known that the lawyer had received the money," he says.
But the lawyer says the money was payment for services rendered. "The matter is in court, so I do not want to talk about it, but the deputy registrar will determine whether the money belongs to Kalembe or me," he said.
Kalembe says he will be back in 2022. If he had a degree, he would have gone for the governor's seat, he says. He is now eyeing a parliamentary seat instead.