Nyagarama asutwa na Ruto kwa kutohudhuria harambee
POLITICS
By Pambazuko | Oct 30th 2019 | 1 min read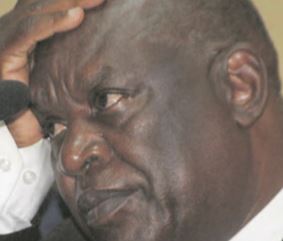 Naibu wa Rais William Ruto amemsuta Gavana wa Nyamira John Nyagarama kwa kukosa kuhudhuria Harambee ya Kanisa la Kiadventista la Tente mjini Nyamira siku ya Jumamosi.
Ruto ambaye alikuwa mgeni wa Heshima kwenye hafla ya kununua Basi la Kanisa hilo alisema lilikuwa jambo la kushangaza kwa Nyagarama kukosa kuhudhuria ilhali yeye ni mshiriki wa kanisa hilo ambalo liko umbali wa mita 50 kutoka kwa makazi yake rasmi.
Naibu Rais alimtaka Gavana huyo na viongozi wengine wasikuwe na uwoga wa kuhudhuria hafla ambazo ni za kimaendeleo eti kwa sababu huwenda watu fulani wenye nguvu wakasirishwa akisema kuwa wamechaguliwa na wananchi.
"Mkimwona Gavana Nyagarama mwambie apokee salamu kutoka kwa Naibu wa Rais, Ninaambiwa kwake ni kama mita 50 kutoka hapa, wakati mwingine asiogope kuja kanisani eti kwa sababu Naibu Rais amekuja kufanya mchango," akasema Ruto.
Naibu wa Rais ambaye alifanya ziara ya siku mbili kwenye jimbo la Nyamira aliwaambia wapinzani wake kwenye kinyanganyiro cha Urais mwaka wa 2022 kuwa wakenya watamchagua mtu ambaye amewafanyia kazi kama Rais
wao kwenye uchaguzi mkuu.
Ruto alisema kuwa kuna baadhi ya viongozi wanatamani wadhifa wa Urais mwaka wa 2022 ilhali wameketi kule Nairobi na hawajafanya lolote la kuwatia wakenya mshawasha wakuwapigia kura kumrithi Rais Uhuru Kenyatta atakapostaafu.
Ruto alisema kuwa yeye ako katika pilkapilka za kuzuru sehemu mbalimbali nchini akikagua na kuanzisha miradi ya maendeleo.

Social media Halloween
Halloween is almost here and if you still think the 'scary' festival is only a Western-affair, you are mistaken.