Residents want to recall MP who appeared in public drunk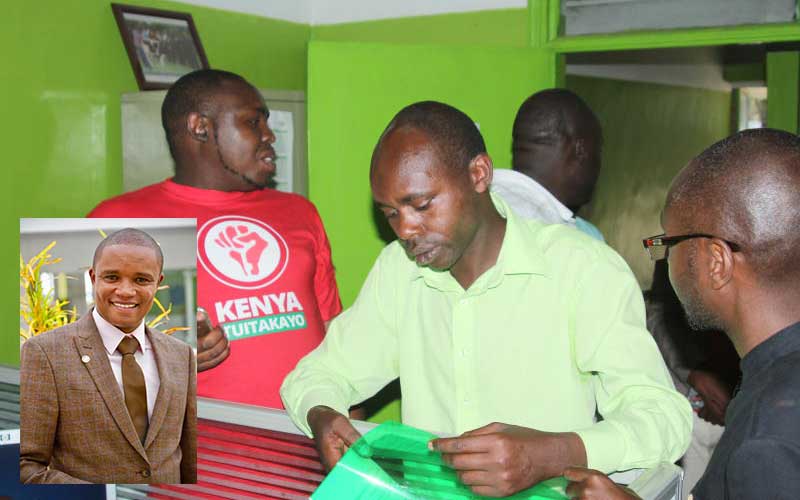 Five voters in Molo Constituency have launched a bid to recall their MP Kuria Kimani over an incident where the lawmaker showed up for a public function drunk.
In a petition to the Independent Electoral and Boundaries Commission (IEBC) last Friday, five petitioners, say Kimani violated Chapter Six of the Constitution on integrity and ethics.
Robert Njenga, Vincent Tanui, David Kibe, Samuel Mwangi and Masese Kemunche want Kimani to be recalled as an MP for attending a public function while drunk.
The five are referring to a public meeting on July 4 in Elburgon that was meant to discuss the increased sale and consumption of illicit brew.
Ironically, Kimani showed up for the meeting looking drunk and reportedly staggered to the podium upon invitation.
The first-time lawmaker was then whisked away by police and his security detail after a section of angry residents threatened to beat him up.
The petitioners now say that was utter misconduct and the MP violated the law.
Under the Elections Act, 2011, an MP can only be recalled at least 24 months after election and "not later than 12 months immediately preceding the next general elections".
The petitioners must also get the support of at least 30 per cent registered voters in the constituency in addition to 15 per cent in every ward in the constituency.
They also want the IEBC to declare the Molo parliamentary seat vacant and the MP be barred from holding any other public office.
"The petitioners want MP Kimani to be disqualified from holding any other state office for his indiscipline actions at a public meeting," reads the petition.
They also want the lawmaker to be disqualified from participating in the by-election should he be successfully recalled.
"The petitioners urge IEBC to advise the Speaker of National Assembly to declare the parliamentary seat vacant," reads the petition.
According to the petition received by the IEBC Nakuru office on August 23, the MP arrived intoxicated at a meeting set to explore ways of dealing with illicit brews.
"In the middle of the meeting, the MP arrived while drunk, staggering and disorderly through Elburgon Nyayo Hospital, which is adjacent to venue," reads the petition.
The MP jumped over the fence and demanded to be given a microphone to address the meeting, in a manner that was demeaning to his office, the petition states.
Kimani is said to have spoken incoherently due to the heavy influence of alcohol.
He is also accused of refusing to heed to shouts of the members of public and state officials who were demanding that he stops addressing the meeting and sits down.
The petition states that due to his misconduct the meeting was forced to end prematurely after irate residents threatened to beat him up.
The petitioners attached a DVD containing the video and photos of the incident.