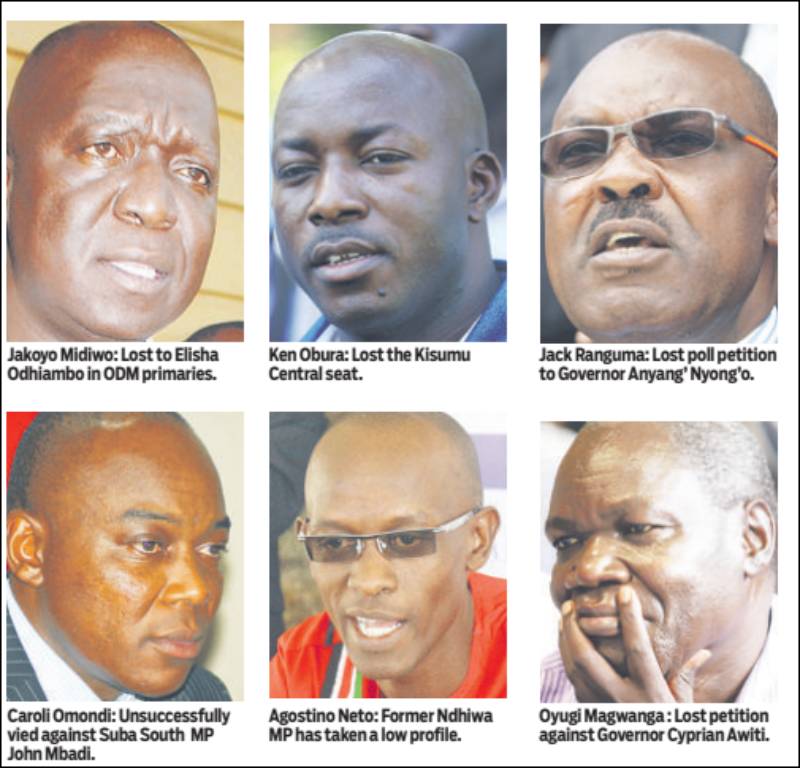 A political storm is gathering over Nyanza as former allies of ODM leader Raila Odinga who were swept aside by the 2017 elections plot a major come back. With the 2022 elections drawing near, big names, some of whom even ditched the party after failing to get nomination tickets, are building multi-million shilling campaign war chests that could change the region's political landscape. Among those scheming for a return is one of Nyanza's most outspoken politician and a former member of Raila's kitchen cabinet — Jakoyo Midiwo — who made a surprise exit after he lost to newcomer Elisha Odhiambo in 2017.
SEE ALSO: Don't link Raila to failure of revenue Bill, ODM tells critics
At the time of his exit, Jakoyo, Raila's cousin and a tough politician, was serving as the Minority Leader in Parliament. He has been MP for Gem for three consecutive terms since 2002. He is now plotting to shift his political base to Kisumu where he plans to vie for the governorship against the incumbent, Prof Anyang' Nyong'o. Midiwo has elaborate business interests in Kisumu and his war against Nyong'o would be quite interesting. "I'm not quitting politics. The business environment in Kisumu has become unconducive and if the current governor does not change it, I will face him," said Midiwo. He did not disclose his game plan but sources say Mr Midiwo started plotting his grand return to big time politics the day he lost the Gem seat in 2017.
SEE ALSO: Edgar Obare to be charged for linking media personality to Joho's trip
Besides Midiwo, several other former outspoken ODM luminaries are burning the midnight oil to crack the region's political jigsaw puzzle. Former Kisumu Central MP Ken Obura is also said to be on his way back. Obura, now a Chief Administrative Secretary in the Ministry of East African Community, wants to be governor in 2022. He has been visiting the town and meeting the youth and his former campaigners. For the past several months, politics in Nyanza has been low-key as the region continues to enjoy the fruits of the handshake between President Uhuru Kenyatta and Raila.
Sunday Standard
has established that underground succession politics is slowly gaining momentum in the region. Some of the leaders are ODM life members who fell out with the party after the 2017 nominations which they claim have led to the emergence of lackluster leaders who are not delivering on their mandate. The development comes at a time Raila has already called on his party to start making preparations for the 2022 poll.
SEE ALSO: How Raila's absence exposed ODM party
Last weekend, Raila told party officials to start preparing for party elections next year, an exercise he said was part of the road-map to 2022. Although he did not give details of the preparations or whether he will run again for the top post, Raila directed party officials and supporters to renew their support and loyalty as the country prepared for presidential elections. And now, his former close allies have given a clear indication that they are up to task of revamping the party whose popularity they claim has been waning. They have vowed to change the scope of politics and have embarked on their grassroots plans. They, however, claim that even though they have given the current crop of leaders time to complete their terms, they are closely monitoring events. Among former ODM leaders spoiling for the political contest are former Kisumu Governor Jack Ranguma, former Kasipul MP Oyugi Magwanga who fought a protracted legal battle against Homa Bay Governor Cyprian Awiti. Others who lost in 2017 elections in what they described as sham party primaries are former Raila's Chief of Staff when he was the Prime Minister, Caroli Omondi, former Ndhiwa MP Agostino Neto and former Kabondo Kasipul legislator Sylvance Osele. Omondi, who unsuccessfully vied against ODM chairman John Mbadi in Suba South, said although he is keeping a low profile, he is still active in politics. Omondi and Magwanga are among those preparing to succeed Governor Awiti in 2022. Magwanga told
Sunday Standard
hat his mettle in politics is still strong and he's development-driven. He claims that the current crop of leaders is not doing enough to represent Raila's development agenda.
Homa Bay seat
Also gathering his troops for yet another battle for Homa Bay governor's post is businessman Sammy Wakiaga whounsuccessfully vied for the seat in 2017. Former Kisumu Majority Leader Samuel On'gow is keen on the Muhoroni parliamentary seat. Former Nyakach MP Peter Odoyo says he has already met key partners as he plans his next political move. Mr Odoyo has been one of Raila's allies even after he lot his seat in 2002 to Pollyns Ochieng' Daima after serving two terms. He has been an active player in ODM nominations and activities. Odoyo has been keeping his cards close to his chest even though sources close to him say he was eyeing a senior position in the Kisumu County leadership. Early this year, Odoyo was tipped to be appointed the chairman of the Kisumu County Public Service Board but ended up missing it. "Watch this space. It is not over until its over," Odoyo told
Sunday Standard
. In the neighbouring Muhoroni, former area MP and a one time assistant minister, Prof Ayiecho Olweny, is said to be oiling his guns, ready for another battle in 2022. He lost the seat to his political foe, James Onyango K'Oyoo in 2013 and 2017. After losing to K'Oyoo in the ODM primaries, Prof Olweny launched an epic court battle that took him to the Supreme Court where he lost the war. He is another Raila ally and the Kisumu ODM branch chairman. In the Gusii region, one of Raila's point men and ODM national treasurer Timothy Bosire is silently working behind the scenes for a comeback. The University of Nairobi-educated economist joined elective politics in 1997 but it was until in 2013 that he won the Kitutu Masaba seat after beating Walter Nyambati. He lost the seat to Shadrack Mose in 2017. Mr Bosire has taken a low profile and is currently engaged in his businesses but those close to him say he is determined to return to elective politics. Also said to be panning a come back is former assistant minister and MP for South Mugirango, Omingo Magara. "I am still very active in politics and will make my intentions known at the right time," said Mr Magara.