Aukot takes his bill to Counties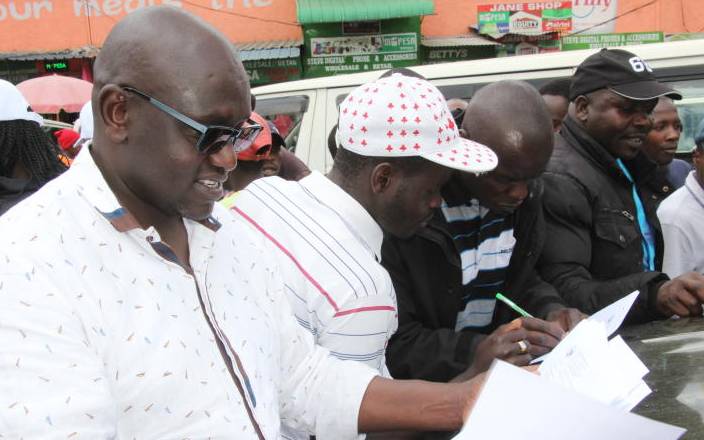 The fate of a Bill that targets to invoke a referendum now rests with county assemblies after the electoral commission yesterday ruled that it had met the constitutional threshold of a million signatures.
The Bill fronted by the Third Way Alliance under the Punguza Mzigo initiative, will now need the support of 24 county assemblies as it marches on to the path of a referendum.
Among other proposals, the Bill is pushing for a reduction of the number of MPs to 147.
The Independent Electoral and Boundaries Commission (IEBC) yesterday said the popular initiative by Third Way Alliance leader Ekuru Aukot had been supported by 1,222,541 registered voters.
"This is therefore to notify the public and all the stakeholders that the initiative had met the requisite threshold as required by the said Article 257 (4) of the Constitution," said IEBC Chairman Wafula Chebukati.
Article 257 of the Constitution states that an amendment to the Constitution may be proposed by a popular initiative signed by at least one million registered voters.
If IEBC is satisfied that the initiative meets the requirements of Article 257, the commission shall submit the draft Bill to each county assembly for consideration within three months.
If a county assembly approves the draft Bill within three months after the date it received it from the commission, the Speaker of the county assembly shall deliver a copy of the draft Bill to the Speakers of the two Houses, with a certificate that the county assembly approved it.
If a draft Bill has been approved by a majority of the county assemblies, it shall be introduced in the National Assembly and the Senate without delay.
If Parliament passes the Bill, it shall be submitted to the President for assent in accordance with Articles 256 (4) and (5).
If either of the Houses fails to pass the Bill, or the Bill relates to a matter specified in 255 (1), the proposed amendment shall be submitted to the people in a referendum.
Boost to initiative
In what could spell a major boost to the initiative, senators have indicated their support for the Bill should it get the backing of a majority of the assemblies.
The Bill has proposed goodies to the devolved units that could entice MCAs and senators, including retention of the 1,450 wards, which it recognises as the primary units of accelerated development.
The proposal to elevate the Senate to be an upper House with veto powers to check the National Assembly could win senators.