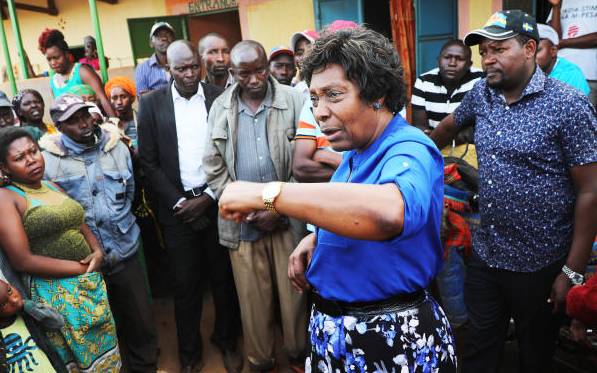 Kitui Governor Charity Ngilu would not be distracted or slowed down by development saboteurs.
Mrs Ngilu at the weekend admitted she was facing orchestrated and coordinated destructive politics which she said had no place in improving people's livelihoods.
Speaking at Kwa-Kilui shopping centre, Lower Yatta in Kitui Rural, the governor said she would not be scared or intimidated by members of the county assembly or those out to derail her five-pillar development agenda.
"The assembly and other bent politicians want to derail my development agenda for Kitui people. But I want to tell them they are misplaced. I won't listen to background noise," said Ngilu during a meet-the-people-tour.
Read More
She said her focus remained to create wealth and write a new chapter in people's lives now and behold 2022.
Ngilu wondered why her critics has chosen to deflect her development focus by engaging in negative and wayward politics.
"I will remain steadfast and not be scared or intimidated by those out to derail my development agenda in improving live hoods of people. The critics have no sympathy to mankind," the governor said.
Ngilu yesterday told critics to shun destructive politics, which she said had no place in improving people's livelihoods.
"I am up to the task and I won't be diverted from serving the electorate diligently," said Ngilu as she joined Lower Yatta residents in demanding for cooperate social responsibility from a Chinese company tarmacking the Kitui-Kibwezi-Mutomo road.
Accompanied by Kwavonza-Yatta MCA John Kisangau alias Mbaki who is also the minority leader in the assembly, Lands and Infrastructure Executive Jacob Kakundi, Kioko Kiilu (Water) and Richard Muthoka (Health) the governor said she had a clear agenda and a workable strategy that would enable her to deliver her campaign pledges.
Ngilu accused a former area MP and a civic leader of conniving to incite the residents against her administration over a multi-million stone crusher owned by her government in the ward.
Ngilu reiterated her promise to bring lasting change to social-economic welfare of Kitui people using her five-pillar development agenda.
"My plan is to empower residents economically and ensure they enjoy fruits of devolution. I will ensure their needs are taken care of," said Ngilu.
The governor is embroiled in a political tussle with county assembly and Senator Enoch Wambua over budgetary allocations and corruption claims.
The standoff intensified two weeks ago when the assembly rejected the governor's supplementary budget Sh11.6 billion 2018/2019 estimates and denied Ngilu's pet projects funding in the 2019/2020 financial estimates by removing funds allocated for Kitui County Textile Centre (Kicotec) at Syongila in Kitui Central and a ballast crasher procured by the county government but which is yet to start operations in Kitui Rural.