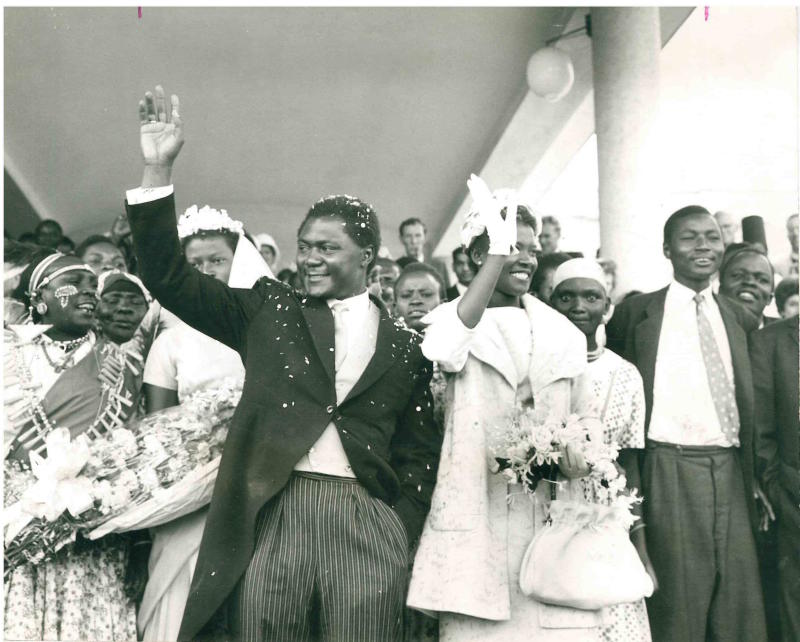 Tom Mboya's death on July 5, 1969 via an assassin's bullet virtually brought Kenya to a standstill.
It is 50 years today since the bullet ended the life of one of Kenya's brightest sons at his prime.
But who exactly was Tom Mboya, besides being Kenya's minister for Economic Planning and Development at the time of his death?
Mboya's leadership emerged early. In 1953, while aged 23, he became treasurer of Kenya People's Union (KAU), the precursor of Kenya African National Union (Kanu) of which he was Secretary General.
The post that lasted only a few months when KAU was banned by the colonial government the same year, served as Mboya's springboard to trade union politics that saw him midwife the birth of Kenya Federation of Labour (KFL) that later was to evolve into the Central Organisation of Trade Unions (Cotu).
He was Secretary General of the powerful KFL when he was elected a member of the Colonial Legislative Council (Legco) in 1957 to represent Nairobi, aged just 27. He had formed Kenya's Convention Party (PCP) the same year.
Mboya's dazzling star lit the entire African continent when, in 1958, he was elected chairman at the first Pan African People's Conference convened in Accra by Ghana's founding President Kwame Nkrumah. He was 28. A year later, he called a conference in Lagos, Nigeria, to form International Conference of Free Trade Unions.
Brilliant to a fault and precocious to boot, Mboya, at 29, started working with then Senator John F Kennedy of the United States (later President JF Kennedy) and Martin Luther King Jr to create his life's flagship project that had him secure higher education opportunities for African students. Among the beneficiaries were the late Nobel laureate Wangari Mathai.
At 30, in 1960, he made history by becoming the first Kenyan to be featured on the cover of Time Magazine.
Mboya was 38 and firmly perched as the most likely successor to founding President Jomo Kenyatta when he was killed, courtesy of Kenya's tribal politics.
He is immortalised in Kisumu, where Tom Mboya Labour College stands by the lakeside in his honour, and in Nairobi, where he spent most of his active life. A statue and a street named after him feature in the capital city.
A debater and orator par excellence, Mboya towered above better educated peers in and outside Parliament, a feat said to have wrested the hand of Pamela Arwa Odede, who would later become Mrs Pamela Mboya, from competitors who looked down upon his modest education.
His wedding to Pamela at Nairobi's Saint Peter's Clavers Church on January 20, 1962, was a sterling event, earning it "the wedding of the decade" praise.
The late David Wasawo, a professor, reputed to be the best student ever to come out of Alliance High School, was the best man in the wedding, with Charles Mugane Njonjo, who was destined to become Kenya's first African Attorney General, among the groomsmen.
Among the invited guests who numbered not more than 1,000 were Kenyatta (later Prime Minister and founding President) and his youngest wife Mama Ngina, Jaramogi Oginga Odinga, who was to become Kenya's first vice president, the Kabaka of Buganda, future Finance Minister James Gichuru and then Nairobi Mayor Harold Travis.
Njonjo, then a senior bachelor, is said to have loudly lamented that Mboya had left him as the sole member of the bachelors' club that both had founded. Others present were Pope John XX111 and then Tanzania Prime Minister (later President) Malimu Julius Nyerere.
Biographer David Galsworthy, author of Tom Mboya: The Man Kenya Wanted to Forget, notes thus: "It was without question the grandest wedding Nairobi had seen for years" and many people wondered, "Does Tom have to prove he can outdo Europeans in everything?"
Born Thomas Joseph Odhiambo Mboya in 1930 to labourer parents in a coffee plantation near River Athi on the slopes of Kilima Mbogo (the hill of buffaloes), Mboya, who fought gallantly for Kenya's independence, was educated at Saint Mary's School, Yala, and Mang'u High School.
He was buried in Rusinga Island of Lake Victoria in a bullet-shaped mausoleum to signify the cause of his death.