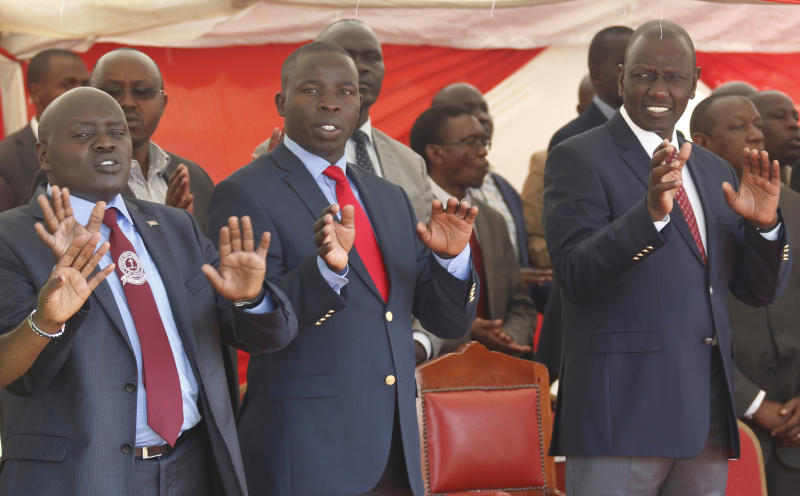 When they won their seats on a Jubilee Party ticket in the 2017 General Election, expectations were high that the much-needed change was nigh.
Nandi County – the 'land of champions' – had just elected a governor and senator with two things in common; they were young and energetic, only in their mid 30s.
And what followed were pompous homecoming ceremonies in which Governor Stephen Sang and Senator Samson Cherargei, who are both lawyers, pledged to work together to develop the county.
However, barely two years after the elections, the close working relationship they promised is seemingly dead, and they no longer see eye to eye.
The rocky relationship peaked only months after Deputy President William Ruto reportedly summoned them into a private meeting in Nairobi and asked them to work together.
Read More
Ironically, in the previous regime, the two worked closely in criticising the then Governor Cleophas Lagat, accusing him of mismanagement. Then, Sang was senator while Cherargei was a member of a group called Nandi Transparency that claimed to monitor use of public resources.
This week's purge on corruption in the county, where Sang suspended 16 officials, including three executives, seems to have opened up fresh wounds of the frosty relationship.
Cherargei now calls for the governor's resignation "instead of suspending small people working under him".
The suspensions followed the alleged discovery of stolen construction materials worth millions of shillings in homes and premises of county officers, which led to the arrest of 11 officials.
Cherargei said the governor must take collective responsibility and resign or he be forced out of office by the electorate.
"I have been doing my oversight role all along but the governor has being dismissing me as gossiping. Time has come and people will be arrested," he said.
"I sent a letter to the office of Director of Public Prosecutions on August 2 last year, requesting commencement of investigation over corruption in Nandi County."
The senator admitted their relationship is so strained that they hardly greet one another.
Jubilee Party County chairman Sammy Biwot said the two leaders have abdicated their roles and instead concentrated on political wars.
"For the last two years, we have not seen meaningful projects. Those that were intiated by former governor Lagat still stand out. Where do funds allocated to Nandi go?" asked Biwot.
Sources from Cherargei's and Sang's camps say there are indications that the senator might go for the governor's seat in 2022.
"Their infighting is in pursuit of power. This could be an undoing for Sang and Cherargei. Some residents say the youth are becoming a let down in leadership," said a supporter of one of the leaders.
The two leaders use every opportunity to attack each other, regardless of the occasion. At one time in a function in Mosop, they bitterly disagreed over a contentious governor's office building that has stalled in Kapsabet.
"I worked with former governor Lagat who is an engineer and wanted the office project completed. Unfortunately, I was told investigations are ongoing," said Cherargei.
But Sang shot back: "We had Sh50 million for completion of the project in our first and second budget but have been delayed after Cherargei wrote to the Ethics and Anti-Corruption Commission (EACC) to investigate the project."
It now remains to be seen whether the two leaders will put aside their differences and work together for the benefit of the electorate.