Kilifi ODM leaders clash over Ruto 2022 factional politics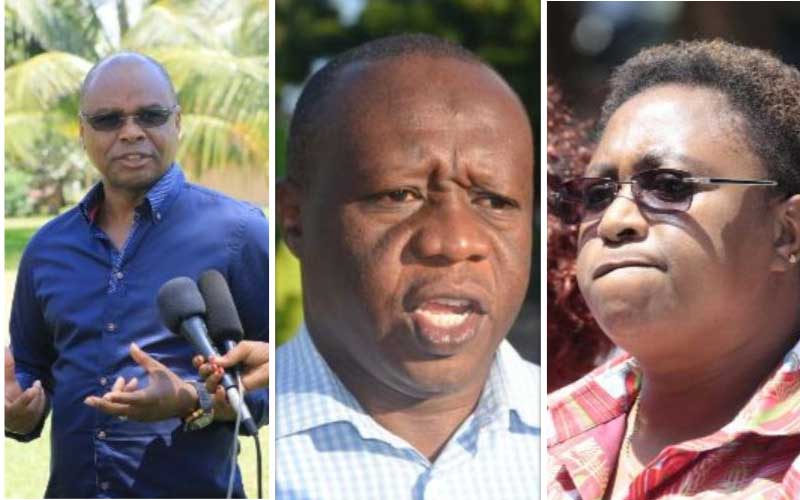 Local ODM politicians openly differed over DP William Ruto's presidential ambition.
Speaking on Sunday during the burial of Justus Mwanyanje, the father of Kilifi Woman Representative Getrude Mbeyu, Magarini MP Michael Kingi accused his colleagues of allowing themselves to be torn apart by teams "Kieleweke" and "Tangatanga".
"Leaders are spending much time preaching unity of the Coast region. And the desire of residents is to see it happen in reality," said Mr Kingi.
He said teams Kieleweke and Tangatanga were dividing the people of Kilifi.
The Magarini legislator said Kilifi was waiting for Governor Amason Kingi to blow the whistle to show the way for the rest of the region.
Kilifi North MP Owen Baya accused Ganze's Teddy Mwambire of betraying the people of Kilifi and said voters would punish him.
Mr Mwambire, who is the team Kieleweke leader in Kilifi, does not associate with pro-Ruto ODM MPs like Baya and is closer to Mombasa Governor Hassan Ali Joho.
MP Ken Chonga of Kilifi South has also refused to align himself with Ruto, earning the wrath of the DP's Coast allies.
"I want to tell my fellow MPs from Kilifi that Mijikenda are 80 per cent of the Coast population... and they reside in Kilifi. When it comes to national and regional politics, Kilifi will decide where Coast people will go and that is not something to bargain," said Mr Baya.
Governor Kingi accused the politicians of engaging in early 2022 campaigns, which had moved them away from their role to fight for the interests of the electorate.
"Teams Kieleweke and Tangatanga have come out to be the greatest enemies of development. Everywhere they go they attack each other, even in churches," said Mr Kingi.
During the 2017 General Election, with Governor Kingi as the lead campaigner, ODM scooped all parliamentary seats in the county.
The Governor further criticised Malindi MP Aisha Jumwa's public conduct in her dispute with ODM.
According to the governor, Ms Jumwa's public altercation with ODM Secretary General Edwin Sifuna in Malindi on Friday portrayed her in bad light and did not advance her arguments and defence against the party.
The governor said although he understood Jumwa's bitterness with the opposition party that has since expelled her from its ranks, the MP's haranguing of Mr Sifuna in public portrayed her in bad light.
By stopping Sifuna's address at a funeral, he said, Jumwa neither won any sympathy nor advanced her own image.
The Governor yesterday insisted that the MP should explore better ways of solving her problems with ODM.
He said whatever happened at Mombasa deputy governor's father's funeral service was an embarrassment to coast leaders.
But two Kilifi ODM legislators, who, like Jumwa, are allied to Ruto, yesterday defended her actions that barred Sifuna from addressing mourners at Jilore in Malindi.
Baya, together with his Magarini counterpart, said the action by Jumwa was prompted by the need to respect the Mijikenda community.
On Friday during the burial of the father of Mombasa Deputy Governor, Dr Kingi, Jumwa, who was the mistress of ceremonies embarrassed Sifuna by snatching the microphone from him in public after accusing the ODM secretary general of "talking politics during a funeral".
It happened after Sifuna introduced himself as the messenger of ODM leader Raila Odinga, sent to convey condolence message to the family of the late Edward Benjamin Kingi.
Sifuna began his speech by stressing the need for the Orange party to be respected when the Malindi MP stood him down for "not respecting the dead and the Mijikenda community."
And on Saturday, during the burial of the late Mwanyanje, Baya said time had come for the Mijikenda leaders to be respected.
Some of the Coast ODM leaders who attended the funeral at Kibarani were Ganze MP Teddy Mwambire, Paul Katana (Kaloleni), William Kamoti (Rabai) and Jumwa (Malindi).
Other leaders present were Lands Chief Administrative Secretary Gideon Mung'aro, Kilifi Senator Christine Zawadi, Mathare MP Anthony Oluoch, his counterparts Joshua Kimilu (Kaiti), Caleb Hamisi (Saboti) and Vihiga Woman Representative Beatrice Adagala.
Sifuna's close associate, Mr Mwambire, and Mr Oluoch, who spoke before Jumwa, Baya and Governor Kingi, stressed the need to respect "visitors".
The Mathare legislator refrained from commenting on Coast politics.
Kisumu All Stars keep up title chase
Kisumu All-Stars head coach Frank Oduor is confident his charges can continue their impressive form and qualify for the 2019-20 Premier League.