ODM scheme to capture power in 2022 with Uhuru's help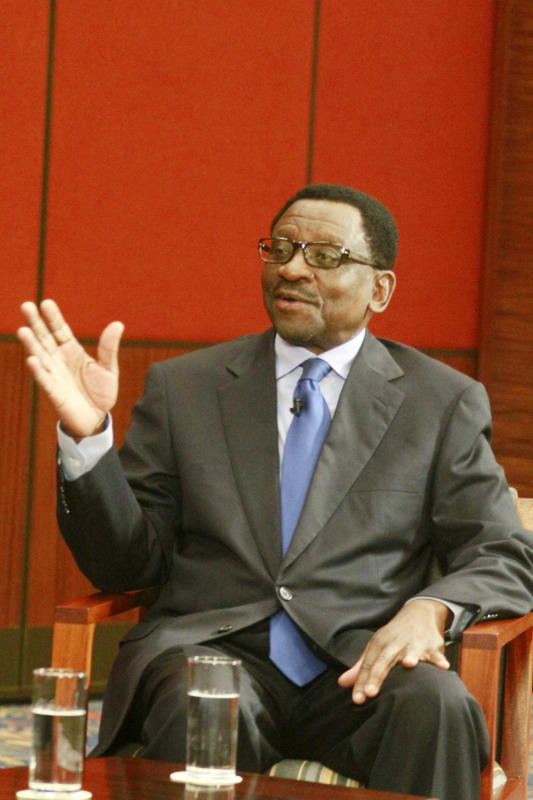 Raila party planning to capture power with Uhuru help
Ruto allies have blamed the handshake for Jubilee's problems
Senate minority leader says ODM is working with president to achieve dream.
ODM is already scheming how to capture power in 2022 and believe President Uhuru Kenyatta could play a role in a coalition with the Orange party, a senator has revealed.
Senate Minority Leader James Orengo confirmed that the party would field a presidential candidate.
The revelation came at a time the ruling Jubilee Party was involved in high octane political wrangles that have threatened to tear it apart.
In an interview with KTN News, Mr Orengo was non committal on whether ODM leader Raila Odinga would be the flag-bearer. The Siaya lawmaker instead said the Opposition leader did not want to mix campaigns for presidency with the handshake and his role at the African Union.
"We are very well organised about 2022. ODM as a party will be on the ballot box in one shape or another, I can tell you that. But what I can tell you for purposes of Raila is that he is involved in an exercise that if mixed up with 2022 may work against his politics," Orengo said.
"If Raila was to put his campaign out there and at the same time be involved as an envoy and handshake, all that will not be good for his politics. He is very focused."
Orengo talked of a possible political power play that could see Raila and Uhuru in the same camp.
"ODM is going for political power, and when we are holding these meetings our eyes are set on 2022. The contestation for power is going to come from a formation with ODM in it and formation of Jubilee where Uhuru Kenyatta is playing a role," he added.
His remarks came a year after the March 9, 2018 handshake that was cited by Deputy President William Ruto's allies as the cause of Jubilee's political fallout.
Dr Ruto's allies have claimed the handshake was a scheme to block Ruto from succeeding Uhuru who is serving his second and final term.
They have also claimed that the president was not keen on retiring thus had struck a deal with Raila to amend that Constitution to create positions in the executive to accommodate the two of them - claims that Orengo dismissed.
There are already proposals for the creation of a powerful Prime Minister and two deputies and a single seven-year term presidency.
"We are not in Jubilee and we have to be cautious about discussing their issues. Right now, we are being blamed for rocking Jubilee. We don't want to get into their issues. Let them have their space," the legislator said.
Political gain
He accused Ruto's camp of discrediting the fight against corruption for political gain. Orengo said he was supporting the handshake because Uhuru and Raila had committed to fighting corruption.
The senior counsel disclosed that he held a meeting with the Head of State, explaining that he was convinced Uhuru was committed in the war and senior state officers would soon face corruption charges. "I spent four hours with Uhuru – me and him alone – and I was convinced that he means what he says about the fight against corruption," he said.
He asked the Director of Criminal Investigations (DCI) George Kinoti and the Director of Public Prosecution (DPP) Noordin Haji to maintain the momentum and ignore the deputy president and his allies, who have acused the two of being used to fight political battles.
"If there is anything that motivated us to join the handshake is the commitment to fight corruption. Both the DCI and DPP have a lot of energy and they need support and qualified investigators," Orengo said.
He maintained that Ruto should record a statement with investigators in connection with the dams scandal for issuing figures that conflicted those issued Treasury Cabinet Secretary Henry Rotich.
He further dismissed claims that a certain community was being targeted in the graft war, stating that there were other communities in court over corruption claims compared to those from Rift Valley.
On electoral processes, Orengo said ODM had already listed key areas to monitor ahead of the next polls. This, he said, would help guard against vote rigging.
The lawmaker said the party would monitor the forthcoming population census, because in the past it had been used to create imaginary numbers for election manipulation.
The Orange party is also actively involved in pushing for electoral reforms, including having the Independent Electoral and Boundaries Commission (IEBC) commissioners picked by political parties as well as staggering the elections for proper monitoring.
Resource distribution
"Census is important for planning and for political power because our system is one person one vote, and also in terms of distribution of resources numbers do count, he said.
"As ODM we are taking the issue of census seriously and this time around we cannot leave it to chance in circumstances where opportunities are handed to people to come up with numbers that do not exist," he added.
He said ODM is pushing of a system that is accountable and transparent.
"Quite a number of countries use biometrics, and (the census) should be biometric based. Elections are based on numbers and once we have the accurate numbers of the population and those who register as voters, and those who turn out to vote," he added.
On claims of corruption in the Judiciary, Orengo said the courts had let the country down in the fight against graft.
He, however, defended Chief Justice David Maraga and other judges from attacks by the Executive.
"The first thing I would say, let not the Executive interfere with the Judiciary, however, poorly they are doing. The moment Judiciary becomes more Executive than the executive we are in trouble. I am, however, a bit let down by the Judiciary," he said.
He further observed that the reason why the courts had failed to convict individuals in major graft claims could be because of poor evidence gathering by investigators.
The minority leader further talked about the simmering unease in the Senate over Speaker Ken Lusaka's involvement in politics.
He said senators had raised the matter with both Lusaka and National Assembly Speaker Justin Muturi.