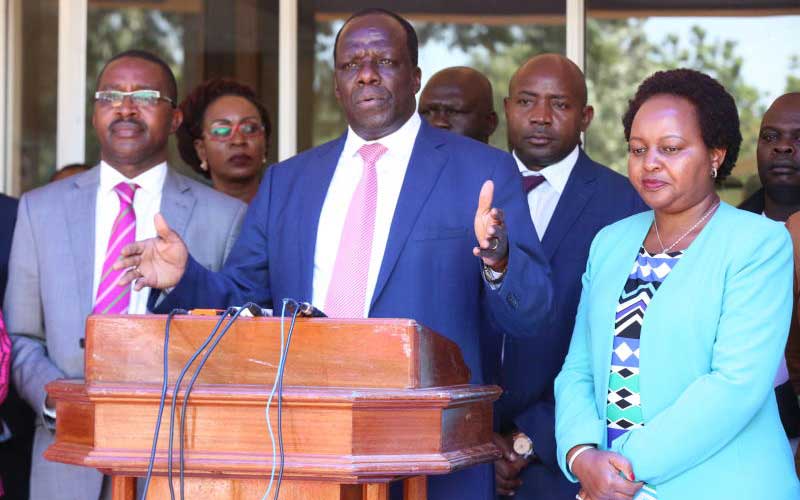 Governors will retreat to Kirinyaga County for the Devolution Conference at a time when teething problems are still bedeviling their administrations. It is also the first time three county bosses have declared they will give the event a wide berth, with the excuse that the Sh2 million facilitation fee per county is too much, and that the venue is too far away.
County bosses are still grappling with abuse of office and corruption cases, inadequate funding, industrial action by over 2,400 nurses demanding better remuneration, withheld functions by the national government, and bad laws.
Council of Governors (CoG) chairman Wycliffe Oparanya, who spoke to the Sunday Standard, enumerated a number of issues they want addressed at the annual conference, key among them being funding. He said they will tackle health, trade, agriculture and urban planning and infrastructure in line with the the Big Four agenda.
He however censured the national government over the delayed transfer of functions.
"Health is a fully devolved function. Universal Healthcare Coverage (UHC), just like affordable housing and food security, fall under ministries whose functions are devolved. Agriculture is fully devolved, while housing is also a county function," said Oparanya.
He questioned why the Health ministry's budget continues to go up, now at Sh92 billion, yet counties' allocation for the same continues to shrink.
He criticised the proposal that more level six (referral) hospitals be set up, saying it will deny counties adequate funding for level five and level four hospitals.
"You hear calls for health to be reverted to the national government, yet general indicators show it has really improved."