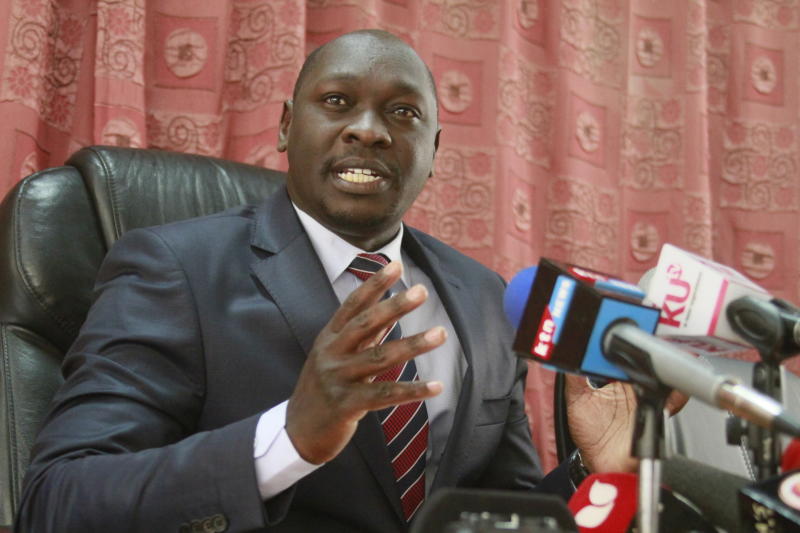 Cherangany MP Joshua Kutuny has for the first time spoken about his role in convincing President Uhuru Kenyatta to form a political pact with his deputy William Ruto in the run-up to the 2013 general election. The legislator - in an exclusive interview with KTN's Point Blank - opened the lid on behind-the-scenes machinations that resulted in President Kenyatta and Ruto deciding to work together. He said Uhuru was set to unveil Devolution Cabinet Secretary Eugene Wamalwa as his running-mate, while Ruto had settled on former Ambassador to Tanzania Chirau Mwakere. But Mr Kutuny claimed he thwarted the plans by the two politicians to go separate ways at the last minute, even though he revealed that Ruto, who was then in the United Republican Party (URP) party was not for the idea.
SEE ALSO: You can't stop my bid, Ruto tells 'deep state'
On the eve of the day Uhuru had planned to fly to Bungoma to declare Wamalwa as his running-mate, Kutuny revealed that he personally managed to make him change his mind. Ruto on the other hand, was already in Mombasa, where plans to name Mr Mwakere as his running-mate were complete. "I personally thwarted the separate arrangements the two leaders had. I convinced Uhuru not to go to Bungoma. I insisted that he needed to have another meeting with Ruto," the lawmaker said. The legislator, who later fell out with Ruto after losing his seat in 2013 and was appointed political adviser by President Kenyatta in his first term, said that had the duo ran separately, they would be floored by opposition chief Raila Odinga. "We (technical committee) had to urgently come up with a formula," said Kutuny.
SEE ALSO: More police officers deployed as construction of Nairobi Expressway starts
After getting Uhuru's word, the legislator in an unprecedented move in October 2012 declared that the man he was supporting then had agreed to drop his presidential ambitions and back Kenyatta. "My group was in Mombasa waiting for me, they were shocked to see the breaking news that I had endorsed Uhuru for president and Ruto for deputy president in Narok. That was the turning point," he revealed. Asked what caused the perceived bad-blood between him and Ruto, Kutuny was cagey, only saying that there was nothing personal in their differences. He said by pointing out that Rift Valley residents look upto the DP for leadership and they expect him to address their problems such as the poor maize prices, he was only doing his job. "The DP has never talked about the plight of maize farmers. He cannot escape blame since he holds the position at the behest of the people and he even sits in Cabinet. He should work with the leadership to come up with solutions on problems afflicting our people," he said."Ruto has never convened a single meeting to address the issues affecting his own people. What I am only doing is putting him on toes and asking him to be sensitive to the predicament affecting the country."
SEE ALSO: State to roll out instant fine for petty traffic offence
Kutuny said Uhuru and Ruto's allies do not understand how the two hitherto political enemies came together and formed Jubilee Party. "We brought an antagonistic group together. I think we needed to establish a strong foundation of unity in the party. People who came in after us were not there during the struggle and they do not understand issues really well," he said.