Should ICC be involved in war against corruption?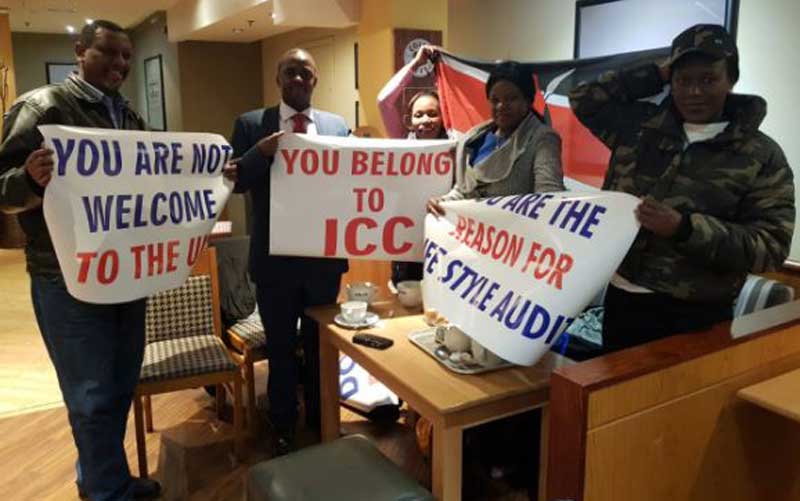 Kenyans living in London have called for the prosecution of corrupt leaders at the ICC.
In a protest outside Chatham House, the demonstrators said most governments are unable to prosecute the President or his deputy, who in most cases are the beneficiaries of the scourge.
The group, led by Janet Ali and Thomas Musau, pitched camp outside Chatham House as Deputy President William Ruto gave an address.
They said, without the intervention of the ICC, corruption in Africa will remain a threat to UN's Vision 2030.
"Kenya loses almost a third of its revenue to corruption and most of the people involved are 'untouchable'," Ali said.
Proposals
The group has drafted recommendations in dealing with corruption, which they say they will forward to the United Nations Council and individual government institutions.
The want the UN bestowed powers to investigate presidential candidates implicated in corrupt deals.
Such powers they added, should be extended to sitting Presidents, Prime Ministers and their deputies, who should be prosecuted by the ICC.
They also want a draft anti-charter to be signed by all member countries with details on how each member country should deal with corruption, including cooperating with UN anti- corruption agents.
Further, member countries who violate the charter will be subjected to economic sanctions.
Musau, involved in the drafting the proposals, said: "If all members of United Nations sign the proposed charter, corruption will be history in a few years. Most African leaders fear ICC like the plague."
He added, "Many developed countries have been silent about corruption in most African countries because of economic interests. Countries that tolerate or work with corrupt leaders should be subject to heavy penalties."
ICC trials
If the group's proposal bears fruit, it will be the first time the ICC exclusively handles corruption cases against national leaders.
Some national leaders mentioned in corruption scandals include South Africa's Jacob Zuma and Abdulla Yameen of Maldives.
On February 6, AFP reported that five suspects, including South Africa's former chief financial officer for prisons, were arrested in the latest move against alleged government corruption under former President Zuma.
"The sweeping high-profile arrests follow a marathon investigation," the Hawks police investigative unit said in a statement.
In Maldives, former President Yameen was in February charged with grand corruption, money-laundering, and theft by Maldivian police.
The Diplomat reported that police filed a case with the country's Prosecutor General.
Back home, President Uhuru Kenyatta has reiterated that corrupt leaders will not taint his legacy.
His team which includes Inspector General of Police Joseph Boinnet, DPP Noordin Haji, DCI George Kinoti, the EACC and the Judiciary have been at hand to slay the corruption dragon.
Valentine love messages
It is Valentine's Day and with it comes the expectation to show your significant other how much you care