New Coast-based party pledges bigger national cake slice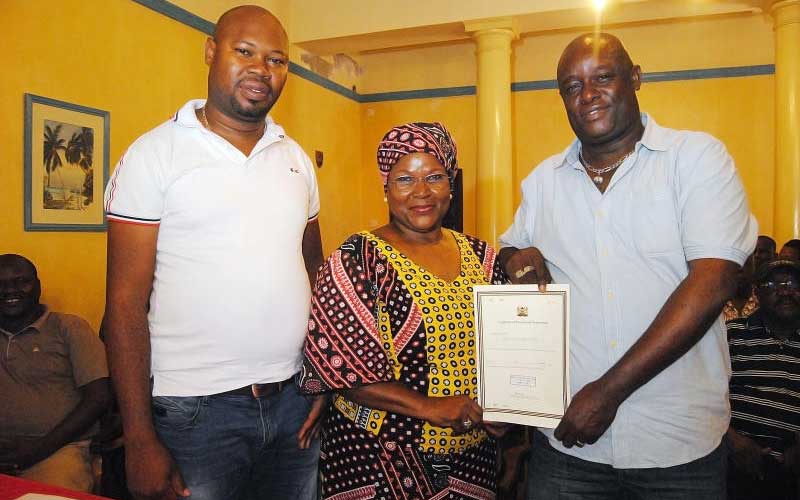 A new Coast-based political party has been unveiled.
Officials of Umoja Summit Party of Kenya (USP) said they will woo political strongmen in the region, including Mombasa Governor Hassan Joho and his Kilifi counterpart Amason Kingi, who plan to run for the presidency in 2022.
The party's interim officials are Matano Chengo (national chairman), Naomi Cidi (secretary general) and Mtana Mwaringa (treasurer). The party's symbol is the African pot.
The officials unveiled the party and its provisional registration certificate at a press conference in Mombasa on Sunday and promised to give the main political parties-Jubilee and ODM-a run for their money come 2022.
The Coast boasts about 1.7 million registered votes.
Mr Chengo is the immediate former Mombasa County Jubilee chairman, Ms Cidi is a former member of Shirikisho Party of Kenya (SPK) while Mr Mwaringa is a Coast-based radio presenter.
The officials said the new party carries the aspirations of Coast residents and will help end marginalisation of the region by successive governments.
The Coast, they claimed, has been sidelined in appointments and allocation of resources.
Mr Chengo, who is an ally of Suleiman Shahbal, Mombasa gubernatorial candidate in the 2017 General Election, announced he had resigned as the county's Jubilee chairman to join the new party fronted by local politicians and professionals.
"We are ready to face any political challenge ahead. We have worked for other political parties for far too long without any tangible benefits," said Chengo.
Ms Cidi said they decided to form a strong party "for Coast to move forward the aspirations of residents".
"We have decided Coast should have its own political party that will fight for the people's rightful share of the national cake. It is a national party but with its roots at the Coast just like Wiper Democratic Movement," she said.