MPs scoff at Moses Kuria remarks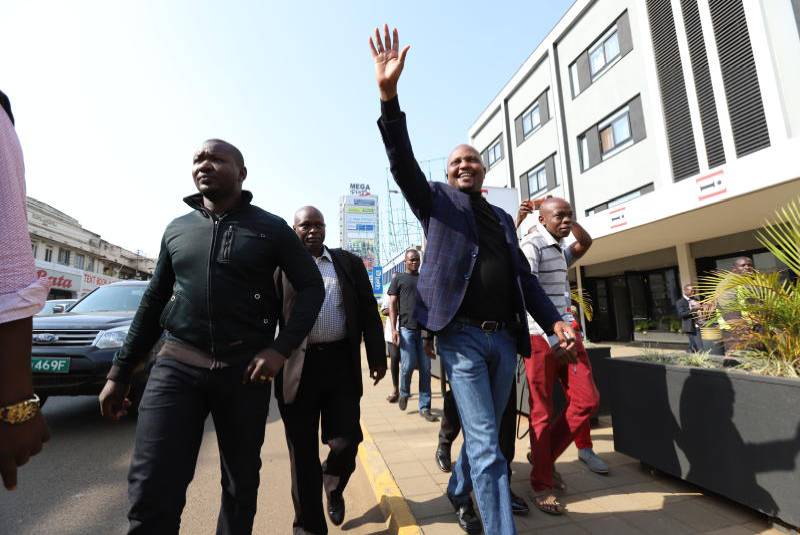 Some MPs have criticised Gatundu South MP Moses Kuria for claiming that President Uhuru Kenyatta has marginalised central Kenya.
They termed the remark as tantamount to attacking Uhuru's resolve to unite Kenyans.
Kiambu Woman Representative termed as unfortunate Kuria's comment that Uhuru had neglected Mount Kenya region in terms of development.
Kuria, in a rally at Thika Stadium on New Year's Eve, openly accused the President of ignoring the region and focusing on developing areas that voted for the opposition.
Recovering alcoholics
"As we enter 2019, you (voters) must think … our responsibility is not just to vote and after voting, the government that we form takes development to other regions. That kind of nonsense must stop," he said.
The MP added he also wanted to see the President coming to the region to commission water projects, roads and electricity.
"We were with him in Kisumu where he commissioned a road project, but when he visits (Kiambu), he only issues certificates to recovering alcoholics," he said.
However, Wamuchomba termed Kuria's remarks as untrue and defended Uhuru, saying the President has initiated many project in the region.
"Apart from awarding the recovering alcoholic addicts certificates, Uhuru also went to Ndumberi Stadium to launch a programme dubbed Rais Mashinani similar to Huduma Centre that will have mobile units that will take service close to the people," said Wamuchomba.
The MP said Kiambu County had many mega projects that would change the area once they were completed.
"We have the 46km Ruiru-Githunguri-Uplands road being built at a cost of Sh4.6 billion, the 26km Githunguri-Kagwe-Kimende road, the Sh24 billion Karemenu Dam in Gatundu North and Ruiru II Dam at cost of Sh11 billion among many others. It is, therefore, wrong to say that the President is doing nothing for the area," she said.
She added that the national government was also building Githunguri and Bibirioni Level 4 hospitals and Githurai market, which is being built at a cost of Sh2.2 billion.
"If there is something Uhuru has done wrong or has not done, just call him or write him a text message. He normally picks calls. It is very wrong to embarrass him by using such foul language," she said and called on Kuria to apologise to the President for his remarks.
Similar sentiments were expressed by Nyanza MPs, who urged Kuria and other leaders from central Kenya to support Uhuru's resolve to unite Kenyans.
The MPs Paul Abuor (Rongo), Martin Owino (Ndhiwa), James Nyikal (Seme) and Millie Odhiambo, (Suba North) and Antony Oluoch (Mathare) said they were unhappy with Kuria's slur against President.
"The innuendo created by Kuria and his ilk against the President, who is keen to reconcile all Kenyans and unite people for a common good, is retrogressive," said Mr Abuor.
Oluoch, Nyikal and Odhiambo told Kuria to stop starting politics aimed at wedging differences between diverse Kenyans ethnic communities.
"Even if President Uhuru presided over the launch of certain projects in Nyanza, isn't it part of Kenya? Why the stereotype politics of greed and ego?" posed Odhiambo.
Water down
Oluoch said they would not allow a few disgruntled individuals to water down the spirit of handshake aimed at reconciling Kenyans.
"The President made it clear that they have decided to co-operate with Nasa and ODM leader Raila Odinga for the sake of peace and development. Nothing is sinister in the move," he said
The legislators reaffirmed their support for the March 9, 2018 handshake, saying it was for the good of all Kenyans.
"We are saying no to ethnic polarisation. We will not accept statements aimed at creating divisions among healing Kenyans just because of politics of greed," said Odhiambo.