Jubilee Party property to be auctioned over Sh1m rent arrears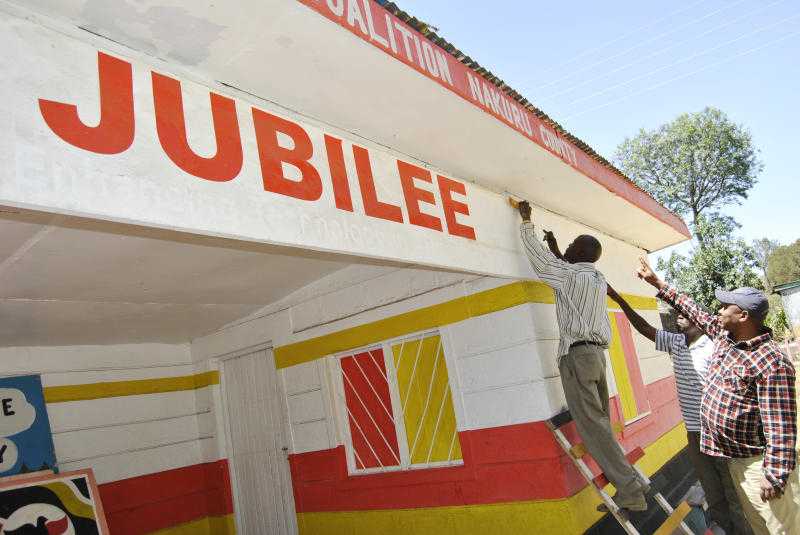 The Jubilee Party is on the verge of losing its property over unpaid rent amounting to nearly a million shillings.
According to documents seen by The Standard, the ruling party has not paid eighteen months rent for its Nakuru County headquarters offices located in the posh Milimani estate in the outskirts of Nakuru town.
The Kenya Farmers Association (KFA) which owns the municipality block 11/104 along Milimani Road, through its lawyers, Gatu Magana and Company Advocates has sought the services of an auctioneer to help them recover the arrears.
In a letter dated November 1, 2018 the law firm instructed Nasioki Auctioneers to move with speed and recover the accrued rent for the period between May 2017 and October 2018.
"Urgently and expeditiously proceed to levy distress for rent on behalf of our client KFA Ltd towards recovery of outstanding rent arrears of Sh939,600 as up to November 2018. Also collect your auctioneer's charges from the tenant," reads the letter in part.
The party leases the property which has an office and vast open grounds for political meetings at Sh52,200 per month.
on November 1 Nasioki Auctioneers served the party with a notice that its property at the premises would be auctioned if payment of Sh991,200 which includes November rent won't be paid within fourteen days of the notice.
"You are hereby notified that the movable property is duly distrained and left in your custody for 14 days from today. At the expiry of this proclamation, the property shall be removed and sold at a public auction," the notice read in part.
The notice expired over ten days ago and according to the law firm, the political party is yet to communicate on when and how the amount will be paid.
The auctioneer's headache is however on the gains that would be made after sale of the property belonging to the Jubilee Party at the offices which the company valued at a fifth of the total claim.
"We have today proclaimed assorted office chairs, tables and other movables belonging to the tenant to be attached if need be. The goods are roughly valued at Sh200,000," reads the firm's schedule of movable property.
When reached for comment, Nakuru branch chairman David Manyara said that the matter was beyond the county level.
"That is a matter beyond me. The leaders at party headquarters are best placed to respond to the issue," said Mr Manyara.
Calls to the party Secretary General Raphael Tuju went unanswered and text messages were not responded to.
The premises which formerly served at The National Alliance (TNA) offices is not new to controversy as party supporters have on several occasions teargassed during meetings turned rowdy.
In September a group of supporters stormed the offices and endorsed new leaders lamenting that the current leadership had kept the offices closed.