How 'abuse' of nomination slots threatens Gender Bill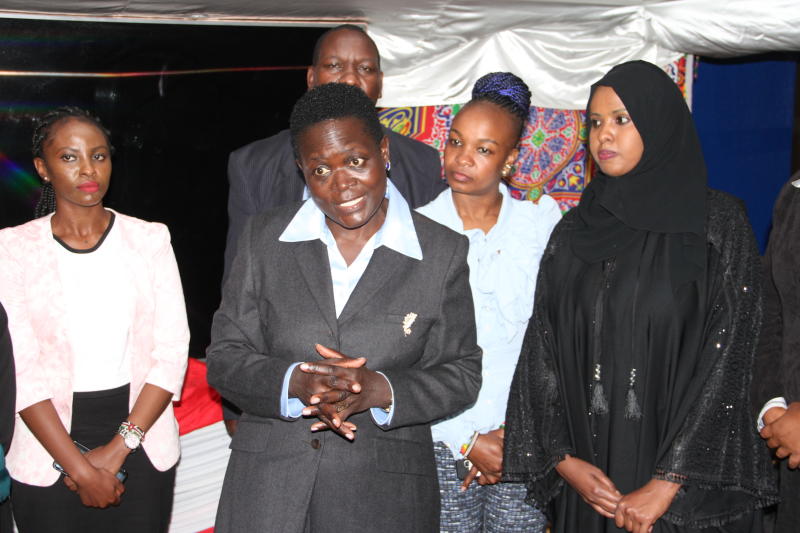 Debate on the elusive two-thirds gender Bill has exposed how top party officials award persons close to them nomination slots in what some quarters claim is a blatant abuse of the process.
Reports that a majority of nominated MPs and Members of County Assembly (MCAs), and even those nominated to the East African Legislative Assembly (EALA), are either family members of party officials or their cronies are threatening to defeat the gender Bill once again.
Fears that the Constitution of Kenya (Amendment) Bill, 2018 by Majority Leader Aden Duale will not sail through, loom large in the august House ahead of the vote earlier slated for Wednesday. It has, however, emerged that the House leadership is considering pushing it to next week, owing to the Blue economy conference taking place this week.
Key roles
Jubilee Party was planning to hold a Parliamentary Group (PG) meeting on Tuesday (tomorrow), but President Uhuru Kenyatta and his deputy William Ruto are set to play key roles at the conference that starts today, thus cannot chair the crucial lobbying meeting.
MPs opposed to the 'gender top-up' have cited abuse of the slots by the party leaders, and demand a clear framework for nominations before they can back the Bill.
In the current assemblies, Beth Mugo, a first cousin of Uhuru, was nominated to the Senate, while Opposition leader Raila Odinga's elder brother Oburu Oginga was picked for the EALA seat.
Kalonzo Musyoka also has his son Kennedy Musyoka sitting at the regional assembly.
The cases are widespread in the 47 county assemblies, where only relatives and cronies of top party honchos were picked for nomination.
During debate on the floor of the House last week, Kimilili MP Didimus Barasa claimed that former Amani National Congress (ANC) Secretary General Godfrey Osotsi nominated two of his relatives to the county assemblies.
"There are many Kenyans I included, who are not opposed to women being given these positions. However, Kenyans are worried of how these women will be nominated," he said.
A senior ANC official claimed Osotsi nominated himself, his mother-in-law Fridah Mahiva representing gender to the county assembly and his wife to Nandi County Assembly.
Osotsi has since denied the claims, stating that he will counter them on the floor of the House. He said his wife is a medical doctor and there was no way she could have taken an MCA job.
In ODM, there was uproar among party supporters when it nominated Mercy Chebeni to the Senate. It later emerged that the 24-year old was related to the party deputy Treasurer Olga Karani.
The party's executive director Oduor Ong'wen also nominated his wife Emily Oduor to Nairobi County Assembly.
Ong'wen defended the nomination, saying it was not "on the account of personal relations with me, but her role in the party and struggle for the democratisation of this country."
Nominated MP David ole Sankok, while contributing to the debate, did not mince his words in describing some of the gender top-ups as "slay queens".
"If this gender top-up slots will be for our daughters, sisters, wives and mothers, I support it 100 per cent. But if they are for the slay queens to slay their way into the National Assembly, to massage their way into the Senate and slay their way into the county assemblies, I have some reservations," said the MP.
In Nakuru, out of the 23 nomination slots for members of the county assembly, Jubilee Party got 19 that were shared among party officials and elected leaders.
The Standard established that one of the beneficiaries is Jackline Manyara, the daughter of the county Jubilee chairman David Manyara.
Manyara said there was nothing wrong with his daughter being nominated. "Jackline is my daughter, a member of the Jubilee Party and a woman. Her nomination was above board," said the former Nakuru town MP.
There were also allegations that some of the nominated MCAs bought the slots for as much as Sh300,000.
A nominated MCA told The Standard in confidence that she parted with money to get the slot.
"I hear people talking about us (nominated MCAs) being spouses. No! That is not true. Some paid huge amounts of money to be nominated. We are not girlfriends or relatives," said the ward rep who requested for anonymity for fear of losing her seat.
Politically rewarded
In Coast, there are claims that top ODM party officials exported their cronies from Mombasa County to serve as MCAs in Kwale County.
In Vihiga, there are claims a nominated MCA is related to a party official.
In Kirinyaga, most of the 13 nominated MCAs are either relatives of leaders holding various high political positions or politically rewarded.
Anne Wacera Kariuki, for instance, is the sister of Ndia MP George Kariuki. When asked whether his sister merited the nomination, the MP laughed and said he did not wish to comment on the issue.
Joylisa Njagi on the other hand, said to be the youngest legislator at the assembly, is a niece of Kirinyaga Woman Rep Purity Ngirichi.
She is the daughter to Ngirichi's brother Evan Njagi a businessman in Kutus town, not far away from their Wang'atia rural home in Kabare Ward.
"My relationship with Wangui Ngirichi has nothing to do with why I was nominated. I had already built a name for myself when I was working with the youth at Nacada," said Joylisa.
Nominated MCAs Lucy Njeri, Caroline Muriithi and Rose Wanjiru Njeru are said to have been rewarded by Governor Anne Waiguru for their aggressive campaigns that saw her win the August 8 gubernatorial elections. We could not establish any blood relation between them and the governor.
Ms Linnet Njeru, a nominated MCA, is a close confidant of Waiguru.
In Murang'a, one of the nominated MCAs is a close relative of a local MP.
Democratic Party Chairman Esau Kioni said nominations were being abused by those charged with the responsibility.
In Kiambu, aides of some of the senior politicians participated in drawing up party lists of those offering slots for sale.
In Meru, we could not pick any relative of the current senior politician, but in the last term a relative of the spouse of one of the senior politicians was a nominated MCA.
[Report by Moses Nyamori, Steve Mkawale, Nathan Ochunge, Wainaina Ndung'u, Boniface Gikandi, Munene Kamau and Patrick Beja]