Mudavadi: I will not accept any job or favour from Uhuru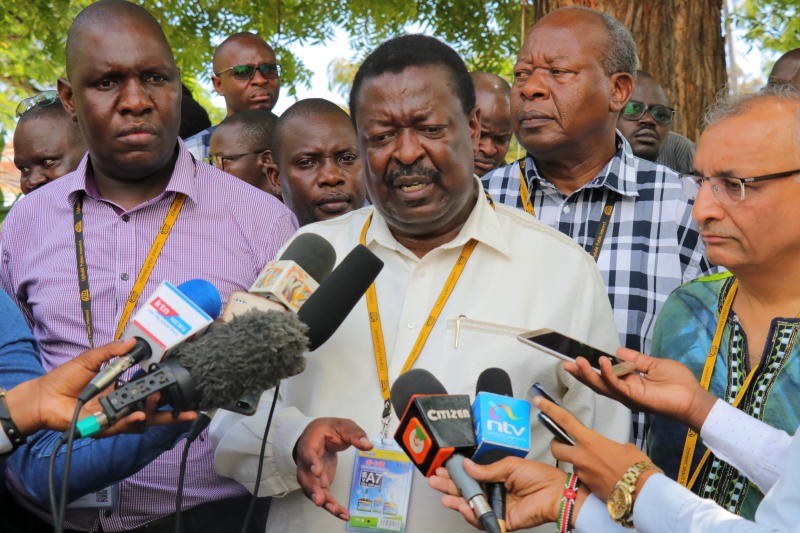 Top Opposition leaders cannot articulate pertinent issues affecting Kenyans because they have been compromised, NASA co-principal Musalia Mudavadi has claimed.
The Amani National Congress leader yesterday said former Prime Minister Raila Odinga and Wiper leader Kalonzo Musyoka had been gagged by President Uhuru Kenyatta's regime.
Speaking in Mombasa yesterday, Mr Mudavadi said he would never accept any favours from the Government to prevent him from playing his role as an opposition leader.
Addressing a public finance and taxation conference, Mudavadi said he was not ashamed to be in the Opposition and would continue articulating issues affecting citizens. He added that although he respected Raila and Kalonzo, their new Government assignments did not allow them to play their opposition roles well.
Not dead
The leader insisted that the Opposition was not dead, saying it did not belong to a certain person but was a body that was recognised by the Constitution.
"The mistake that people make is to personalise the Opposition. Please let's look at the Opposition as an institution within the context of our Constitution so that civil society, the Law Society of Kenya, the church and other institutions can play their roles in articulating issues that affect our country."
He said people should do away with the mentality that anyone in the Opposition was not loyal to the country and should be pushed into the darkest corner.
"In a working democracy, we must have those in the government and those in opposition. We cannot have a situation where everyone wants to troop to the government. If that happens, then that brings us to a de facto one party government and that is what I am resisting. We should not allow Kenya to relapse into one-party State," Mudavadi said.