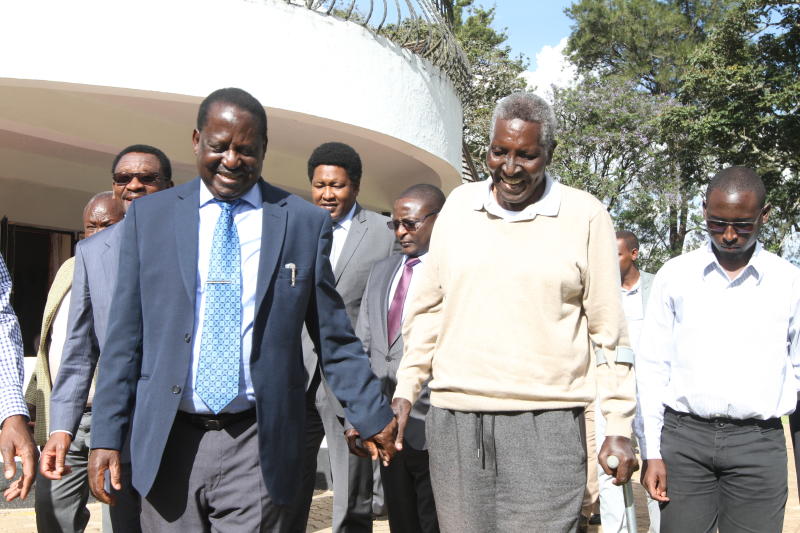 Opposition leader Raila Odinga and second liberation activist Nginyo Kariuki have called on Kenyans to unite.
Yesterday Raila, accompanied by Senators James Orengo (Siaya), George Khaniri (Vihiga) and Ledama ole Kina (Narok), visited Kariuki, who is ailing, at his home in Limuru.
Raila described Kariuki as a strong man, remembering the days they led the struggle for multiparty democracy. "Kariuki has been part of the struggle for democracy during the days of Forum for Restoration of Democracy. He hosted us here many times," he said.
He said Kariuki was at the forefront of uniting Kenyans "by hosting Luo elders... He then brought Kikuyu elders to Bondo to visit my father and Luo elders".
He described Kariuki as a golfer and accomplished businessman who had done a lot for Kenya. Raila relayed a get-well message to Kariuki from President Uhuru Kenyatta.
Kariuki was happy to see Raila and the senators and said: "It is Uhuru and Raila who began the handshake. I began the process of uniting Kikuyu, Luo and all Kenyans".
He recalled meeting Raila after the latter's release from prison. "Raila met me in a sauna and I remember some people running away... calling him a bad person. I sat with him and made people understand he was not bad," Kariuki said.