Succession: Deputy governors angling to take over from their bosses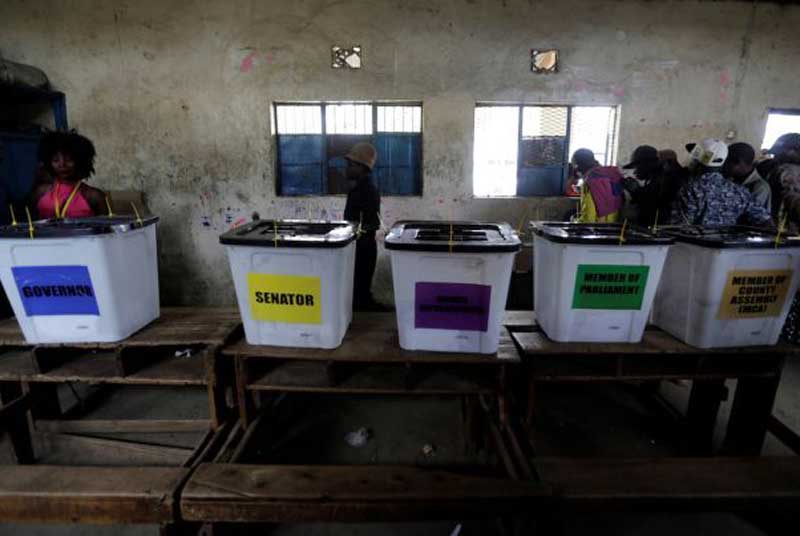 Deputy governors have started planning to succeed their bosses in 2022.
Close to half of the 47 governors are set to leave office after completing their two terms as per the Constitution. Some of those set to leave have expressed interest in the presidency.
And as the governors prepare for their exit, their deputies are mooting strategies to occupy the top seat in the counties.
A number have silently been learning from the county chiefs, while others have been endorsed by their bosses to succeed them.
In Kwale, Deputy Governor Fatuma Achani has publicly expressed interest in succeeding her boss Salim Mvurya.
The two have enjoyed a close working relationship — with the governor, on numerous occasions, drumming up support for his deputy to take over from him.
"I am a good planner and it would be good if I am given a chance to become the next governor. This is because I believe in continuity in the development agenda unlike a new entrant who is likely to come and abandon ongoing projects and embark on new ones," said Achani.
She said, together with the governor, they have been engaging the public at village level and she is confident that by 2022, they will have fulfilled all the promises they made in their manifesto.
"We have not had any differences with my governor unlike other regions. This is because we agreed to fight corrupt and be transparent in offering leadership to the residents of Kwale. I have experience and I am able to make good decisions on what is best for the public," said Achani.
In Uasin Gishu, the battle to succeed Governor Jackson Mandago is on, with current leaders and losers in the last election eyeing the post.
But in the midst of this is his deputy Daniel Chemno who has also enjoyed a good working relationship with his boss since they were elected in 2013.
The two have maintained a close working relationship, and often attend public functions together.
"I am lucky to have the best governor in the country. We are always in sync. We always strive to ensure services are rendered to the public. At the moment, my options for a political seat are wide open," said Chemno.
He added: "The law dictates we cannot serve for more than two terms as deputy governor. Currently, we are working hard to ensure we leave a legacy in our final term so that when we engage the public for other political options, our track record will be clear and our chances of being voted in will be high."
Last week, deputy governors, under the Deputy Governors Forum (DGF), met in Nairobi for their quarterly meeting where they reaffirmed their commitment to ensure effective service delivery.
Dr Stanely Tarus, who chairs a forum for Rift Valley deputy governors, said his counterparts were at liberty to contest any of the various political seats as their terms come to a close.
Tarus, who deputises Trans Nzoia Governor Patrick Khaemba, said he would go for either the governorship or the senate seat.
"We are working on achieving a legacy which will eventually propel some of us to a desirable seat. My chances are on governorship or senate posts in Trans Nzoia County," he said on phone.
He said they have a full in tray as far as the projects they have to accomplish before 2022 are concerned.
"Residents want services from a good hospital which is almost complete, a state of the art market, a stadium among other projects which are are the heart of our governor and we are looking forward to their completion," he said.
Tarus said aside succession plans, their focus is to continue empowering each other besides focus on plans to revive North Rift Economic Bloc (NOREB).
"We will be having a meeting in the next two weeks with deputies from the Rift region to chart the way forward on issues that affect us," he noted.
In Kisii, Deputy Governor Joash Maangi has maintained that he is the most qualified to succeed Governor James Ongwae.
Maangi said he played a critical role in the election of Ongwae in 2013 and his subsequent re-election in 2017.
"I have a huge following and I remain a powerful politician in the region because of my role on the Gusii political landscape. I cannot be excluded when one is talking about Kisii politics even we eye 2022," said Maangi.
According to Maangi, political parties have been fighting to have him as a candidate for the governor's seat in 2022.
"I hosted Deputy President William Ruto at my home and this speaks volumes ahead of 2022 politics."
He added: "I will be in the ballot and you can take that to the bank. I have been given the baton by my boss and nothing is going to stop my ambition of becoming the county chief."
Maangi said he would spend the remaining four years working hard to deliver the pledges they made to the people ahead of elections.
"This will help me lay a solid foundation that will help me argue my case in the next political contest."
Kakamega Deputy Governor Philip Kutima and his Murang'a counterpart James Maina have also expressed interest to succeed their bosses.
"By 2022, I will have served a decade under Oparanya. No one is better suited to fulfil the dreams of the people of this great county than myself," said Kutima.
Maina said he was well-suited to take over as governor because he had been a good student of Iria.
"A new person will come to destabilise the steady ship we have set in motion. It is me to continue steering it," said Maina.