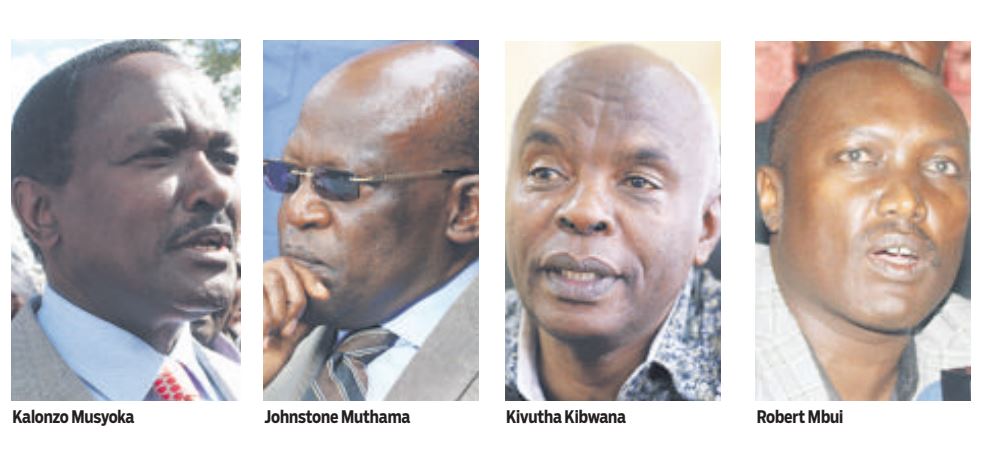 Wiper party leader Kalonzo Musyoka seems to have stirred a hornet nest with his remarks that he was now willing to be President Uhuru Kenyatta's mtu wa mkono (errand person).
A section of Wiper leaders have swooped on Kalonzo with fury, seeking a further explanation on what exactly he meant.
Some like Makueni governor Kivutha Kibwana who is also the Wiper chairman and former Machakos senator Johnstone Muthama, two strong allies of Muvisi – as Kalonzo is fondly known in the region – have taken the remarks to mean that the Wiper leader had abandoned his quest for the presidency.
"People want to know what exactly he meant because he did not consult. He seems to have backed off midway to the finish line," Muthama said even as Kibwana wondered what had become of Kalonzo.
"When a people's leader opts to become an errand boy, what becomes of the people who looked up to him? The people who elevated him to that position?" Kibwana posed.
Kalonzo has however ignored the questions and barbs directed at him, staying true to his statement made during the burial of his father where he issued a caveat that he wished not to be questioned.
"From today, I am the president's errand man. I'm announcing before this crowd and before the clergy, let there be no one to come between me and my brother president Kenyatta," Kalonzo said. "And let no one ask me questions," he quickly added.
President Kenyatta's face lit up in unmistakable smile while ODM leader Raila Odinga who was also present wore a blank face and feigned indifference as Kalonzo extolled the president.
Many in Ukambani have taken Kalonzo's rider that 'don't ask me questions' to have been directed at the ODM leader, who joined the Jubilee government earlier on through the famed handshake with President Kenyatta.
Other opposition leaders among them Kalonzo, ANC leader Musalia Mudavadi and Ford Kenya's Moses Wetangula accused Raila of betrayal when he joined the government without consulting them.
Kalonzo's words were therefore interpreted by some as telling Raila to keep to his lane and mind his business.
Some say that by questioning Kalonzo's remarks, Muthama is secretly doing Raila's bidding.
"Muthama should be the last person to claim to be surprised by Kalonzo's comments because his candidate has always been Raila and his heart has been in ODM all through. He is free to continue with his candidate and stop confusing the community. Kalonzo will not play second fiddle to Raila again," said Campbell Munyambu, the coordinator of Mwingi Professional Forum and a political commentator.
Mr Munyambu noted that Kalonzo's unity with Raila for the last 10 years had yielded nothing for the Kamba community, saying it was time he tried his luck elsewhere.
Other quarters strongly believe that courting the president is a wise strategic move by Kalonzo who now stands a chance to benefit from Kenyatta's political base and support because he (the president) will not seek a re-election in 2022.
Wiper National Organising Secretary and Kathiani MP Robert Mbui said that Kalonzo's remarks served to expose the enemies within Wiper party, adding that the party was now crafting a strategy to deal with them.
"We now know who our enemies are and we are coming up with a strategy to deal with them as we reorganise our party" Mbui said in a subtle threat seemingly directed at Muthama and Kibwana. Mr Muthama has severally been accused of being pro Raila while Kibwana's entry to Wiper from Muungano party has been met with high suspicion.
Mr Mbui is among a section of Wiper leaders who feel that Kalonzo should not be vilified for opting to work with the government, a view held by Makueni Women Rep Rose Museo who wants Kalonzo to be left alone to mourn the loss of his father.
"His decision to work with the President is the best decision ever and it will benefit the whole country. You have our blessings, go… go…" Museo posted on her Facebook page.
Mr Mutula Kilonzo Jnr, the Makueni senator however feels that some explanation on the deal between Kalonzo and the president is expected to cool the anxiety among supporters.
The senator however noted that by joining hands with President Kenyatta, Kalonzo who has declared he will run for presidency in 2022 was actually improving his chances.
"The party leader was given the mandate by the people to seek partnerships with other leaders to bolster his 2022 presidential bid. His joining hands with Uhuru is welcome. However it is good for his supporters to know what the deal entails," the senator observed.
Some in Jubilee however say Kalonzo is unreliable and it is difficult to decode the meaning of his remarks.
Mwala MP Vincent Musyoka (Jubilee) said Kalonzo's remarks left his supporters confused.
"He wanted to impress the president but the intended meaning did not come out clearly. Kalonzo has never been a man of his own and the statement he made before Uhuru could equally be for another person," scoffed the MP.
But even as the back and forth about Kalonzo's remarks rage, the former vice president is already relishing the beauty of 'being in government.' President Kenyatta has apparently engaged him as a special envoy of sorts, with his first assignment being in Juba, where he accompanied Foreign Affairs Cabinet Secretary Monicah Juma as head of the Joint Monitoring and Evaluation Commission (JMEC) on peace in South Sudan.
This was only two days after his security detail was re-installed with a contingent of specialised officers being dispatched to guard his three homes; Karen, Yatta and Tseikuru.
Kalonzo's move to join the government adds credence to reports that he has severed his ties with Raila whose troops have indicated that he will still be in the presidential ballot for 2022.
The general feeling in Ukambani is that if the ODM leader does not back Kalonzo's bid for the top job, then the Wiper leader has no business being in his camp.
"The Kamba community has grown weary of supporting Raila's candidacy. It is clear ODM is pushing for Raila to run again, so we have no reason being with them because we have our own candidate. Kalonzo is free to work with the president and others," Munyambu stated.