DP William Ruto: The gift of gab that makes or breaks the 'Hustler'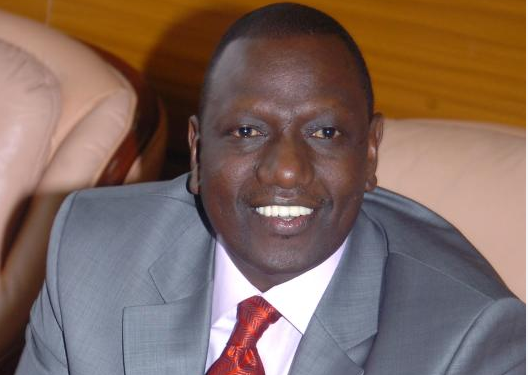 Deputy President William Ruto has a special relationship with language. At times, his passion takes over and he will recite Bible verses at the drop of a hat. Other times, it will get him into messy situations, which luckily for him, he can talk his way out of.
Like any other career politician, the best and the worst of him comes out during campaigns when it seems everyone is fair game. During the presidential election last year, Ford Kenya party leader Moses Wetang'ula, now a Ruto follower, was on the receiving end of one of the DP's famous tirades. The stakes were high at the time. While Jubilee had already decided on its candidate, the flag bearer for the opposition coalition, Nasa, remained a grey area.
During one of the rallies, Ruto threw a verbal jab at the opposition.
"Watu wengine bado wanacheza karata ya pata potea," he started off. "Kuna yule mganga amebaki na risasi moja, kuna yule wa kati kati hatujui anaenda pande ile ama pande hii, na kuna yule alipigwa na bibi juzi. Kama umepigwa na bibi yako, unaenda kureport kwa polisi? Si unanyamaza na unasema bora watu wengi hawajaniona."
Prior to this, Wetang'ula had found himself entangled in a rather bizarre incident which had him file a report with the police, citing that he had been assaulted by his wife.
Pecking order
The two, Ruto and Wetang'ula, now seem to be on the same side. Cyrus Jirongo, the man who graciously lent his name to the Sh500 shilling note has more recently been on the receiving end of Ruto's verbal jabs.
The scene had been set. Weeks earlier, at the funeral of businessman Jacob Juma, Jirongo read a terse statement that ended with his demand that Ruto writes a statement over the businessman's killing.
Ruto's comeback came during the funeral of former Housing Minister Soita Shitanda. Jirongo was for all intent and purposes in his backyard and was sure to have the backing of not only the legislators present but also of the crowds in attendance. The two had not met publicly since Jirongo's earlier assertions.
"Jirongo saa ingine anakasirika na mimi sababu zamani nilikuwa mtu wake ya mkono," Ruto began, alluding to their history as members of the Youth for Kanu 1992, an amorphous group of young men and women who did the bidding for the ruling party.
"Sasa anakasirika na mimi anajiuliza huyu jamaa alikua mtu yangu ya mkono alipitia wapi mpaka akafika hapa? Unanikasirikia namna gani na hii ni mpango ya Mungu," he told the crowd.
From Ruto's perspective, Jirongo was cross because Ruto had risen above him in the pecking order and now sat at a position of more power and influence.
NOT-SO-USEFUL ART COURSES
Away from politics though, some of Ruto's utterances have baffled many. For instance, the Deputy President recently rubbished arts courses and just fell short of terming them useless. "I was a very good student of history myself, but while it is okay for historians to tell us how Vasco Da Gama came, went somewhere and discovered this, he died. We need the gentleman or the lady who will fix our sewerage system or electricity when something is wrong," he said at Kenya Technical Trainers College in Nairobi during the launch of a TVET Competency Based Educational and Training Framework. "There are over 1,000 students learning sociology and anthropology, but if you look at the requirements of the industry, how many anthropologists or sociologists do we need? We end up with graduates many of whom cannot be placed in a proper job environment," he said. While Ruto's tongue can go on the offensive, it is while being defensive that he has come up with some of his best nuggets of wisdom. At a time when the country was going through a recession of sorts, and money was tight, the second in command was spotted around various places of worship, contributing to good church and school-driven initiatives. In one instance, the DP contributed Sh18 million in two days.
"Wawache kuniongelea ati nafanya harambee kwa kanisa. Mimi nilienda Sunday School na huko tuliambiwa ukipeana utapewa maradufu," Ruto said. Just like his political peers, Ruto too has at one time or another in his political career worked with individuals across the political divide. Perhaps the most memorable of these relationships and what later developed into a bitter fallout, was his partnership with Raila Odinga in the run-up to the 2007 elections.
The subsequent fallout was epic and has dragged on for close to a decade, treating the public to a verbal back and forth between the two men. Monickers such as mganga, mtu wa vitendawili,mtu wa tibim na tialala have become part of the DP's political language.
"Kama ulidanganyana sijui siku za Kanu, ukadangayana siku za CORD, hapa Jubilee hakuna nafasi ya kudanganyana. We will not allow you to export propaganda, conmanship into our party. Hio haiwezekani bana," he told Raila after the handshake between the opposition leader and President Uhuru Kenyatta.
Sometimes his pronouncements are not so direct, and border on being cryptic. Last week while talking to maize farmers who are yet to be fully paid for the delivery of maize to the National Cereals and Produce Board, with a poker face, he told the farmers to stop planting a crop that forms the bedrock of the country's food security.
"Hata mimi nimewacha kupanda mahindi na napanda cabbage na avocado," he told shocked farmers waiting to be paid their dues. Prior to the coming of the International Criminal Court (ICC), Ruto was quoted misreading the situation in words that came back to haunt him. Preferring the ICC to the proposed local tribunal, he is quoted to have said: "The ICC will begin hearing the Kenyan case in 2090. Who among us will be alive then?" Then nightmare came.