Coast MPs give conditions ahead of 2022 poll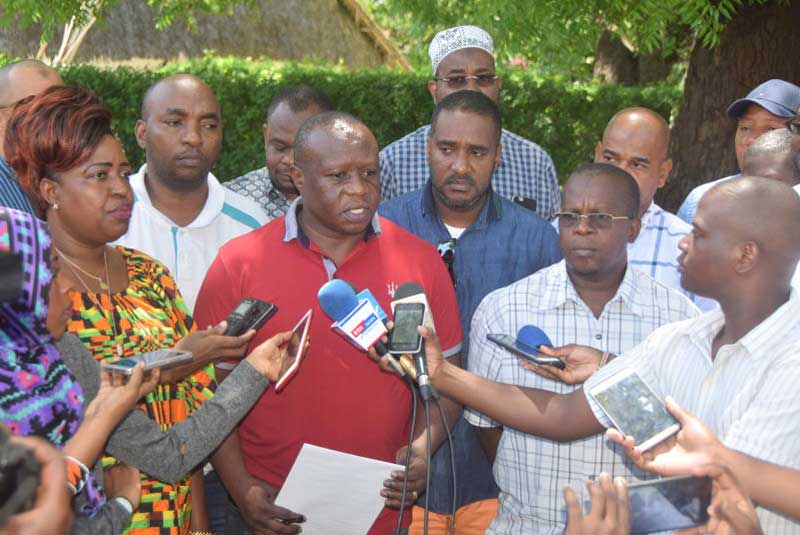 MPs from the Coast region will only support a presidential candidate who has the interests of the region at heart.
Kilifi North MP Owen Baya, who read a statement on behalf of 11 MPs from the region on Monday, said they would like a president who would revive cash crop farming at the Coast.
"We will only support a presidential candidate who will also commit to addressing historical injustices and create jobs for our people," said Mr Baya.
The MPs said they would sensitise residents on the kind of candidate to support ahead of the 2022 General Election.
"We will also encourage the people of this region to speak in one voice. We need to put our votes in one basket," said Baya.
He was with MPs Suleiman Dori (Msambweni), Badi Twalib (Jomvu), Benjamin Tayari (Kinango), Ali Wario (Bura) and Kilifi Woman Representative Gertrude Mbeyu.
Others were Jones Mlolwa (Voi), Kassim Sawa Tandaza (Matuga), Ali Guyo (Garsen), Ali Mbogo (Kisauni) and Johnstone Muthama of Lamu West.
Most of these MPs are said to be Deputy President William Ruto's allies.
"We are targeting to be in the next government," said Baya.
The meeting also discussed several other issues the legislators said had continued to affect residents of the region.
"We support establishment of the Standard Gauge Railway (SGR). However, we are concerned that the Government appears to have forced the project on the people," said Baya.
He added: "SGR is wonderful. But we are also concerned that it has plunged over 1,000 drivers into joblessness since many passengers are now using the new train. Cargo is also being transported to Nairobi by the SGR."
Baya claimed some towns that were supporting the economy of the region are dying after emergence of SGR.