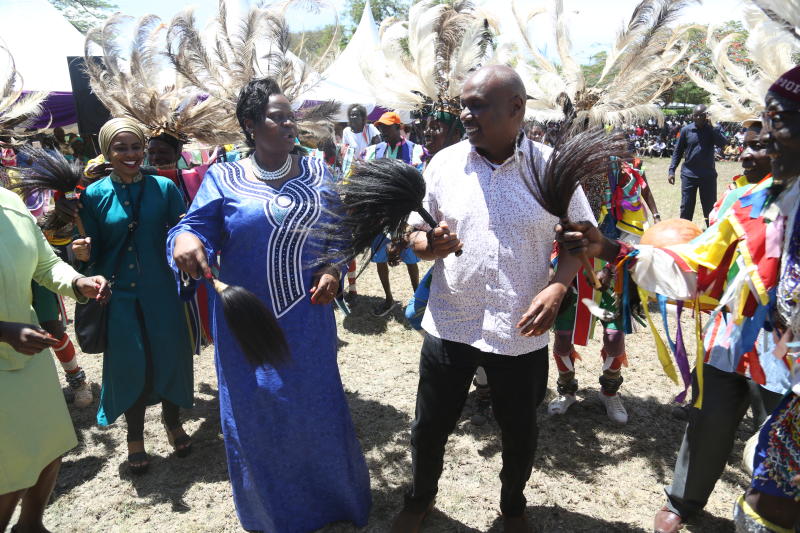 Baringo Senator Gideon Moi ended his two-day tour of Homa Bay on a high note yesterday with ODM leaders pledging to support his political plans.
The leaders told Gideon to start marketing himself in Nyanza ahead of the 2022 elections saying he had passed the credibility and leadership tests.
But even as the leaders poured praise on him, Gideon, who is also the Kanu chairman, sought to discourage politicians against engaging in early campaigns for the Presidency.
He also chided those opposed to the proposed referendum.
"I pity some leaders, those who are already dancing themselves lame yet music has not started. The DJ is still testing the tunes. Waende pole pole. (Let them take it easy)," he said
Gideon received a warm welcome when he arrived in the county. On Friday, he conducted a funds drive at Wikondiek SDA church in Karachuonyo.
Yesterday, he was at the Homa Bay Tourist Hotel where he led hundreds of Kanu and ODM leaders at a funds drive for women traders. The event was organised by the Woman Representative Gladys Wanga.
It was during the two functions that ODM leaders who accompanied Gideon urged him to work with Opposition leader Raila Odinga if he wants to become President.
The other MPs present were Adipo Okuome (Karachuonyo), Ongondo Were (Kasipul), Anthony Oluoch (Mathare) and Lilian Gogo (Rangwe).
"We want Gideon to work together with Mr Odinga and take this country forward. We are humbled with his humility. He has all the qualities of a good leader," said Wanga.
Early campaigns
She added: "We have looked at Gideon and seen him as someone who can champion development in this country. We are telling him to start working with Raila for the future of this country."
Ms Wanga criticised a politician she did not name of plunging the country into early early campaigns.
"I hope you know this man I am talking about. He is already dancing before the main dance. Will he not get tired?" she said.
Mr Were said: "Gideon is humble. He is not corrupt. He has not abused anybody. Yeye ni mweupe kama pamba (He is as white as a cotton wool)."
Dr Gogo said residents of Homa Bay are ready to support Gideon in his political plans.
"I want to tell Gideon that he is on the right side of history. If he works with Raila, all Kenyans will board that bus. Once he shakes hands with Baba, everything will be easy," said Gogo.
However, Mr Oluoch would electrify the meeting when he said the ODM fraternity is closely monitoring Gideon's political moves.
"I am keenly watching him. Everybody in ODM and in Nyanza is watching him," said Oluoch.
He added: "We are only waiting for a signal from Raila because he is always right. If he says right, we will turn right, if he says left we all turn left."
Gideon said he was overjoyed with the good reception he had received and that he was surprised Kanu still had many followers in Homa Bay.
There were light moments when both ODM and Kanu supporters started singing Kanu slogans as they welcomed Gideon.
"I dint want to talk about 2022 politics. Only God knows what will happen," said Gideon.
Gidoen later visited the home of former Kanu maestro and friend to retired President Daniel arap Moi, the late Elisha Aketch Chieng' in Ndhiwa. Mr Chieng was buried last week.
He promised to help the family settle a Sh1.5 million bank loan Chieng' died before settling.
Also accompanying Gideon were Baringo Woman Representative Ms Gladwel Cheruiyot and Nominated Senator from Isiolo County, Ms Absiro Halake, among other leaders.