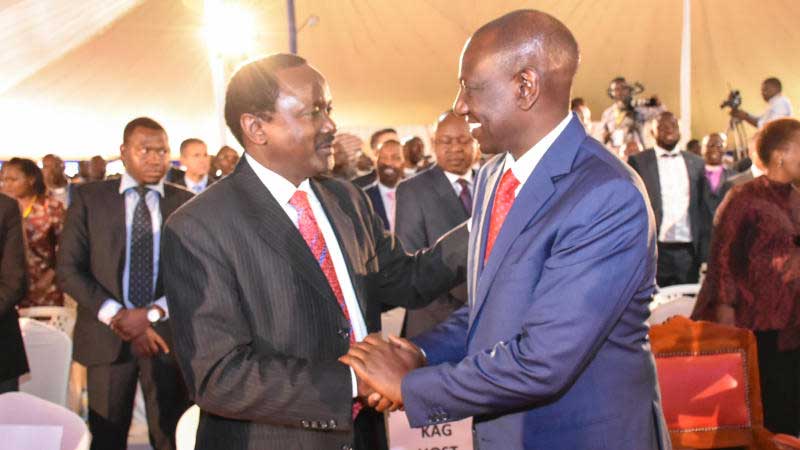 National Super Alliance Principal Kalonzo Musyoka now says he is ready to work with Deputy President William Ruto and all other leaders for the sake of unity and peace in the Country.
Kalonzo said Kenyans must agree to end tribalism and ensure that the next general election is void of electoral malpractices that has been the norm for years win every election cycle.
Speaking in Kisii Kalonzo thanked President Uhuru Kenyatta for finding it fit to support former Premier Raila Odinga in getting an opportunity to serve the African Union as the High Representative for Infrastructure Development in Africa.
According to Kalonzo, Kenya is bigger than any individual and there was no need to keep political grudges that could negatively affect millions of Kenyans.
"We lost elections but doesn't mean than we sit pretty and watch as things go wrong. We have agreed to work together. We must congratulate President for ensuring that my brother Raila gets that job," said Kalonzo adding that this was a prime job opportunity that will lead to accelerated unity across Africa.
He explained that yes they lost elections to the current leadership but that doesn't stop them from working with the Government to ensure thee is harmony and prosperity among Kenyans.
"This country was fast degenerating to a war of words among senior politicians. I was almost falling into prey to start abusing but was restrained because I will always want to remain calm and peaceful. We must appreciate the new fond working relationship between Raila and President Uhuru."
The former Vice president said Kenyans will decide on whether to have referendum in the Country or not. "We cannot afford to have a referendum that will divide the Country. Kenya is a wonderful Nation."
Ruto and Kalonzo last met in Kakamega a week ago during the 55th Mashujaa day celebrations a function that was also attended by President Uhuru, Raila and Musalia Mudavadi.
In August this year, the two were among dignitaries who attended the installation of Bishop Norman King'oo as the new Catholic Church Bishop for Machakos Diocese.
During the installation of the new Bishop, the DP stated that the politics is over and called on politicians to embrace competition based on development agenda rather than division and tribalism.
Kalonzo observed that he stands for the country's unity, but clarified that the handshake does not imply that the opposition had joined the ruling party.
The NASA Principal criticized the Tanzania law which he said was equivalent to Kenya's 1960s Constitution.