Kuria East MP shifts support to Ayacko as campaign heats up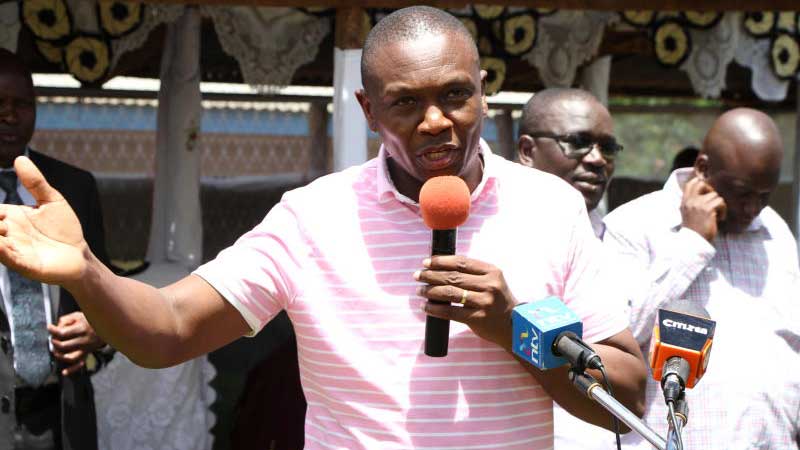 The hunt for votes in the Migori senatorial race has taken an interesting turn after Kuria East MP Marwa Kitayama (pictured) declared his support for Orange Democratic Movement (ODM) party candidate Ochillo Ayacko.
"I have decided to support Ayacko now, going forward to the October 8 by-election," the MP announced to the press yesterday.
Mr Kitayama's surprise move came amid reports on social media that he was supporting Federal Party candidate Eddy Oketch.
"Let everyone speak for himself. As for me, I support Ayacko and I am not mincing words. I am in Jubilee (Party) but Ayacko is our best bet for senator," he said.
Kuria West MP Mathias Robi has declared support for Mr Oketch, saying since Kuria was Jubilee-dominated, they would all vote for Oketch.
Meanwhile, Solomon Hodo of People's Democratic Party pulled out of the race at the weekend to back Oketch, as the vote hunt for 87,000 Kuria votes continued to take shape.
In an interview with The Standard yesterday, Kitayama said he would woo his community to ensure that ODM retained the seat.
Vote counts
"Nobody should speak or purport to speak on behalf of the Kuria people. Each one's vote counts independently," he said.
He said the Kuria community was free to vote for a candidate of its choice but they would not be coerced to vote for anyone.
"We want each of the candidates to feel free to hunt for votes here but what is clear in my conscience is that Ayacko will win."
The MP was angered by media reports linking him to Oketch, saying he had never been approached by Oketch nor had he been campaigning for him.
"I have been busy elsewhere but I read when my colleagues address media, they rope me in as campaigning for Oketch."
Kitayama called for peaceful campaigns as the Senate race gathered momentum, with ODM using its campaign machinery to mobilise votes for Ayacko.
On Sunday, ODM's Senate Leader of Minority James Orengo and Rarieda MP Otiende Amollo traversed parts of Migori West, East and Nyatike to drum up support for Ayacko.
Mr Orengo used the opportunity to root for constitutional reforms.
"We want the country to amend the laws to accommodate the wide and diverse interests of individuals," said the senator.