Speaker Muturi summons journalists over graft claims at Parliament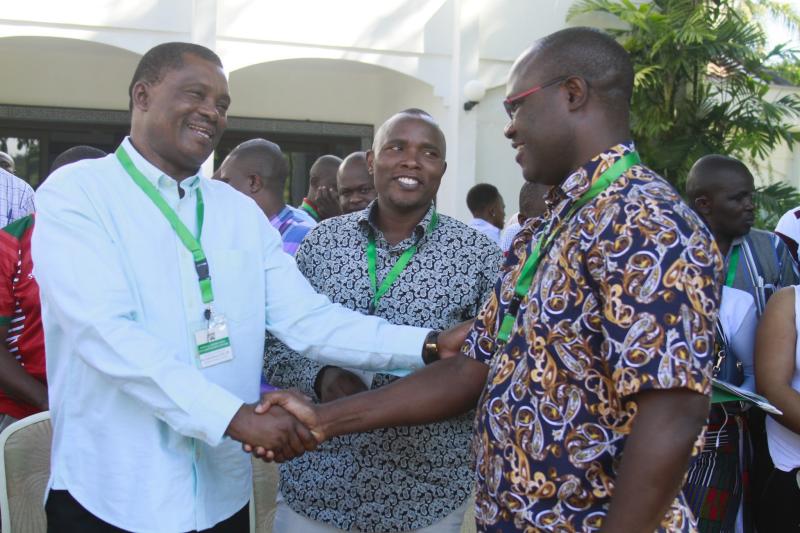 Two senior journalists are the first time in the history of the August House to be summoned to appear before powers and privileges committee over a bribery claims story.
The Standard Newspaper was also not spared the wrath, when they questioned why it penned a story on the Judiciary's salaries victory against the Salaries and Remuneration commission (SRC) linking to MPs and Members of the County Assemblies (MCAs).
National Assembly Speaker Justin Muturi on Tuesday declined members' push to ban People Daily from covering Parliamentary proceedings and instead summoned writers Antony Mwangi and Dinah Ondari to appear before the powers and privileges committee to shed more light on the same.
Raising on a point of order, Endebess MP Robert Pukose took issue with the Monday headline story "House of bribes' in the People Daily, accusing the media house of generalizing issues and calling members 'predators'.
The MPs bashed the media, condemning it of scandalizing the House in the disguise of the immunity they enjoy under the power and privileged law and the constitution on the freedom of press.
Muturi excused himself as chair of the committee and directed Antony Kiai (Mukurweini) to chair, deputized by Vincent Mogaka (West Mugirango).
"This matter is grave. I convene the powers and privileges committee to assemble immediately to probe the allegations which border on criminal acts," ruled Muturi.
He continued, "The two journalists, Mwangi and Ondari are not condemned. They should be accorded fair hearing as the information they have may help us streamline our operations and must be treated with utmost respect."
Take a quick survey and help us improve our website!
Take a survey
He further went on, "These are strong accusations which led to the conclusion that Parliament is a bribery den and MPs are predators. Listen to the two. They should answer all the questions."
He recounted that as per his communication last week on investigatory mandate of committees, the information availed will help to further probe the matter.
Pukose sought the Speaker's intervention to bar the media house from covering Parliament, saying its journalists exploited the parliamentary immunity to malign 'hon' members.
"This matter is weighty regarding the freedom of press in the coverage of plenary and committees. Scrutiny of Parliament is not a ticket to scandalize the institution. The report is questionable," said Dr Pukose.
He continued, "Instead of dealing with specific issues on the mandate of MPs, they condemned us based on rumours and hearsay. Media is a thankless lot."
Majority Leader Aden Duale (Garissa Township), Minority Leader John Mbadi and Adan Keynan (Eldas) has a field day and the waded on the matter and called for responsible coverage.
Duale said media enjoys space in parliament and should not use the opportunity to disparage and inquire the reputation of parliament.
"My party leader, President Uhuru Kenyatta said magazeti ni ya kufunga nyama. I don't take newspapers seriously myself. That newspaper is somewhere in the butchery," said Duale.
He said journalists who cover parliament and specific and should be trained like those in the US congress.
"They are seconded to various committee and therefore should focus on substantive issues. We are a very busy House," he added.
"How factual is it when you lamp some all MPs as compromised and receiving bribes. How do we talk to our constituents on integrity when 75 percent of MPs are receiving bribes? "Questioned Mbadi.
He continued, "It is even ridicule when the Standard newspaper headline a story on MPs winning allowances war against SRC yet it was the Judicial Service Commission that went to court. Does JSC represent Parliamentary Service Committee (PSC) and now we are going to make millions."
He faulted that everything about parliament is negative, exceeding professionalism.
"Journalists act out of emotions and pen sensational stories. They should respect the freedom of press. 418 MPs accused of graft is scandalizing us. The media should restrain," said Mbadi.
Keynan said they are not passengers in the governance structure and should be respected.
To fight drought, involve communities
According to the latest information from the Meteorological Department, rainfall will be poorly distributed in April, May and June, and this will have a serious impact on agriculture