Raila's party claims Jubilee politicising war on corruption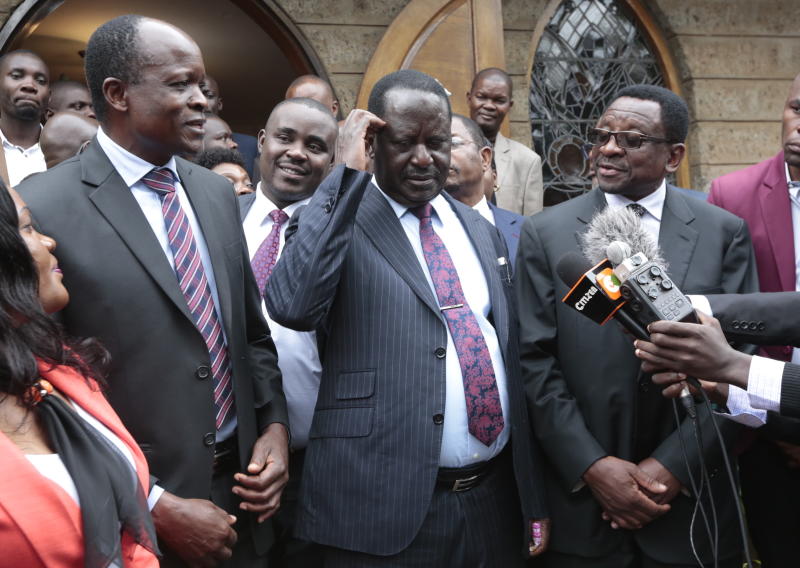 A section of Orange Democratic Movement (ODM) leaders have criticized Deputy President William Ruto's allies for allegedly trying to derail President Uhuru Kenyatta's war on corruption.
The leaders led by the Senate Minority leader James Orengo, MPs Opiyo Wandayi (Ugunja), Elisha Odhiambo (Gem) and Sam Atandi (Alego Usonga) yesterday said that a section of Jubilee leaders are politicizing the war against on graft.
Speaking in Bondo Sub County, Siaya County during a cultural festival at Got Ramogi, the leaders claimed that there was a cold war in Jubilee with uncomfortable with the quest to end corruption.
"We must all support the President. He is doing a good job and he is very clear that when you are found guilty of any corruption allegations you should not hide behind any political affiliations, tribe or relations," said Orengo.
The leaders claimed a section of Jubilee leaders are engaging in sideshows that are aimed at frustrating efforts by the government to deal with corruption.
Recently, Aldai MP Cornelius Serem stirring a heated debate when he named a company associated with President Kenyatta's younger brother during the proceedings of a joint House Committee investigating contraband sugar.
Yesterday however, MP Odhiambo asked President Kenyatta not allow leaders to drag the name of his family into politics for their own good.
"We cannot start calling on audit on the late President Jomo Kenyatta because we only audit when we want to remove someone from the office and there is no possibility in auditing the dead," said MP Odhiambo.
His counterpart, Mr Atandi claimed that the deputy President should initiate a lifestyle audit for his close aides as he awaits his turn.
MP Atandi argued that the kind of funds his aides are giving in fundraisers every weekend was quite alarming and there is need to investigate their source of income.
"When deputy President and his aides go for a fundraiser the kind of monies they give is suspect. Even as he waits for his turn, let him do this country justice by initiating an audit on his friends," noted Atandi.
Wandayi said that in the fight of corruption they are blind to the personal wars between the leaders in Jubilee Coalition.
The Public Accounts Committee Chair in the National Assembly asked the Jubilee Coalition to put its house in order to give the fight against corruption a chance.
He argued that even as the leaders push for lifestyle audit for those alive, justice must be served for those who died by addressing the issue of historical injustices by ensuring that the Truth Justice and Reconciliation Commission (TJRC) Report is implemented to the latter.
"We do not want to be distracted by the internal wars going on in the Jubilee government because those wars have the potential to derail the war against corruption. Jubilee must now put its house in order knowing fully well that we in ODM shall continue fighting this war regardless of who is involved," added Wandayi.
To fight drought, involve communities
According to the latest information from the Meteorological Department, rainfall will be poorly distributed in April, May and June, and this will have a serious impact on agriculture