Raila's new dilemma as Ruto storms ODM zones after deal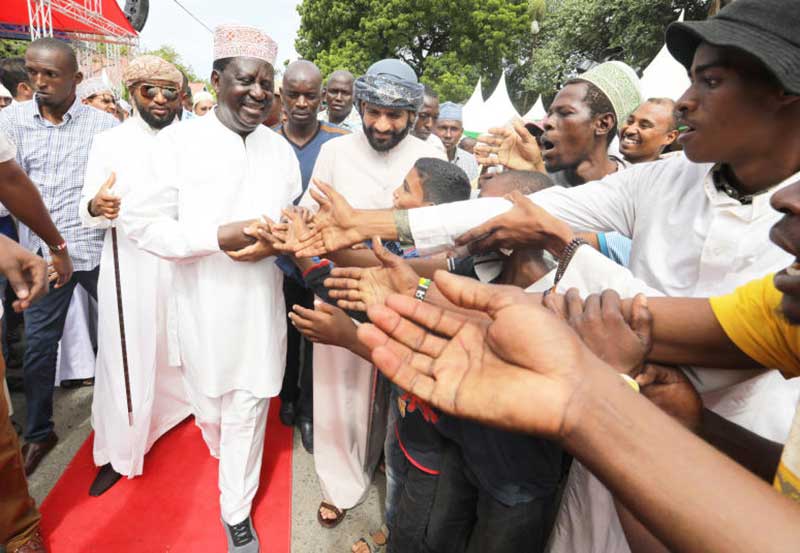 ODM leader Raila Odinga is in a fresh dilemma as Deputy President William Ruto exploits the former's handshake with President Uhuru Kenyatta to win support in Opposition zones.
Some ODM legislators have cited the unity pact between Raila and Uhuru to court new political alliances that could undermine the party's influence in the lead up to the next General Election.
Coast region, which has traditionally supported Raila, appears to have flipped in the face of Ruto's offensive, with some of its key leaders declaring support for the DP's 2022 presidential bid while hiding behind the 'handshake' to insulate themselves from punishment by the party.
There is growing unease within sections of ODM that had interpreted the handshake to mean co-option into Government, as was the case in the grand coalition government, but which has not happened, going by recent appointments to top State jobs.
Today, Raila will lead ODM top brass in a crisis meeting that insiders say is aimed at forestalling perceived cracks within its ranks.
Sources say there is growing concern within the outfit that some party officials and MPs are exploiting the rapprochement between Raila and Uhuru to cut political deals with Ruto against the party position.
Some party officials are said to be pushing Raila to sanction punishment against the members, but Raila is said to be reluctant.
Yesterday, ODM downplayed the concerns, saying the meeting, to be held at Flamingo Beach Resort in North Coast, was for Raila to rally support for his new-found unity with Uhuru. "He will be seeking members' support for the initiative to unite the country and solve problems facing Kenyans and the nation at large," ODM said in a statement.
But a senior official at Orange House told The Standard Raila was being diplomatic about the matter in the face of growing pressure from members for him to sanction disciplinary actions. "Raila is tolerant to them. Were it not for his diplomatic way of handling the matter, action would have already been taken against the members. A majority of the party MPs want Raila to sanction punishment," said the official.
The official added: "As much as we are in this unity, Jubilee remains our political opponent and we will compete against them in the next General Election. Some members have said they will raise the matter at the meeting, and Raila is likely to be overruled if he tries to defend the MPs."
ODM secretary general Edwin Sifuna had warned that ODM might be forced to initiate disciplinary action against the members. "...some of those engaged in these premature campaigns for Ruto are NEC members, who are expected to abide by its decisions," said Mr Sifuna last week.
Malindi MP Aisha Jumwa, Suleiman Dori (Msambweni), Owen Baya (Kilifi North), Badi Twalib (Jomvu) and Benjamin Tayari (Kinangop) are some of the ODM leaders warming up to Ruto, who is looking for support for his presidential bid.
And last week Kilifi Governor Amason Kingi hosted Ruto in his county, putting to an end their frosty relationship and hinting at a possible working alliance. Mombasa governor Hassan Joho, too, has abandoned his resistance to Uhuru, citing the unity deal.
Yesterday, ODM National Treasurer Timothy Bosire hinted that the matter may be at the core of the deliberations, but dismissed any threats to the party's popularity at the Coast.
Bosire accused Ruto of being mischievous in exploiting the handshake for his gains. "We will address all emerging issues. New things may have emerged because of the handshake. Some may think it is time to change political alliances. Those making political pronouncements must do so without going against the party rules," said Bosire. "But saying ODM is threatened is neither here nor there. The DP is just being mischievous. The President has said we focus on development and not succession politics," he said.
To fight drought, involve communities
According to the latest information from the Meteorological Department, rainfall will be poorly distributed in April, May and June, and this will have a serious impact on agriculture