You will take lie detector tests, Uhuru warns public officials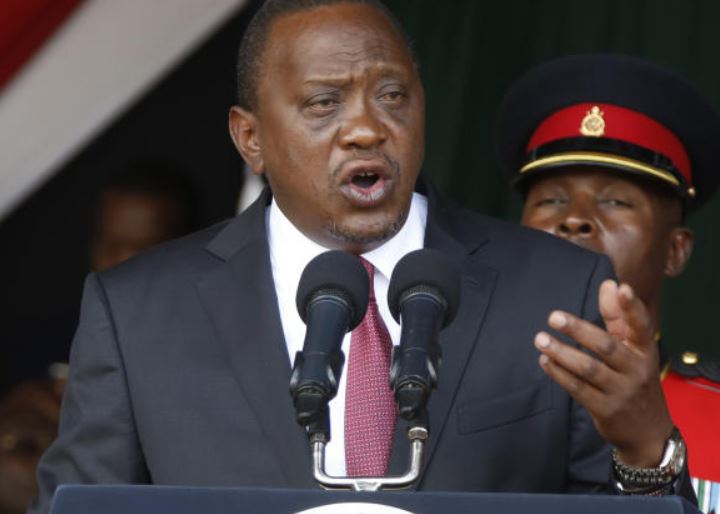 Breathing fire at Madaraka Day celebrations, President Uhuru Kenyatta has given the biggest indication that a turning point in the country's war against corruption is in the offing.
From introduction of lie detector machines in fresh vetting of public officials, expression of satisfaction at arrest of government officials, promise of more "big fish" catches to comparison of corruption with colonialism, the die appears cast.
To say the President was talking tough would be an understatement. Beyond the tough talk lay what appeared to be a sincere appreciation that his legacy and all the fruits of independence could be underwritten by runway corruption.
On notice are bureaucrats - heads of of procurement and accounts in government- who must now undergo polygraph tests to determine their suitability to continue holding those offices. The group represents an important cadre without whose help corruption would not fly.
Series of questions
"I expect this exercise to be concluded before start of the new financial year 2018/2019. You will hear of other tougher actions in the days to come," the President said at Kinoru stadium in Meru, Friday.
A polygraph measures and records several physiological indices such as blood pressure, pulse, respiration, and skin conductivity while a person is asked and answers a series of questions. It is the closest science has come to proving lie and deceit.
Painting a picture of a rotten society where teachers impregnate students, pharmacies sell fake medicine, crooks become heroes, lawyers defraud clients and rogues welcomed home as celebrities, the president asked Kenyans to withdraw respect and honour to the corrupt.
"The truth is that we are facing a grave threat to our moral basis as a people, from government down to the family. From leaders to parents, from corporates to individual citizens, we have a role to fight for our honor so that our country can prosper," he said.
From the speech, it was clear the President has renewed trust in the reconstituted investigative and prosecutorial arms of the government, saying they were taking "decisive steps" against the vice. He said they are not only new but have been properly resourced and they know their mandate and what Kenyans expect of them.
The President appreciated the Judiciary's promise to lend their support to the renewed anti-graft purge in the country. He made zero reference to the only institution whose sole mandate is to fight corruption but which he appears to be sidestepping- the Ethics and Anti-Corruption Commission.
"Their work will bear fruit when the Judiciary responds by ensuring that the frivolous and obstructive use of the court system to avoid responsibility will not be allowed," he said of Director of Public Prosecutions and Directorate of Criminal Investigations.
He admitted that the country had been let down by public managers in the past and national resources were wasted on personal aggrandizement by the corrupt. Ironically, the entire cast of political leadership that have run the country's politics in the last two decades sat around him.
"I am glad that arrests of senior officials have been made. There are more on the way. I want officials, particularly senior ones, who are directly implicated in corruption to have no place in my administration and for them to go to jail," Kenyatta said.
The President noted that some of those trusted to run and manage institutions, resources and safeguard the public interest have turned predators. He pointed out that through their selfishness, greed and misuse of authorities, Kenyans have been denied critical public services and development – a situation that will no longer be tolerated.
Dividing Kenyans
Calling the merchants of corruption "enemies who must be boldly confronted by all Kenyans of goodwill" Kenyatta likened the fight against corruption to the fight against colonialism.
He appealed to all Kenyans to join him in the war against corruption and to propagate national unity saying politicians thrive on dividing Kenyans.
The President expressed satisfaction with arrest of senior officials, warning that more are on the way and will head to jail "where they belong."
"I will do my part as President to turn Government into an instrument that truly serves you, and that respects the sacred responsibility to build Kenya into a truly prosperous, fair and honest country," he said.
Ironically, South African Deputy President David Mabuza who shared the platform with President Kenyatta is under investigations in his country on alleged corruption related to his tenure as the prime minister of Mpumalanga Province from 2009 to February this year when he was elected the deputy of President Cyril Ramaphosa.
Leaders present at the Madaraka Day fete were Deputy President William Ruto, former Prime Minister Raila Odinga, Cabinet Secretaries, Attorney General Kihara Kariuki, Chief of Defence Forces Samson Mwathethe and service commanders, Inspector General of Police Joseph Boinett, Speakers Justin Muturi (National Assembly) and Ken Lusaka (Senate) and Governors Kiraitu Murungi (Meru), Mike Sonko (Nairobi), Muthomi Njuki and Mohamed Kuti (Isiolo).