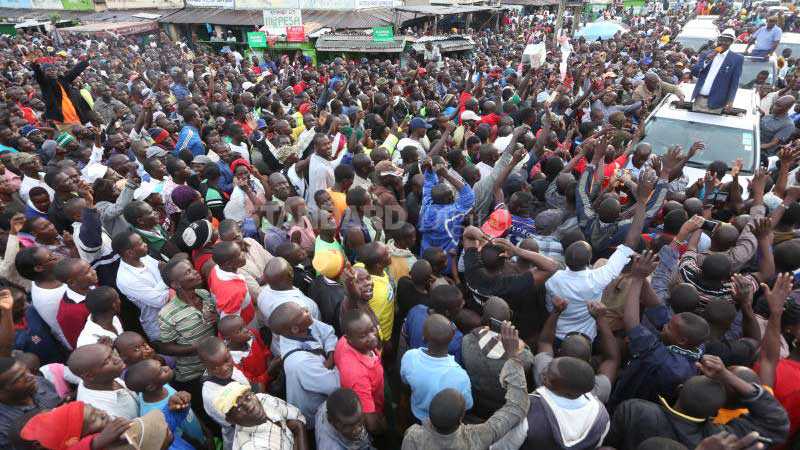 National Super Alliance leader Raila Odinga has finally spilled the beans on the secret talks that propelled him into working with President Uhuru Kenyatta.
Speaking for the first time about his surprise truce with President Kenyatta, Raila talked of the painful nature of the talks, the secrecy around them, the people involved and the upcoming countrywide tours to popularise the deal.
Ever since he stood on the steps of the Harambee House for the unveiling of the partnership last week, Raila has avoided public discussion of the deal until yesterday.
While speaking to huge crowds at Oyugis, Ahero and Kisumu, Raila came out with the details and described the negotiations that led to the truce between him and Kenyatta.
Heal the country
He also said he crafted the raft of demands that formed the basis of their talks. It is this document that would form the basis of further negotiations as Kenyans wait for the fruits of the truce.
"It was a two-man project which we kept secret up to the last minute. It was not easy accepting to talk to Uhuru. No other person was privy to the talks which we undertook to heal the country," he said.
Raila said that even on D-Day, it was difficult going for the final meeting that led to the handshake on the flight of steps of Harambee House. It was painful, he said.
Before that, he revealed, they had made countless calls between themselves as they fine-tuned the agreement.
"My handshake with President Uhuru was a painful but worthy one. I did it for Kenyans," he said while addressing ODM leaders in Kisii.
At Kondele in Kisumu, he announced that he would soon invite Uhuru to tour Nyanza: "If you allow me, I will bring Uhuru here so that we can affirm the peace pact."
He assured Kondele residents that they will get justice for those killed in anti-Government protests. The passports of NASA leaders will be restored and lawyer Miguna Miguna will be allowed back in the country, Raila said.
"We want to mop up the blood that was shed during the protests. We want to correct what went wrong," he said.
He celebrated the truce for ending seven months of anxiety punctuated by injuries and killings by the police and tension.
Among those killed during the period was a six-month old baby Samantha Pendo, who was clubbed while in her morther's arms in Kondele slums.
Yesterday, Raila revealed that he was at first skeptical on the move but later got convinced that the President meant well.
"There were lots of suspicion but we had to keep on talking because the peace was about future generations," he said.
He promised the people that he was ready to work with Uhuru for the sake of thousands of Kenyans who have died in election-related violence for years.
Peaceful nation
"This was a painful decision. We have seen blood all over since August last year and more than 360 people have died, we can't allow this to continue," he said.
He said Kenyans have been divided along tribes and identify themselves by their names and not what they stand for.
"We agreed that we must build one peaceful nation. That is why I agreed to sit with President Uhuru on behalf of millions of the Kenyans I represent. I am not a mad man. All I want is to end the injustices that have eroded this country," he said.
"We had to sit face-to-face and tell him that we have to end the historical injustices. That is why we called the document 'Building Bridges.' Some people will get lost on the way but we will walk all the way for the love of this country and not for any individual gain."
Raila said the document is equivocal on addressing exclusion, poverty, corruption and insecurity.
"If we agree on all these issues we will build a better, new and firm Kenya. Everything is possible if we agree to work together," he told leaders who later accompanied him to Kitutu Chache North for the burial of Prof Oeri Tumbo.
In a meeting with Kisii leaders, Raila said all the 44 Kenyan tribes must walk together to the promised land he has been promising his supporters. He said he and President Kenyatta will tour the country to preach peace and reconciliation.
Senate Speaker Kenneth Lusaka thanked Raila and the President for the truce. Governor James Ongwae supported the two leaders' bold step, terming it the way forward in realising the country's dream. Kisii Senator Prof Sam Ongeri said peace was a priceless commodity.
"Those making noises will still come back to Raila because this was an answered prayer. Raila and Uhuru have the button to move this country forward," said Prof Ongeri.
At Tumbo's burial, area MP Richard Onyonka called on the two leaders to remain honest and focused. Bungoma Woman Representative Catherine Wambilianga, who represented Ford-Kenya leader Moses Wetang'ula during the funeral, said they were fully in support of the meeting between Uhuru and Raila.
Kasipul MP Charles Were said Raila was a major shareholder in NASA and he had every right to negotiate with the President since he was doing so on behalf of all the people who voted for him in August 2017 polls.
His West Mugirango counterpart Vincent Kemosi said the unity talks were good but appealed to the two leaders to involve all the NASA principals.
Additional reporting by Dalton Nyabundi.