Mudavadi: Raila was not loyal to the will of Kenyans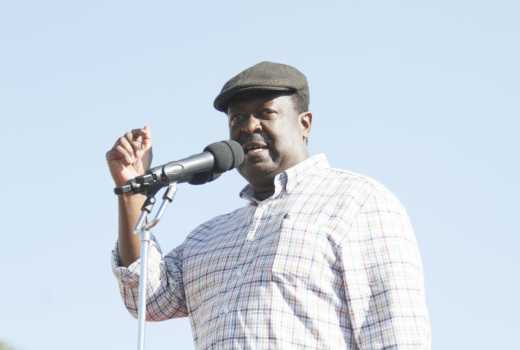 Salim Lone has termed Raila Odinga's meeting with President Uhuru Kenyatta as a choice of a path that is geared to protect the people from a looming crisis in a country that was at breaking point.
"Finding an immediate solution to injustices when a country has such deep-rooted ills and entrenched interests is not always possible. Raila Odinga is now taking a judicious, calculated risk of negotiation in the hope of averting the larger risk of internecine bloodshed," he said in a statement.
Raila's adviser maintained that the surprise move by the Opposition Chief was aimed at breaking stalemate before discussions to address the political development since August 8 election could shape up.
NASA has been propagating for a national dialogue that would see Kenya liberated from electoral injustice when leaders forge a united front to ouster the ghost of corruption.
The leaders had assured Kenyans that the coalition was determined to slay the dragon of electoral injustice, adding that this fight can only be won through determination and great faith.
Friday's move by Raila and Uhuru has been disputed by the Amani National Congress Leader Musalia Mudavadi saying the dialogue between the duo was not as per NASA's agenda.
"NASA is not opposed to dialogue but yesterday's meeting was a Memorandum Of Understanding between two people which is not inclusive, the party has been agitating for an inclusive and structured dialogue, "said Mudavadi.
The NASA co-principal insisted that the meeting between the two leaders was not processed through the party's agreed structure which was inclusive.
He argues that although dialogue is a way out, the country is not ready to sweep electoral injustices under the carpet and move on.
"Although dialogue is a way out, the country is not ready to sweep electoral injustices under the carpet and move on," he added.
In a statement on Friday NASA co-principals Kalonzo Musyoka, Musalia Mudavadi and Moses Wetangula said they "saw in the media" the meeting between the two leaders.
The four NASA co-principals have scheduled for a retreat on March 12 when we shall deliberate on the political developments.